Return to Naval Historical Center home page.

Return to Online Library listing

DEPARTMENT OF THE NAVY -- NAVAL HISTORICAL CENTER
805 KIDDER BREESE SE -- WASHINGTON NAVY YARD
WASHINGTON DC 20374-5060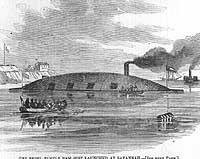 Online Library of Selected Images:
-- SHIPS of the CONFEDERATE STATES --
CSS Savannah (1863-1864)
CSS Savannah, a Richmond class ironclad ram, was built at Savannah, Georgia. Commissioned in June 1863, she served in the defenses of her namesake city through her career. The ship was destroyed by burning in December 1864, shortly before her base was captured by the Union Army.
This page features the only view we have representing (quite inaccurately) the Confederate ironclad ram Savannah.
Click on the small photograph to prompt a larger view of the same image.
Photo #: NH 51961

"The Rebel Turtle Ram Just Launched at Savannah."

Line engraving published in "Harpers Weekly", January-June 1863, page 164.
This view may have been intended to depict (however inaccurately) CSS Savannah, which was launched at Savannah, Georgia, in February 1863.

U.S. Naval Historical Center Photograph.

Online Image: 131KB; 740 x 615 pixels

Return to Naval Historical Center home page.
Page made 23 September 2001