Return to Naval Historical Center home page.

Return to Online Library listing


DEPARTMENT OF THE NAVY -- NAVAL HISTORICAL CENTER
805 KIDDER BREESE SE -- WASHINGTON NAVY YARD
WASHINGTON DC 20374-5060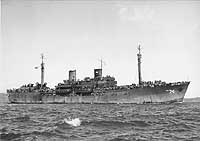 Online Library of Selected Images:
-- U.S. NAVY SHIPS --
USS Colusa (APA-74), 1944-1965

USS Colusa, a 4,247-ton Gilliam-class attack transport, was built at Wilmington, California, and was commissioned in December 1944. She arrived at Pearl Harbor from San Francisco in February 1945 and began a series of cargo and interisland transport voyages that took her to Eniwetok, Tinian, Guam, and Midway. In July she carried passengers from Pearl to San Francisco and brought a shipment of cargo back to Pearl. She then carried out one more wartime voyage to carry men to Midway.
Colusa departed Pearl Harbor at the beginning of September 1945 to help redeploy occupation personnel, in the process calling at Saipan, Okinawa, Sasebo, and Wakayama, Japan. Between October 1945 and January 1946, she crossed the Pacific on two "Magic Carpet" voyages, bringing servicemen home from Guam, Noumea, Brisbane, Hollandia, and Manus. She left San Francisco in January to transport Canadian naval officers to Australia and returned to San Francisco in March via New Caledonia. In April she moved to Pearl Harbor, where she was decommissioned in May. Not used in the Bikini atomic bomb tests, she was towed to San Francisco in March 1947 and stricken from the Navy list and transferred to the Maritime Commission in August 1947. Placed in the reserve fleet, she was sold for scrapping in August 1965.
This page features all the views we have related to USS Colusa (APA-74).
Click on the small photograph to prompt a larger view of the same image.
Photo #: NH 83402

USS Colusa (APA-74)

Photographed during World War II.

Courtesy of Donald M. McPherson, 1975.

U.S. Naval Historical Center Photograph.

Online Image: 65KB; 740 x 475 pixels

Photo #: NH 98711

USS Colusa (APA-74)

In San Francisco Bay, California, in late 1945 or early 1946.
She is returning troops from the Western Pacific to the United States as part of Operation "Magic Carpet."

Donation of Boatswain's Mate First Class Robert G. Tippins, USN (Retired), 2003.

U.S. Naval Historical Center Photograph.

Online Image: 62KB; 740 x 545 pixels

Photo #: 80-G-474987

Pearl Harbor Navy Yard

LCVPs from attack transports shoving off with liberty parties in July 1945. The boats are from USS Hyde (APA-173), Colusa (APA-74), and Effingham (APA-165).
One of the ships across the pier in center background may be USS Caliente (AO-53).
Photographed by Lt. Paul Dorsey, USN.

Official U.S. Navy Photograph, now in the collections of the National Archives.

Online Image: 107KB; 740 x 595 pixels

Reproductions of this image may also be available through the National Archives photographic reproduction system.

Return to Naval Historical Center home page.
Page made 31 August 2003