Return to Naval History and Heritage Command home page.

Return to Online Library listing


DEPARTMENT OF THE NAVY -- NAVAL HISTORY AND HERITAGE COMMAND
805 KIDDER BREESE SE -- WASHINGTON NAVY YARD
WASHINGTON DC 20374-5060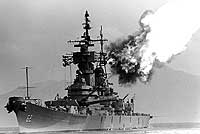 Online Library of Selected Images:
U.S. NAVY SHIPS -- Listed by Hull Number
BB -- Battleships
Until July 1920, U.S. Navy Battleships did not officially have "BB" series hull numbers. They were, however, referred to by "Battleship Number", with that number corresponding to the "BB" number formally assigned in July 1920, or which would have been assigned if the ship had still been on the Navy list. For convenience, all of these ships are listed below under the appropriate numbers in the "BB" series.
In addition, the Navy's first two "modern" battleships (rated as "Second Class Battleships") never received hull numbers. For the sake of completeness, these two ships are included at the beginning of this page's "BB" series.
This page provides the hull numbers of all U.S. Navy battleships, with links to those whose photos are available in the Online Library.
See the list below to locate photographs of individual battleships.
For general coverage on U.S. Navy battleships, including links to presentations on ship classes, see:

To the best of our knowledge, the pictures referenced here are all in the Public Domain, and can therefore be freely downloaded and used for any purpose.


Some images linked from this page may bear obsolete credit lines citing the organization name: "Naval Historical Center". Effective 1 December 2008 the name should be cited as: "Naval History and Heritage Command".







Return to Naval History and Heritage Command home page.
Page made 20 April 2002
Coding updated 23 April 2009