Return to Naval History and Heritage Command home page.

Return to Online Library listing


DEPARTMENT OF THE NAVY -- NAVAL HISTORY AND HERITAGE COMMAND
805 KIDDER BREESE SE -- WASHINGTON NAVY YARD
WASHINGTON DC 20374-5060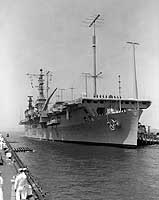 Online Library of Selected Images:
U.S. NAVY SHIPS -- Listed by Hull Number
CBC, CLC and CC -- Command Ships
Spurred by the success of the specialized Amphibious Force Flagships (AGC) of World War II and by a desire to remove major tactical force commanders and their staffs from excessively crowded combat ships, the post-war Navy converted the incomplete heavy cruiser Northampton (CA-125) to a tactical command ship. She was redesignated CLC-1 in 1947, completed in 1953 and again redesignated CC-1 in 1961, when the role of National Emergency Command Post Afloat was added to her mission.
In 1962-64 two former small aircraft carriers (CVL) were also converted for the National Emergency Command Post function and redesignated CC-2 and CC-3. Only the first was completed in that guise, with the other being further modified to serve as a communications relay ship (AGMR).
Also, in 1952 the incomplete large cruiser Hawaii (CB-3) was reclassified as a Large Tactical Command Ship, with the new hull number CBC-1. However, the necessary work was not carried out and the ship was again redesignated CB-3 in 1954. The command ship designation (CC) became extinct in 1980, when USS Northampton and USS Wright were sold for scrapping.
This page provides the numbers of U.S. Navy command ships (CBC, CLC & CC).
See the list below to locate photographs of individual command ships numbered in the CBC, CLC & CC series.
Command ships numbered in the CBC, CLC & CC series:
NOTES:

To the best of our knowledge, the Online Library's pictures are all in the Public Domain, and can therefore be freely downloaded and used for any purpose.


Some images linked from this page may bear obsolete credit lines citing the organization name: "Naval Historical Center". Effective 1 December 2008 the name should be cited as: "Naval History and Heritage Command".







Return to Naval History and Heritage Command home page.
Page made 22 August 2002
New ship added 14 June 2009