Return to Naval Historical Center home page.

Return to Online Library listing

DEPARTMENT OF THE NAVY -- NAVAL HISTORICAL CENTER
805 KIDDER BREESE SE -- WASHINGTON NAVY YARD
WASHINGTON DC 20374-5060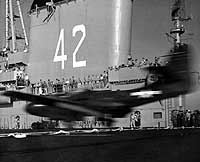 Online Library of Selected Images:
U.S. NAVY SHIPS -- Listed by Hull Number
CVB -- Large Aircraft Carriers
On 15 July 1943, the Navy reclassified the planned CV-41 class aircraft carriers as Large Aircraft Carriers, with the designator CVB. One of these ships (CV-44) had already been cancelled but three ships were completed as CVB-41, CVB-42 and CVB-43, with the hull numbers originally assigned in the CV series. Two others (CVB-56 and CVB-57), planned in 1945, were cancelled before construction began. These were the only ships in the CVB series. When the three completed large aircraft carriers were redesignated CVA on 1 October 1952, the CVB designation passed out of use.
This page provides the hull numbers of all U.S. Navy aircraft carriers numbered in the CVB series and provides links to photos of these ships.
See the list below to locate photographs of individual large aircraft carriers (CVB).
To the best of our knowledge, the pictures provided in the "Online Library of Selected Images" are all in the Public Domain, and can therefore be freely downloaded and used for any purpose.

Return to Naval Historical Center home page.
Page made 7 May 2002