Return to Naval History and Heritage Command home page.

Return to Online Library listing


DEPARTMENT OF THE NAVY -- NAVAL HISTORY AND HERITAGE COMMAND
805 KIDDER BREESE SE -- WASHINGTON NAVY YARD
WASHINGTON DC 20374-5060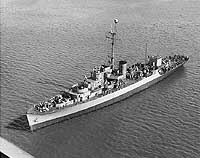 Online Library of Selected Images:
U.S. NAVY SHIPS -- Listed by Hull Number
PF -- Patrol Escorts, or Frigates.
Ten "River" class anti-submarine ships (originally called "corvettes" and later "frigates"), then on order in a Canadian shipyard for the British Royal Navy, were transferred to the U.S. Navy in February 1942. These vessels were originally classified as corvettes and numbered in the "gunboat" (PG) series by the USN, and accordingly assigned hull numbers PG-101 through PG-110. The first two were placed in commission as such in December 1942, and the remaining eight were returned to the Royal Navy under "Lend-Lease". A hundred similar ships, modified to American specifications, were ordered from U.S. shipyards under Maritime Commission contracts. These were initially assigned hull numbers PG-111 through PG-210.
On 15 April 1943, the U.S. Navy changed the classification of the first two Canadian-built ships, and of all those planned for construction in the United States, to "patrol escort", or "frigate", with numbers assigned in a newly-established PF series. PG-101 and PG-102, already in commission, became PF-1 and PF-2. The rest became PF-3 through PF-102, of which PF-3 through PF-71, PF-93, PF-94 and PF-99 through PF-102 were commissioned for U.S. Navy service, generally with crews provided by the U.S. Coast Guard. Four more (PF-95 through PF-98) were cancelled before being laid down. Twenty-one (PF-72 through PF-92) were turned over to Great Britain while building, with only PF-72 ever having a U.S. Navy name assigned. Twenty-three PFs were loaned to the Soviet Navy in 1945, following USN service, and several others were briefly employed by the U.S. Coast Guard in 1946.
The U.S. Navy regarded these rather "low-tech" ships as a strictly wartime expedient. In 1946-1947 nearly all of them were disposed of by sale to other nations' navies and civilian users or as scrap. With the exception of one wrecked in 1948, those loaned to the Soviets were returned in 1949 and laid up pending disposal. Returned to service during the Korean War, some recommissioned as U.S. Navy ships before all were transferred to South Korea, Japan, Thailand and Colombia in 1950-1953. A few of the Korean frigates remained in the U.S. Naval Vessel Register for nearly two more decades, though this was essentially a legal formality.
The Cold War begat another six ships with "PF" numbers, all built for foreign navies to a basically Italian design. Four (PF-103 through PF-106) went to Iran in 1964 and 1969. PF-107 and PF-108 were delivered to Thailand in 1971 and 1974. The "PF" designation enjoyed a short-lived, and probably final, U.S. Navy reappearance with the initial hull number assignments of what became the Oliver Hazard Perry class guided-missile frigates. Planned as PF-109 through PF-112, the first ship was actually laid down under that designation shortly before they became FFG-7 through FFG-10 in mid-1975. Their numerous sisters were FFGs from the beginning.
Note on the "frigate" classification: The U.S. Navy has used the term "frigate" for two other types of modern warship, one while the PF designation was still nominally in use. That type, classified in 1951 as "destroyer leader" (DL) and changed to frigate (also DL) at the beginning of 1955, included several classes intended mainly as fleet escorts. All but the first five of these ships were guided-missile frigates (DLG, with nuclear-powered versions being DLGN), armed with area-defense anti-aircraft weapons. In mid-1975 the larger DLGs and the DLGNs were reclassified as guided-missile cruisers (CG and CGN), retaining their original DLG/DLGN numbers, while the smaller DLGs became guided-missile destroyers and received new numbers in the DDG series. This action freed the term "frigate" for application to ships previously classified as "escorts" (DE and DEG), which were similar in nature to the frigates of other major navies.
This page provides the hull numbers of all U.S. Navy patrol escorts (or frigates) numbered in the PF series, as adopted in 1943.
See the list below to locate photographs of individual patrol escorts (or frigates) numbered in the PF series.
If the patrol frigate (PF) you want does not have an active link on this page, contact the Photographic Section concerning other research options.
NOTES:

To the best of our knowledge, the Online Library's pictures are all in the Public Domain, and can therefore be freely downloaded and used for any purpose.


Some images linked from this page may bear obsolete credit lines citing the organization name: "Naval Historical Center". Effective 1 December 2008 the name should be cited as: "Naval History and Heritage Command".







Return to Naval History and Heritage Command home page.
Page made 13 July 2006
New ships added 15 December 2010