Return to Naval Historical Center home page.

Return to Online Library listing


DEPARTMENT OF THE NAVY -- NAVAL HISTORICAL CENTER
805 KIDDER BREESE SE -- WASHINGTON NAVY YARD
WASHINGTON DC 20374-5060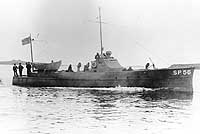 Online Library of Selected Images:
U.S. NAVY SHIPS -- Listed by Hull Number
"SP" #s and "ID" #s --
World War I Era Patrol Vessels and other Acquired Ships and Craft
In 1916, as the First World War continued abroad with undiminished ferocity, the U.S. Navy began a registry of privately-owned pleasure craft and yachts that were available for patrol service in the event the United States was drawn into the conflict. "Section Patrol" ("SP") numbers were assigned in a series beginning with SP-1 and ultimately extending to well over 4000. As the registration process continued, other types of ships and craft were included for which the "Section Patrol" designation was clearly inappropriate, and these were generally given "Identification" ("ID") numbers in the same series as the "SP"s. In addition, some vessels that were numbered with an "SP" prefix before 1918 later had that prefix changed to "ID". The registry, and the SP/ID number series, was continued at least into the early 1920s, with new numbers being assigned to ships completed or examined after the end of World War I. The latter category included some ships that served in the Navy, without numbers, during 1917-1919.
Strictly speaking, these SP/ID registry numbers were not U.S. Navy "hull numbers", which would not be formally adopted until mid-1920. Many of the ships and craft so numbered had no Navy service, while others that were acquired and employed by the Navy received no numbers. However, like hull numbers, the SP/ID numbers were used for record-keeping purposes and were often painted on the exterior of vessels (especially patrol types) to facilitate identification. They can therefore be considered precursers of the later hull number system and are included here for that reason.
The lists linked from this page are largely based on extensive unpublished listings of World War I acquired vessels prepared by Captain Stephen S. Roberts, USNR (Retired). They also include other information obtained in the process of producing Online Library entries for individual vessels. Though these lists' current contents overwhelmingly involve only ships and craft actually taken over for U.S. Navy service, their structure has been left "open" to allow addition of non-acquired vessels that also received numbers in the SP/ID series. A relative few of these are already included, and more will be gradually added as their identities are discovered.
Note: These lists are very much "works in progress". Created primarily as pictorial reference tools, they should be treated as no more than a "point of departure" for other purposes.
This page provides links to lists of the "SP" #s and "ID" series registry numbers of all vessels acquired by the Navy for patrol and other purposes during the World War I era, the numbers of some of the other vessels examined and numbered but not acquired, plus an alphabetical list of vessels acquired but not assigned numbers.
See the lists linked below to locate photographs of individual ships and craft numbered in the World War I era "SP"/"ID" series.
If the "SP"/"ID" vessel you want does not have an active link on the appropriate page of this series, and the statement "no image available" is lacking, contact the Photographic Section concerning other research options.
Left Column --
vessels in the SP/ID Series numbered
from 1 through 2999:

Right Column --
vessels in the SP/ID Series numbered
from 3000 through 4597,
plus vessels without numbers:
To the best of our knowledge, the pictures provided in the "Online Library of Selected Images" are all in the Public Domain, and can therefore be freely downloaded and used for any purpose.

Return to Naval Historical Center home page.
Page made 27 July 2003
New link added 4 August 2004