Return to Naval History and Heritage Command home page.

Return to Online Library listing


DEPARTMENT OF THE NAVY -- NAVAL HISTORY AND HERITAGE COMMAND
805 KIDDER BREESE SE -- WASHINGTON NAVY YARD
WASHINGTON DC 20374-5060
Online Library of Selected Images:
-- U.S. NAVY SHIP TYPES --
World War I Era Supply Ships and Refrigerated Cargo Ships --
Organized by Type
Between its establishment in January 1918 and late 1919 the U.S. Navy's Naval Overseas Transportation Service (NOTS) operated many commissioned cargo ships, primarily to carry supplies to American forces in the European combat zone and then help bring Army supplies and equipment back to the United States. Of these 21 had refrigerated cargo holds and were usually employed in carrying frozen beef to the troops in Europe. In addition to these, a little over a third of the cargo capacity of USS Dochra was refrigerated--this ship is listed with the cargo ships. One additional Navy supply ship, Supply, an old vessel which was did not have refrigerated holds, was never assigned to NOTS. In 1920 the nomenclature for supply ships was changed to storeships and the designator AF was assigned. All subsequent ships designated AF by the Navy had refrigerated holds.
Caution: Not every ship bearing the characteristics shown on these pages was commissioned in the U.S. Navy. There were many World War I era ships, large and small, that were employed by the U.S. Government under commercial charter, or which operated under the flags of the United Kingdom, France, Italy and other nations. Many of these closely resemble ships that did serve in the U.S. Navy, and a large proportion wore pattern camouflage schemes very much like those carried by the Navy's ships. Approach any ship identification task with this firmly in mind!
A Note on Sources: The basic source for the cargo ships, including the refrigerated vessels, serving in NOTS is the book by Lewis P. Clephane, History of the Naval Overseas Transportation Service in World War I,, published by the Naval History Division, Washington, D.C., in 1969. Tonnage (in gross tons except for ships built by the Navy) and dimensions were taken from a file of World War I-era ship data cards now in the custody of the Naval Historical Center and from the 1918 and 1919 editions of the Ships Data Book (whose data usually matches that on the cards). Additional information came from the 1918-1919 and 1919-1920 editions of Lloyds Register of Shipping and from the Dictionary of American Naval Fighting Ships.
This page features a list of groups of World War I era U.S. Navy supply ships and refrigerated cargo ship, defined by ships' physical characteristics, with links to pages dedicated to each group of ships. Those pages provide further links to the individual ships in each group. Representative photographs are also presented for ship groups and for individual vessels.
In the listings below, click the Number (of) Ships entry to access a table of the individual U.S. Navy ships with that specific group's characteristics.

Click the small photographs to access the Picture Data Sheets for those images.
WWI era U.S. Navy supply ships and refrigerated cargo ships of the PASSENGER-CARGO TYPE: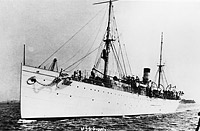 WWI era U.S. Navy supply ships and refrigerated cargo ships with FEWER THAN THREE HULL ISLANDS:
WWI era U.S. Navy supply ships and refrigerated cargo ships with THREE HULL ISLANDS:
NOTES:

To the best of our knowledge, the pictures referenced here are all in the Public Domain, and can therefore be freely downloaded and used for any purpose.


Some images linked from this page may bear obsolete credit lines citing the organization name: "Naval Historical Center". Effective 1 December 2008 the name should be cited as: "Naval History and Heritage Command".







Return to Naval History and Heritage Command home page.
Page made 1 January 2008
Coding updated 11 May 2009