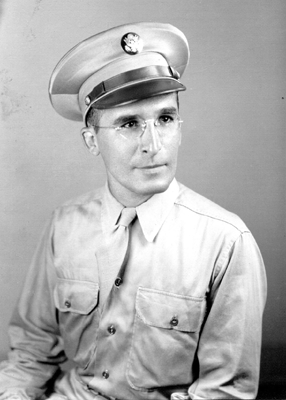 Pfc Sabino Goitia
Fort Sam Houston, 1943
Introduction
The Journal which follows was written by my uncle, Pfc Sabino (Sal) L. Goitia from December, 1943 until the end of 1945. Small enough to carry in his pocket, it represents a very personal account of his experiences, including his fears, anger and even frustration at the army, as well as his moments of relief and joy.

He was born in 1910 in New York City of Basque parents from Bilbao, Spain. Unmarried at the age of 32, he was drafted in May, 1943. He completed medic training at Brooke Hospital, Fort Sam Houston, San Antonio, Texas, and was assigned to the Medical Detachment of the 754th Tank Battalion as a replacement. He left for the South Pacific in December, 1943 in time for two campaigns -- the second battle for Bougainville (Solomon Islands) and the invasion of the Philippines. If my research is correct, the 754th was part of XIV Corps, which consisted of a Marine Defense Battalion, the Americal Division, the 37th Infantry Division (Ohio Buckeye's), the 754th Tank Battalion, Army Air Force, Naval, and numerous other small elements.

Medics were unarmed noncombatants in a war zone. They constructed their own battalion aid station or dispensary and gave medical aid to the wounded and dying soldiers and, on occasion, to prisoners as well. They stood guard over the wounded when threatened with an attack, went to the front with line companies or remained at the aid station, as needed. Uncle Sal related to me that the first they did upon arriving was remove all of the insignia indicating they were medics. The Japanese didn't abide by the rules of war covering noncombatants. "Those red crosses were just like targets for snipers", he said.

History tells us that the second battle for Bougainville was savage and desperate. Japanese losses were inordinately high. Uncle Sal said he couldn't understand it -- "the Japs were crazy" -- they just kept coming over the bodies of their own wounded and dead. "Our boys were fighting with bayonets and many of the wounds were from bayonets -- they fought so close." Years later when we talked about the war, he told me that Bougainville was the worst thing he had ever experienced in his life.

The landing at Lingayen Gulf, Luzon, the Philippines, was not as bad as they had expected in terms of casualties. However, when they reached Manila it was another story. Unlike major cities in Europe, such as Paris and Rome, which were spared, the Japanese would not declare Manila an "Open City". [Manila suffered more casualties than any other Allied capital, except Nanking, during the war.] He said, "The Japs holed up in the old walled part of the city [Intramuros] and our men had to slug it out with them hand to hand." He was in Manila when the war ended.

Here now the Journal --
---
A Medic's Journal
Pfc Sabino L. Goitia
December 1943 -- December, 1945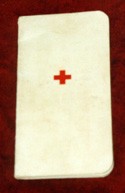 [Editorial additions/clarifications are contained within square brackets]
December 10, 1943

Left San Francisco -- crossed Equator Thursday December 16th at 12:30 P.M. USS General John Pope [AP-110]

December 23, 1943

Arrived New Caledonia -- disembarked December 24th at 7:30 A.M. Rode to 6th Replacement Depot -- Went to midnight mass.

December 25, 1943

Christmas Day -- good dinner -- went down to beach.

January 1, 1944

Shipped out of 6th Replacement Depot to staging area near Noumea.

January 4, 1944

Left staging area and boarded USS Picking. [DD-685] Left New Caledonia at 11:30 A.M.

January 5, 1944

Arrived in New Hebrides.

January 8, 1944

Arrived in Guadalcanal -- Debarked in a landing barge. put up at casual camp. Our unit is now on Bougainville.

January 13, 1944

Left Guadalcanal at 7:00 A.M.

January 15, 1944

Arrived in Bougainville in pouring rain. Loaded into truck and taken to our outfit. Had air raid.

Editorial comment:

As part of the operation (CARTWHEEL) to isolate and reduce Rabaul, the major Japanese air and naval base on New Britain in the Southwest Pacific, the 3d Marine Division landed at Cape Torokina, Empress Augusta Bay, on the west coast of Bougainville in the Northern Solomons, 1 Nov 43. The plan provided for seizing a lightly defended part of the island, establishing several airfields to help defend the beachhead as well as provide fighter support for attacks on Rabaul, and establish a perimeter against which Japanese counterattacks would suffer the same fate as on Guadalcanal.


Bougainville -- Solomons, Bismarks, New Guinea

On 8 Nov 43, the 37th Infantry Division began reinforcing the Marines, assuming responsibility for the left flank of the perimeter. The division constructed roads and bridges, conducted patrols, and repulsed eight Japanese divisional attacks during March, 1944. These included the 8 Mar 44 counterattack on Hill 700 which drove a salient in the lines of the 145th Infantry which wasn't reduced until 13 Mar 44 after heavy combat; the main counterattack of 11 Mar 44 toward Piva Airfield which hit the 129th Infantry; and the 23 Mar 44 general counterattack which penetrated the lines of 129th Infantry before it was defeated.

January 16, 1944

5 air raids -- planes dropped bombs -- dugout full of water -- spent 3 hours in and out of it.

January 21, 1944

Air raid.

January 24, 1944

Same twice.

January 25, 1944

Same three times.

January 26, 1944

Same twice.

January 27, 1944

Same twice.

January 28, 1944

Once.

January 30, 1944

'A' Company engaged the enemy at Torokina River front. Two tanks lost. Men killed and wounded.

February 4, 1944

Surprise air raid by Tojo. No alert sounded. Really scared hell out of us.

February 5, 1944

Two air raids. Dugout full of water up over knees.

February 9, 1944

Air raid for three hours again.

February 10, 1944

Three air raids.

February 12, 1944

Went out with 'C' Company tanks on problems. Five air raids.

February 24, 1944

Built floor and frame for dispensary.


Medics (including Sal: bottom right w/cap & glasses), aid station & ambulance on Bougainville

March 3, 1944

Order came through we must carry sidearms when out of area. Things pretty bad.

March 4, 1944

Foxholes and pillboxes being built all over beachhead. Expect Jap attack.

March 8, 1944

First real taste of war. Shelled by enemy starting at 6 A.M. for about 2 hours. Casualties in area. 2 tanks damaged and 1 truck. 17 planes knocked out. 8 fliers killed while driving in truck. No lights allowed tonight and must sleep in bomb shelter. [Japanese attack against 145th Infantry's positions on Hill 700]

March 9, 1944

Still shelling intermittently.

March 10, 1944

Same.

March 11, 1944

Shelling. Japs are attacking. Our infantry using our half-track to evacuate dead and wounded. Hair raising incident. We were all sitting in front of bomb shelter when Captain Pernice starting dragging a heavy bench across from the dispensary. It sounded like a shell whistling through the air and everyone hit the ground. Gee what a scare! [Main counterattack, against 129th Infantry and Piva Airfield]

March 12, 1944

More shelling, no lights, very little sleep.

March 14, 1944

Went up to front with platoon and tanks -- no action. Saw dead marines and two wounded souvenir hunters. We have men on guard at night at dispensary, each man having one hour shift.

March 15, 1944

Severe earthquake in early morning. Bed rocked like a cradle. More shelling.

March 16, 1944

Shelling quite close. Saw bodies being exhumed in cemetery -- what a stench!

March 17, 1944

Up to the front again. Jap prisoners, some wounded.

March 18, 1944

Terrific explosion this morning. Jap shell hit a bomb dump. Fragment of bomb hit our ambulance, causing slight damage.

March 21, 1944

Went to front -- all quiet.

March 23, 1944

Went to front. Japs have broken through -- lots of mortar shells hitting close by. Wounded and dead brought out. Also prisoners. Tanks go in and finally drive Japs back. Captain takes us to see Jap dead -- a horrible sight! [Final, general counterattack against 129th Infantry positions]

March 31, 1944

Busy on monthly reports. Movies again tonight after more than three weeks without.

April 2, 1944

Palm Sunday -- went to church and received palms. Intend to send some home.

April 3-8, 1944

All quiet.

April 9, 1944

Went to mass in morning. Rest of day was abnormally quiet. Something must be brewing. 32 men in battalion left today under the Rotation Plan.

April 10, 1944

Japs started shelling again but less than before. Hear reports the Jap casualties total 10,000 while ours are very light by comparison. Four months overseas today!

April 12, 1944

More shelling.

April 19, 1944

Bolt of lightning during rain storm struck ordnance supply tent, not 100 feet away. Burned out wires and blew out fuses and lights. None hurt, luckily.

April 22, 1944

Medical team went to front again but I didn't go with them.

April 24, 1944

Medical team returned. Not much action. Japs pushed back about a mile.

April 25, 1944

One of the tankmen killed by bullet from tank's machine gun. Another case of carelessness on somebody's part.

April 26-May 5, 1944

Normal duties. Lots of talk about going to New Zealand for a rest. Also talk of rest of battalion coming from New Caledonia to join us.

May 6-11, 1944

Normal duties.

May 12-20, 1944

Normal duties.

May 21-31, 1944

Normal duties.

June 1-10, 1944

Normal duties.

June 18, 1944

Rest of battalion came up from New Caledonia.

June 19, 1944

Great activity. We must move to a new area.

June 20-22, 1944

Still moving. Heard report Japs have started shelling again.

June 23-July 12, 1944

Now settled in new area but understand this outfit will take part in new operation shortly.

July 13-31, 1944

Usual camp duties. Made Pfc July 28th.

August 1-10, 1944

Usual camp duties.

August 11-20, 1944

Usual camp duties.

August 21-31, 1944

Usual camp duties.

September 1-30, 1944

Usual camp duties.

October 1-31, 1944

Usual camp duties.

November 1-30, 1944

Preparation for movement. We know we are going to the Philippines -- Lingayen Gulf -- Luzon to be exact.

December 6, 1944

Dry run on embarkation of LST. Come back to camp.

December 13, 1944

Embarked LST 1029 and left Bougainville December 15, 1944.

December 18, 1944

Arrived at Huon Gulf, Lae, New Guinea. Remained aboard ship. Departed December 20th.

December 22, 1944

Arrived at Manus Island, Admiralty Islands. Went ashore one day. Also attended Christmas midnight mass. Saw USS Canberra which was torpedoed off Formosa being repaired in dry-dock. Left Manus Island December 27th.

December 28, 1944-January 8, 1945

On way to Luzon attacked one evening by 3 Jap dive bombers. No damage to our ships. Also attacked by Jap torpedo boats. Most of trip was uneventful.

January 9, 1945

Arrived in Lingayen Gulf, Luzon. Bombardment started at 0630. Plenty of battleships, etc. Infantry and tanks hit the beach at 0800. Attacked by 2 enemy planes, one diving at cruiser in suicide attack. Missed, crashing into water. Remained aboard ship. Very light opposition reported on beach. Japs evidently are withdrawing into hills.

January 10-11, 1945

Still aboard ship. A few air attacks. One Jap plane dived into British cruiser knocking off smoke stack and killing a number of men. Little other damage reported.

January 12, 1945

Debarked from ship arrived at bivouac area Binmaley at 1730. Filipinos very friendly. Say they have waited for us for a long time. We are living with a Filipino family named Lopez. They can't do enough for us.


Landing at Lingayen Gulf

January 13, 1945

Left Binmaley arrived bivouac area at San Carlos. Saw Jap tanks knocked out.

January 20, 1945

Left San Carlos arrived at Warva bivouac area.

January 22, 1945

Received report during the night that Japs were infiltrating. Doubled guard. Set up machine guns. We were plenty scared but nothing came of the whole thing.

January 23, 1945

Left Warva bivouac arrived in Gerona area. 4 men left detachment to go with line companies.

January 25, 1945

Left Gerona arrived Copas bivouac area.

January 26, 1945

Another report that Japs were infiltrating. Just another scare. One of our tankmen killed when tank overturned while crossing ford. Helped remove body.

January 28, 1945

I went back to Gerona to give medical service to our rear echelon troops.

January 31, 1945

Returned from Gerona. Have been up to front giving medical support to tanks now fighting at Clark Field and Fort Stotsenburg. Beaucoup souvenirs.

February 2, 1945

Departed from Copas. Arrived bivouac area Angeles. Many Jap planes strewn around fields.

February 6, 1945

Left Angeles arrived Duhat bivouac area.

February 7, 1945

Left Duhat late at night. Arrived bivouac area Grace Park, Manila at 1:00 o'clock next morning (February 8th). Manila is burning! We are just outside the city and can see the smoke and red glare in the distance. Japs are reported burning the city as they retreat. We bivouac in field for the night. Plenty of heavy artillery nearby pounding away through the night. Little sleep.

February 8, 1945

Have taken over a house (upper rooms) for our detachment. Fairly comfortable quarters. Guns continue to fire most of the day and night. We are shelling south part of Manila because Japs have holed up in buildings. Report is that when they leave a building they burn it anyway, so we might as well shell them out as they are holding up our advancing troops. North part of Manila in pretty good condition.

February 15, 1945

One officer and two enlisted men killed by bomb from enemy plane this morning in Manila. Six of us left in a half-track and ambulance to give medical aid. Removed bodies to cemetery. Badly mutilated. Didn't care for any breakfast when I returned.

February 16-28, 1945

Line companies fighting in Manila.


129th Infantry on streets of Manila

March 1-5, 1945

Still mopping up. Usual duties.

March 11, 1945

Went to South Manila to look around. Manila is now secure but they are still finding a few Japs now and then. Took some pictures. Many beautiful buildings badly damaged. Streets littered with rubble. Tremendous number of flies and flighty stench caused by dead Japs still in some buildings. Saw Manila harbor and beaucoup sunken Jap ships.


View of Rizal Ave., Manila taken from tank of 754 Tank Bn.

March 15, 1945

Have been looking for Jose Pradera* all along and learned that he evacuated Manila when our planes first bombed it. Supposed to have gone to Baguio. At present time there is heavy fighting up in that area. Hope he is safe. Understand he has not been a prisoner of the Japs and has actually been playing Jai-Alai all along.

March 24, 1945

Took some more pictures.

March 26, 1945

Another set of pictures taken in Manila. Have had several air raid alerts the past few days but no planes have appeared.

March 27-April 30, 1945

Still located in the same area. Four companies still fighting in the hills east of Manila. Have been to Manila again to look for Pradera. Went through Jai-Alai building to see extent of damage. Pretty bad. Will take a long time to fix up. Received word from home that Pradera is in Manila. Will continue to search for him.

May 9, 1945

Finally found Pradera alive and well living with a Spanish family. We were awfully glad to see each other and he asked lots of questions about home, etc. He's coming to visit me this Saturday.


Sal & Jose Pradera in Manila

May 12, 1945

Jose came to see me and we had a pleasant day.

May 13, 1945

Went to see Jose and took some pictures in Manila.

May 30, 1945

Haven't seen Jose for some time, must try to see him soon.

May 31, 1945

Am disgusted with this army. Had a chance to work in the CP as 'D' company clerk with a corporal rating, but CSB put thumbs down on the idea. Says he can't spare me. Evidently I'm the indispensable man but not worthy of a higher rating. At present I'm doing the work of a staff sergeant and getting a Pfc's pay. Seriously thinking of chucking the whole thing. Can't help feeling bitter when I see others get ratings yet they do less than me.

June 1, 1945

Feel better after that blast. Had it on my mind a long time.

July 1, 1945

Nothing new. Rumors about a new operation [DOWNFALL: The invasion of Japan]. The boss is very nice to me these days. Says he wants to keep the employees happy. Probably has a guilty conscience.

July 25, 1945

Two companies left to go into training for a new operation [DOWNFALL:].

[August 6, 1945: Little Boy dropped on Hiroshima]
[August 9, 1945: Fat Man dropped on Nagasaki.]

August 10, 1945

Japan has offered to surrender. Perhaps this is really the end of this damn mess. Lots of shooting in the area. The boys sure feel like celebrating.

September 1, 1945

Located Freddie Lopez* in Manila. we both went to see Jose Pradera and had a nice time.

September 10, 1945

Heard about the army discharging men over 35. Hope I can get home by Christmas. Were alerted to go to Japan but the whole thing fell through.

Last Entry


Uncle Sal reading the journal in 1998
---
Transcribed from the original hand-written diary by: Ellie Kennedy -- niece of Sabino Goitia
---
Decorations
Asiatic-Pacific Service Medal (2 stars)
Philippines Liberation Ribbon
World War II Victory Medal
---
Epilogue
He made it back to Fort Dix, New Jersey a few days before Christmas, 1945. There were so many soldiers being processed out that it was not know if all would get discharge papers by the holiday. His brother, brother-in-law and 5-year-old nephew drove from New York City to Fort Dix on Christmas Eve. After they instructed the 5-year-old not to speak a work, Sabino climbed into the trunk of the car. Once outside the base, in Bordentown, New Jersey, he got out of the trunk and they drove home. A few days later, he returned on a bus -- seemingly no one noticed his absence. His honorable discharge papers came through on December 30, 1945, but he had achieved every soldier's wish -- to be home for Christmas!
---
Remembrance
After he returned from the war in December 1945, we lived in the same house until he retired to Florida in 1972. His medic training was put to use after the war since he could take a splinter out better than any mother, and every child on the block knew it. However, he specialized in scraped knees and elbows.

Over time we had several conversations about the war. Always one to joke, he would end these conversations with a humorous story. Once he told me that on Bougainville when the shelling was heavy he dug a foxhole so deep he though he might come up in Japan. "I though I might have to invade single-handedly", he joked, but the first rain came and "I almost drowned, so I filled it in some." They knew nothing about the atom bomb and always anticipated having to invade Japan.

Another story regarding Bougainville had to do with insects. He said the first month he was there, if an insect got in his food he'd throw it away. The second month, he'd just brush it off and go on eating. By the third month he'd leave it in and go on eating. When I made a face at the thought, he said, "Good protein!"

As a child, he always referred to me as his "Golden Girl." When I grew up, I asked him how I came to have that nickname. He told me that after the invasion of the Philippines, the mail caught up and he found out that my mother (his sister) was going to have another child -- he knew somehow it would be a girl. When he arrived home that December and saw me for the first time, he thought I was such a good baby -- as good as gold! -- and I became his "Golden Girl".

I once asked him what was the happiest day of his life. Immediately he said the day he found out the war was over and they would not have to invade Japan, but very quickly corrected himself and said it was the day he found out I was born. I have always believed that these two events were inexplicably tied together for him as the happiest of times. The end of the war meant a bright future and my arrival a few weeks later a manifestation of that future. A new life in a new world.

He is almost 88 years old now and quite ill. Once again, he lives with me, and once again I am his "Golden Girl."

Ellie Kennedy (niece)
1998
Comments to: SLGJournal@AOL.com

My thanks to:
Andrea Goitia Peters (niece) -- editing and proofreading
Dave Peters -- combat photo work
Sheila Patterson -- photo work

Special thanks to Patrick Clancey for all his hard work and especially for convincing me that presenting this journal was important.
---
Last updated: August 18, 1998
---
Copyright by Ellie Kennedy, 1998