Chapter VII
The Southwest Pacific Command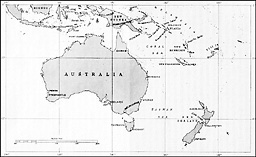 Australia
---
Early Logistics

The logistics of the Southwest Pacific Force, later the Seventh Fleet, will be treated rather briefly in this book because they follow somewhat the same pattern as service activities elsewhere. When from time to time the subject is taken up, it is because of its tie-in with other forces or to show the general logistic activity in progress.

In the Southwest Pacific, 1942-43, a service force was developed under the over-all command of Vice Admiral A.S. Carpender, under the immediate over-all command of several successive officers. At first, for a short time, Captain H.E. Paddock headed it; then Rear Admiral D.E. Barbey, whose principal job was to organize an amphibious force but who was temporarily assigned the service force as well.

Next came Commodore R.G. Coman, under whom the initial development assumed important proportions. While there were not many floating auxiliaries at first, the destroyer tender Dobbin was at Sydney, where she did some great work of battle-damage repair as well as routine service which was by no means confined to destroyers. She took on submarines for repair and routine tender services, besides working on the cruisers New Orleans, San Juan, Chester, Portland, Phoenix, and others. In addition there were a U.S. repair barge YR, a sort of floating machine ship, the naval dockyard, and the large graving dock at Wooloomooloo. The Australian facilities were being expanded, and the United States shore activities, together with storage depots, were being developed.

A submarine base at Brisbane, which consisted always of one tender (often complemented by another), and a number of shop and shore activities, was constantly expanding and improving. Three small ferryboats fitted up as machine ships made repairs to patrol and mine craft. There were also a degaussing range, a very important radio repair unit,
--62--
---
and a marine railway which was constantly busy. The motor-torpedo-boat repair unit at Brisbane at first contributed to the upkeep and maintenance of other vessels as well as its own craft. A receiving barracks was established to handle the distribution and staging of personnel. The administrative headquarters of the Commander Southwest Pacific Naval Force was located here in the spring of 1943.

Farther up the east coast at Townsville, and still farther north at Cairns, landing-craft bases and amphibious training centers were being located. A base construction depot, ammunition depot, and staging center were also being established.

In the southwest corner of western Australia the submarine base at Fremantle had been somewhat improved, and another established farther north in Exmouth Gulf. There was always one tender available at Fremantle, occasionally two of them, with the Australian local facilities cooperating to capacity. There were a marine railway and fair food supply there, but oil, ammunition, and torpedoes of course had to be brought in by sea to keep the submarines and other vessels supplied. By June of 1945 the oil storage developed at Fremantle, between naval and commercial facilities, amounted to more than 700,000 barrels, a considerable portion of which came from the Persian oil fields. In addition to this bunker fuel there was storage in the area for about 206,000 barrels of Diesel fuel.

In the beginning there was not drydock large enough to take our submarines; only a marine railway able to lift 850 tons. On occasion it was necessary to do repair work with only a part of the submarine hauled out of the water. Later, in 1943, the floating dock ARD-10 was sent there and remedied the deficiency. A ship-repair unit, Navy 137, with special qualities for work on submarines, was also installed. Ammunition storage grew to a capacity of about 4,000 tons.

By 30 July 1943 there were half a dozen district patrol vessels in the food supply duty for General MacArthur's bases and forces at advanced points. More often than not they were used to supply these advanced points, but nevertheless helped in supplying fresh and frozen foods to some ofthe vessels of the fleet.By this time Milne Bay was well started as a base, both air and naval. Thus the Southwest Pacific facilities started and grew along lines somewhat similar to those already mentioned for the South Pacific, with floating drydocks of various sizes at several small bases, and continually advancing. Milne Bay and Finschhafen, both in Papua, New Guinea, began respectively in May 1943 and November 1943. Later on came the great Manus base, Morotai, and other smaller
--64--
---

PT boat fueling depot Base No. 8, Morobe, New Guinea.
--65--
---
ones for PT boats, small craft, and seaplanes, and finally the Philippine bases. Tenders and repair ships increased. Ammunition and store ships also increased in numbers, and though South and Southwest Pacific service to the fleet were partly from ships and floating sources, it was the gain in the latter that permitted the increasing tempo of the offensive. The floating facilities could be moved forward on short notice; the shore establishments could not be moved quickly, and sometimes could not be moved at all.

About 300 miles north of Lae, New Guinea, and about 2 degrees south of the Equator are the Admiralty islands, among which are Manus and Los Negros. Saipan, Guam, and Tinian are about 1,000 miles almost due north; Truk lies to the northeast and Palau and Yap northwest. On a chart, lines joining these islands form the shape of a kite, with Manus at the southern tip or tail of the kite. To the east of Manus, and almost joining it, is the smaller island of Los Negros, which sweeps in a curve to the north and northwest, forming with some smaller islets as a northern enclosure one of the best anchorages in the Southwest Pacific Seeadler Harbor.

A surprise amphibious attack had been executed here on 29 February by Task Group 76.1 of nine destroyers and a transport unit of three destroyers, all under Rear Admiral W.M. Fechteler. Task Force 74, of the cruisers Phoenix and Nashville, with four destroyers, acted as a covering force and bombarded positions on Los Negros and Manus before the landings. The landings on Los Negros were the first step to obtain control of the entire Admiralty group, not only for the establishment of strategically located airfields but also for the development of Seeadler Harbor as a major fleet anchorage with shore base. Our forces here and at Emirau Island, captured later,not only had an advanced base from which to strike but which effectively cut off Kavieng and Rabaul from their supply lines. Emirau, in the St. Mathias group, is 75 miles northwest of Kavieng. Since no enemy activity had been detected there, Rear Admiral T.S. Wilkinson, commanding Task Force 31, was able to land two battalions of the Fourth Marines easily, though cruisers and destroyers were in position for gunfire support if necessary and planes from the Enterprise and Belleau Wood were on hand for air support. No special fleet logistics were involved.

On Manus Island, Commodore J.E. Boak, after having done a splendid job completing a Lion base at Espiritu Santo, established another, a modified Lion, and in April 1944 assumed command of it by order of the Commander Seventh Fleet. At this time the Army estimated
--66--
---
that four or five hundred enemy effectives might still be at large on the island, though all organized resistance had ceased. This was just after Admiral Spruance had delivered an air attack on Truk, and after a preliminary carrier-task-force attack had been made in the Marianas. Later in September of that year Seeadler Harbor became the locus operandi of a number of units of Service Squadron Ten, helping that base by supporting the Third Fleet and some units of the Seventh from mobile equipment. The developments of a major naval base, such as the building of airfields, seaplane bases, hospital, tank farm, and supply depot, took place. One activity upon which Service Squadron Ten was later to depend was the water-supply system, capable of producing 4,000,000 gallons daily. Compared to Guam and Leyte-Samar, the base at Manus was the third largest, judged by the amount of money finally spent on it.
--67--
---
Table of Contents ** Previous Chapter (6) * Next Chapter (8)
---
---