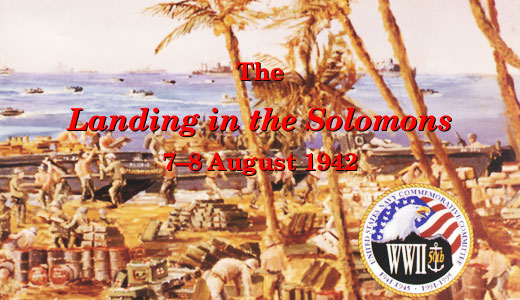 Discharging stores at Lunga Point, oil, by John Hamilton. U.S. Marines landed virtually unopposed on Guadalcanal on 7 August 1942, and work began at once to complete the airfield which was to become known as Henderson Field. However, the Japanese reaction was immediate and it seemed that the American forces faced disaster.
---
United States Navy
Combat Narrative
The Landing in the Solomons
7-8 August 1942

NAVAL HISTORICAL CENTER
DEPARTMENT OF THE NAVY
WASHINGTON
1994
---
Library of Congress Cataloging-in-Publication Data
Ware, Leonard.
The landing in the Solomons, 7-8 August 1942.
p. cm.

Leonard Ware authored this account which the Office of Naval Intelligence published without attribution in 1943.

Originally published: Washington, D.C. : Publications Branch, Office of Naval Intelligence, United States Navy, 1943. (Combat narratives. Solomon Islands campaign ; 1)

Includes bibliographical references.

ISBN 0-945274-19-X

1. Guadalcanal Island (Solomon Islands), Battle of, 1942-1943. 2. World War, 1939-1945--Amphibious operations. I. Naval Historical Center (U.S.) II. Title. III. Series: Combat narratives. Solomon Islands campaign ; 1.

D767.98.W28 1993
940.54'26-dc20

93-37905
CIP

---

For sale by the U.S. Government Printing Office

Superintendent of Documents, Mail Stop: SSOP, Washington, DC 20402-9328

---

All pages are tagged for HTML referencing (<a name=page#>)
Usage:
<a href=http://www.ibiblio.org/hyperwar/USN/USN-CN-Solomons/USN-CN-Solomons-chapter.html#pagen>
Example (to reference Chapter 9, page 74):
<a href=http://www.ibiblio.org/hyperwar/USN/USN-CN-Solomons/USN-CN-Solomons-9.html#page74>

---

Contents

Forward to the NHC Edition

The Haleta landing (page: 40)
The landing on Beach Blue (pages: 40-43)
The Halavo landing (pages:43-45)
The Gavutu landing (pages: 45-52)

Tulagi (pages: 63-65)
Gavutu (pages: 65-73)
Guadalcanal (pages: 73-74)

Air patrols (pages 75-76)
The enemy air attacks of 8 August (pages; 76-81)
Cleaning up Tulagi (pages: 81-82)
The taking of Tanambogo (pages: 82-87)
Guadalcanal, 8 August (pages: 87-88)

---

---

Charts and Illustrations
---