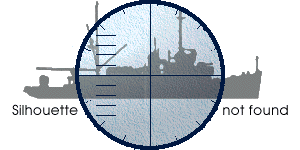 Ships of the U.S. Navy, 1940-1945
USS ATR-77
Rescue Tug:
Displacement: 852 tons
Length: 165'6"
Beam: 33'4"
Draft: 15'6"
Speed: 12 knots
Armament: 1 3"
Complement: 35
Triple-expansion reciprocating steam engines, single screw, 1,600 hp
Built at __________, and commissioned in 1942
The ATR 77 was sent to Lake Charles, Louisiana after the war to be decommissioned and sold for scrap. While moored in the Calcasieu River North of Lake Charles it capsized and sank.  It is still there in the river as it was never salvaged.
---
Additional Links:
"Dictionary of American Naval Fighting Ships" -- USS ATR-77

---

For additional photos, see the Main Page.
For crew lists, and reunions see the Veterans Info Page.
For ship's logs and personnel records, see the Reference Page.
---
---
---

Return to Ships of the U.S. Navy: Tugs

Return to Ships of the U.S. Navy
---
Last updated: 16 December 2005