The USS LST-481
John H. Dougherty
(Former MoMM 2c)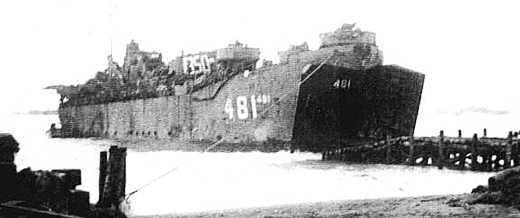 ---
This is a short history of the USS LST 481, a World War II Tank Landing Ship which had a brief but exciting life lasting from September 4, 1942, when she was laid down at the Kaiser, Inc. Shipyard in Richmond, California, until her final ignominious end in April 1948, when she was sold to the Bethlehem Steel Company to be scrapped. After construction began in September, the ship was launched on December 2, 1942, and officially started her Naval career when she was commissioned on May 15, 1943, Lt. George McGuire, USN, in command. Very little has been written in any detail about the remarkably versatile Landing Ship, Tank (LST), which officially made it's combat debut in June 1943, in the Solomon Islands of the South Pacific, although several were in service in the Aleutian Islands in April 1943. The LSTs served in many capacities until the end of hostilities in August 1945, and after. From the "Dictionary of American Naval Fighting Ships" I have learned that a total of 1,051 LSTs were constructed during World War II, and even though we jokingly insisted that "LST" was short for "Large Slow Target", only 26 were lost by enemy action, and 13 were lost due to weather, grounding on reefs, or accident, although many LSTs, including the 481, were damaged in varying degrees of severity by enemy planes, guns or ships. Of the 1,051 LSTs built, 113 were transferred to Great Britain under the Lend-Lease act, 4 were turned over to the Greek Navy and 116 were converted to repair ships and tenders of various kinds.

To aid me in this project of preserving a part of the past, I have obtained copies of the Deck Log and the Muster Roll of the USS LST 481 from the Military Branch of the National Archives, and microfilm records containing 481's War Diary and Action Reports from the Naval Historical Center. The Deck Log is complete except for the missing month of February 1944. Many of the incidents I have written about are from my own personal recollections, and quite a few items have to do with the engineering section of the ship, which is where I worked. Because my memory grows more hazy with each passing year, there are probably some mistakes and errors in my story, but I have tried to make it as factual as possible. Although the official documents provide most of my information, a substantial portion of this narrative is based on my memories as an enlisted sailor.

In most cases where disciplinary action is mentioned, initials have been used in place of names. The crew listing was taken directly from information given in 481's official Muster Roll.

This history is dedicated to everyone who served aboard the USS LST 481, and in particular to the memory of William J. Phillips, S1c, lost at sea on June 22, 1944; and George Daniel's, OS3c, killed in action at Guam, July 24, 1944.
---
Destroyer Base, San Diego
I suppose one of the best places to begin this story is the Destroyer Base in San Diego, California, and more specifically, the General Detail section of the Receiving Station at that base, since many of the original crew spent several months of hard labor in that location before finally receiving the assignments which would place them in the LST program.

After five months in the Navy, I first arrived at the Des Base as part of a group from the Machinist's Mate School in Wahpeton, North Dakota. We had just completed four months at the school, and after a trip half way across the country, we finally pulled into San Diego on the night of December 24, 1942, in the midst of a heavy rainstorm. The West Coast was in a wartime attitude in those days and this included the Destroyer Base, which was in a total black-out condition. We had no idea of our exact location until the next day, when we learned we were in the San Diego Receiving Station. In the Navy, a Receiving Station, or Receiving Ship, is simply a place to keep people who are awaiting further assignment, and to keep them gainfully occupied. At San Diego, (called "Dago" by everyone), we were in the General Detail section of the Receiving Station, which meant we could be used for all the odd jobs that had to be done around the base, Keeping us gainfully occupied was very easy since there were all kinds of jobs to be done in the ship repair base, which included dry-docks and all kinds of shops related to ship repair. It was really a very interesting place; however, most of the work was dirty and involved getting into bilge areas and ballast tanks aboard some older submarines and destroyers, and doing a lot of cleaning and paint scraping. Every morning after chow, there would be a muster of all hands in General Detail, and the various jobs would be assigned.
We Learn About LSTs
In February or March we were transferred out of General Detail and moved to a different area of the base, called the New Barracks, and told we were going to be assigned to ships called LSTs. At that time, none of us even knew what an LST was, but eventually we learned it was a new kind of ship which evidently had the downright dangerous sounding job of landing tanks on an enemy held beach. The main reason for our lack of knowledge was that LSTs were a new type of ship, and in late 1942 and early 1943 there were very few in the Navy. We eventually found that the initials stood for Landing Ship, Tank. These ships were three hundred twenty eight feet long, fifty feet wide, with a minimum draft of three feet, nine inches at the bow and ten feet aft. With a crew of around one hundred enlisted men and ten officers, they were designed to transport tanks, troops and other equipment. LSTs carried two or more thirty six foot landing craft, and because of their size, could travel on any ocean, carrying 2100 tons of cargo. They had two bow doors which opened to reveal a large ramp that was lowered after the ship landed on a beach, permitting vehicles and men to go ashore. When the ship was going in for a beaching, the large stern anchor would be dropped a hundred yards or so off the beach. To retract from the beach, the powerful stern anchor winch was used together with the the main engines running full speed with the twin screws turning in reverse. Later, in real life, we were to find that this didn't always work; sometimes the ship would be so solidly grounded that the anchor would be dragged right up to the stem without causing any movement away from the beach. At those times, the anchor had to be kedged, or tied to the stern of one of the ship's boats, which would struggle and strain to carry the heavy anchor and cable out as far as possible away from the ship. When that point was reached, the anchor was released, hopefully to take a good hold on the bottom, and the entire retraction process would begin once more. There were many occasions when an LST had to be assisted from a beach by another ship towing it while the stern anchor winch and engines strained mightily. Bulldozers were sometimes used to push an LST off a beach where it had become stranded.

All this was still in the future in early 1943. A recently commissioned LST was used to take a large group of us on an overnight training cruise along the California coast. A memorable part of the training cruise was the greasy pork chop dinner we had for our first meal. This was probably the prime reason for a lot of new sailors being seasick and turning green for a while. Some of the petty officers in the engine room of the training ship, and also some of those in our crew, had attended a diesel engine school in Los Angeles, and part of their training had been a trip on a railroad locomotive pulling a train from Los Angeles to Salt Lake City, Utah. These locomotives were powered by the same V-12 diesels that were in the LSTs, and the trip gave the Navy men some hands-on experience with the engines.
Treasure Island
In March or early April 1943, after returning from our brief taste of sea duty, a large group of us soon-to-be LST sailors were transferred to Treasure Island Navy Receiving Station in San Francisco, California. This installation was located on a man made island which had been the site of the l939 San Francisco World's Fair (the same year as the New York World's Fair). It was adjacent to Yerba Buena Island (also called Goat Island), in San Francisco Bay, half way between San Francisco and Oakland and was accessible from the Bay Bridge which connects the two cities. Treasure Island Receiving Station was strictly a bull pen type of operation since almost everyone there was waiting for assignment elsewhere. It was the kind of place everyone wanted to get out of as soon as possible. The facilities were lousy, in addition to being crowded. Fortunately, our stay in T.I. was probably not longer than two weeks .
Mare Island Navy Yard
The LST crews were then sent to Mare Island Navy Yard in Vallejo, California, near the northern end of San Francisco Bay. We were housed there while our ships were being completed in nearby Richmond. Our barracks were pretty nice as far as barracks go and were not too far from the mess hall. Much of the time we had very little to do, so we would go sightseeing around the base. They had what were called "Elephant Trains", which were tractor trailer trucks that had the trailer converted into a bus like vehicle. These trains drove on a regular route all around the base, providing good transportation wherever you wanted to go. Mare Island was a major naval repair base and while we were there, several cruisers were having battle damage repaired, and the destroyer USS Lavalette was in dry dock with a huge hole in her engine room, the result of being hit by a Japanese torpedo. There was something interesting to see all the time.

At Mare Island the crews of each new LST were living together for the first time. This is when we learned that our ship was to be the USS LST 481--no name, just a number. The man in charge of our crew was James Lowe, Boatswains Mate First Class, promoted to Chief soon after we went aboard ship. We were in the same barracks with the crews of several other LSTs which were under construction. The ships were being built at the Henry Kaiser Shipyard in Richmond, California, also in San Francisco Bay. This shipyard built LSTs numbered 476 through 488, all of which saw plenty of action before the end of the war. These thirteen ships earned a total of sixty battle stars for WWII service, and three of them; 477, 485, 488, earned Navy Unit Commendations. One ship, LST 480, was lost in a tragic ammunition explosion at West Loch Anchorage, Pearl Harbor, in May 1944. The Kaiser Shipyard was a busy place in 1943, with work going on twenty-four hours a day.

While in Mare Island, we were sent out to the coast to an Anti-Aircraft gunnery school for a day. This was the extent of our formal training in shooting down airplanes. Several times, as construction progressed on the 481, we went to the shipyard to familiarize ourselves with the ship and to stow various stores, etc. in storage compartments. In early May the entire crew finally moved aboard the ship which was to be our home for quite a long time, (in my case, it was to be thirty months).
USS LST 481 Commissioned
The USS LST 481 was commissioned at 1:45 PM on May 15, 1943, Lieutenant George McGuire, USN, in command, and our Sea Duty officially began. This meant a few extra dollars in our pay. A copy of the original muster roll shows that the crew numbered fifty six enlisted men and eight officers on the day of commissioning. The number of enlisted men would shortly increase to seventy four, and would eventually go as high as one hundred nine. Of the fifty six original crewmen, twenty five were in the engineering section, twenty four were seamen (including radio, signal and quartermaster people who had no petty officer rates at this time), three were Ships Cooks, and there was one Pharmacists Mate, one Metalsmith and two Stewards Mates. Included in the fifty six were Joseph Daugherty and John Dougherty, Carl Freeman and Merle Freeman, Marzell Robinson and Odell Robinson, who were brothers, and I think were twins, Harold Shultz and Donald Shulz--the names ran through the alphabet from Anderson to Zolnak, and we were from all parts of the country. According to the cities in which we had enlisted in the Navy, 28 were from the western states; 11 from the midwest; 11 from the south and only 6 of us had enlisted in an eastern state.

There were eight commissioned officers; Commanding Officer, Lt. G. McGuire, USN; Executive Officer, Lt.(jg) W.H. Bundy, USN; Engineering Officer, Ens. W.L. Boyer, USNR; Gunnery Officer, Ens. E. Higdon, USNR; First Lieutenant, Ens. M.J. Commer, USNR; Ens. E.M. Hogge, USNR; Ens. G.J. Kuzma, USNR; Ens. J.R. Mooney, USNR.

The original black gang on the 481 consisted of one Motor Machinists Mate First Class, eight Motor Machinists Mates Second Class, six Fireman First Class, seven Fireman Second Class, one Fireman Third Class, and two Electricians Mates Third Class.
Introduction To The Engine Rooms
Since I was in the black gang, I'll dig into my memory to tell you about the two engine rooms, main and auxiliary. Naturally, the first noticeable thing in both engine rooms was the noise, which was loud enough that you had to yell to be heard by the person standing next to you. Next was the heat, which in the slightly cool climate of the Pacific coast, was not too bad, but we could imagine what it would be like in the South Pacific.

The main engine room, about twenty five or thirty feet square, was almost totally filled with the two big diesels and other related equipment. The engines and attached machinery extended for a distance of eighteen or twenty feet from a walkway at the front of the engine room to the bulkhead at the rear of the compartment. In addition to the two engines, each of which had a clutch mechanism and a huge reduction gear which converted the engine speed to a slower propeller speed, there were large lube oil filters and strainers, a big fire main pump, a bilge pump, air compressors which supplied air for the clutches and two banks of large storage batteries used to start the engines. Each engine also had a heat exchanger system consisting of a big horizontally mounted tank containing a large number of tubes through which ran the engine's fresh water coolant. A salt water pump on the front of each engine constantly pumped cool sea water from the sea chest, located in the side of the hull near the bottom of the ship, through the heat exchanger and around the fresh water tubes, thus keeping the engines cool.

The deck plates on which we walked had one section about three or four feet wide reaching across the front of the compartment from side to side, and other sections which ran along both sides of each engine. At each end of the walkway across the front of the engine room there was an escape trunk containing a vertical steel ladder which provided entry and exit for the engine room, and which went up three decks to an escape hatch on the main deck. In each ladder way there were watertight doors leading to the troop compartments on the second deck and to a storage compartment on the third deck in the port side escape trunk and to the boiler room in the starboard escape trunk. The center area between the engines was occupied by the fire and bilge pumps, the heat exchangers and the lube oil strainers.

The deck plates were placed about three or four feet above the bottom of the ship and the area below the deck plates was called the bilge, where all the oil and water leakage accumulated, and which was almost filled with pipes running in all directions. The deck plates were removable, and periodically, someone (a lowly Fireman) would have to go down into the bilge to clean or paint the area. This was not the place for someone suffering from claustrophobia. A fire extinguishing system, with brass horn-shaped nozzles located every ten feet or so, completely surrounded the compartment. The nozzles were pointed down toward the bilge and were meant to put out any fires in that area. The engine rooms were one of the few places aboard that had brass fixtures which were kept highly polished. Each watch on duty during the night had a specific job to do in addition to the normal operation of the engines. One polished all brass fittings, another washed the engines and other equipment with soap and water, and another cleaned and pumped out the bilges.

At the front of the compartment there was a built-in stand-up desk for keeping the hourly log and various other writing chores. In the center, next to the desk, were the two annunciators, or speed indicators, which were connected to similar annunciators in the wheelhouse. These were used to communicate the desired speed of the ship from the bridge to the engine room. The electric throttle control pedestals were adjacent to the annunciators, and I believe there were two RPM indicators and a clock in this area. Also in the front of the engine room, sitting almost on the bottom of the hull and extending to a height of about eight or ten inches above the level of the deck plates were two lube oil filters, each about two feet in diameter.

The two main engines which propelled the ship were big General Motors V-12-567 Diesels (having twelve cylinders, six on each side of the vee). They each powered a propeller shaft and screw through an ingenious pneumatic clutch which allowed the shaft and screw to be turned in either a forward or reverse direction. Before passing through the hull at the stem of the ship, each propeller shaft extended forty or fifty feet back through two compartments, which made up what were called the shaft alleys, aft of the main engine room. The shaft alleys were reached by going through a watertight door on the second deck, and down a ladder way to the bottom of the ship. Since there were two shafts running through two shaft alleys, there was an entry on the port side and one on the starboard side.

In the adjacent auxiliary engine room, just forward of the main engine room , there were three smaller, eight cylinder Superior diesel engines, each turning an electrical generator for all the ship's internal power. Usually, one engine was sufficient to supply electrical power, but whenever extra power was required, two, or even all three could be put on line together. The auxiliary engine room was the site of the main electrical distribution panel, which covered almost the entire aft bulkhead of the compartment. On the forward bulkhead were the ballast tank gauges, which indicated the amount of water in each ballast tank. The high volume ballast pumps, the main fuel oil and fresh water pumps used for transferring fuel or water, and a centrifuge used to remove impurities from either fuel oil or lubricating oil were also to be found in the auxiliary engine room. This space was pretty well occupied by machinery, just as the main engine room was. Access to this compartment was identical to that in the main engine room, through an escape trunk on each side.

The speed and direction of travel of the ship was controlled from the conning tower by the Officer of the Deck, who would instruct a man stationed in the wheelhouse area of the bridge to ring up the correct speed on the engine room annunciators. This method was used for major changes in speed, from stop, to slow, to half, to full or to flank speed, and either ahead or astern. This speed and direction would be indicated on the annunciators in the engine room and the man on the electric throttles would adjust the throttles accordingly, after the command had been acknowledged by a corresponding annunciator ring to the bridge from the engine room. When the ship was traveling in a convoy, the convoy commander set the speed for the entire convoy, and if your ship was first in a line of other ships, it would probably not have to make many speed changes, but if it was not the first one in a line, many minor speed changes were sometimes necessary so the correct position could be maintained, and at this time the bridge would use the phone to call the engine room for changes of a few RPMs up or down. Some officers were constantly calling on the engine room phones for five RPMs up or ten RPMs down, etc., while other officers called for very few speed changes. A man on the bridge and one in the engine room constantly wore a telephone set which consisted of earphones and a mouthpiece which hung by a strap around your neck. This type of phone was also worn at all times by lookouts stationed on the bow and at various other locations topside.
Sea Duty
One of the first entries in the Deck Log states that the ship was moored starboard side to Hull 40 (probably an LST under construction) at yard #3, Kaiser Shipyard, with the auxiliary engines furnishing light and power to the ship. The first move the ship made was on May 1, when tugs assisted us to get underway from the Kaiser Shipyard to Berth 3 at the Longworth Oil Dock in Richmond. At 1105 we commenced taking on fuel, with the draft forward being two and three quarters feet, and eleven feet aft. The draft of a ship indicates how deep in the water the ship is sitting. At 1635 fueling was completed and the ship's draft now showed four feet forward and twelve feet aft. After taking on fuel, the ship moved out into the bay where the anchor was dropped at 1906, and we settled in for the night.

Next morning we got underway for Mare Island Navy Yard, where the ship moored at Dock 21, remaining there until May 20, when we moved down the bay to tie up to Pier 46, San Francisco. While the ship was in San Francisco the crew was given liberty and permitted to go ashore. J.A. Boatman from Tucumcari, New Mexico and I decided we would get a tattoo, so off we went to a tattoo parlor on Market Street and got identical tattoos. He got his on the shoulder and I got mine on my left forearm. The process took some time and was a little painful. The tattoo artist was an older man who was very painstaking in his work. To this day, I never have any trouble knowing my left from my right as long as I can find my tattoo.

On May 24, 1943, LST 481 made her first venture out onto the high seas destination, San Diego.
Trip To San Diego
In order to get to San Diego, we first had to find our way out of San Francisco Bay in a very heavy fog. Because of the fog, this proved to be a complicated task for the navigators on the bridge, resulting in a near grounding on Alcatraz Island, home of the infamous federal prison. A group of us were standing outside the galley passageway, which ran from one side of the ship to the other, when someone happened to look through to the other side and saw some fog shrouded land where there definitely was not supposed to be any. Surprise! There was Alcatraz, practically on our door step! The ship was so close that the screws stirred up a lot of muddy water as we passed the island. At 0845 the anchor was dropped just off Alcatraz to wait for the fog to lift.

By 0920 we were underway once more, and at 1046 we headed out under the Golden Gate Bridge into the mighty Pacific Ocean. Any doubts the crew might have had about the ability of the ship to sail out of sight of land and return safely were erased when we successfully sailed into San Diego Bay on May 26.

The 481 had been sent to San Diego to be degaussed, or demagnetized. Inside the ship, completely encircling it in a fore and aft direction, was a big fat cable, containing hundreds of small wires. This was part of the degaussing system which protected the ship from magnetic mines and it had to be activated in a day-long degaussing process. During the process, which took place on May 28, the ship was completely surrounded with large cables running fore and aft and from side to side. These cables were run under the ship and across the deck in a crisscross pattern and were connected to a large barge anchored in the bay. During this process, all watches and clocks were removed from the ship so they would not be affected by the demagnetizing. After an electrical current was passed through the cables for a period of time, they were removed. The ship then cast off from the barge, proceeded out of the bay into the ocean just off the coast, and cruised in large circles for several hours. I don't remember if we went clockwise or counter clockwise, but I think it was always in the same direction. This completed the degaussing and hopefully we were now safe from magnetic mines.

After the degaussing process, 481 moored to a buoy in San Diego Bay until the following day. Next morning at 0730, thirty nine Navy ROTC men came aboard for a training cruise, and 481 cast off from Buoy 16 at 0821, headed for the open waters off the southern California coast. At this point in the log, several discrepancies indicate that some of the ROTC trainees must have taken over the log keeping task since the time which should have been 0821 is shown as 1821. These mistakes continued in the log for the balance of the morning, and were evidently not too favorably perceived by Captain McGuire or Lt. Bundy, because written in very large script at the bottom of the page is the word "rewrite!" After our ROTC training cruise, we returned to port, mooring once again to a buoy in the bay at 1426. The ship and crew now embarked upon a period of training which included our first beaching operation on June 1, 1943. On June 3, 481 got underway for San Francisco, arriving there in mid-morning on June 6.

We spent a day moored to Pier 54 before moving to Hunters Point Navy Yard in San Francisco Bay, south of San Francisco. The log doesn't say why we went to Hunters Point, but we remained there until June 15, when we got underway for the degaussing range. A group of officers had come aboard to calibrate the Radio Direction Finder and to check compass compensation after which 481 returned to tie up at Pier 46, San Francisco. On June 17 at 0825, we were underway to Monterey, California for training exercises with Army troops at Fort Ord. After an uneventful trip, the bow anchor was dropped in Monterey Bay at 1936 the same night.
Training At Monterey
The Army base at Fort Ord was located on the ocean near Monterey, and it [was filled] with Army troops and their equipment. In addition to beaching practice it was here that we practiced beaching operations for two days before loading up the 481, this was also an amphibious training exercise for the Army. The ship would pull up onto the beach where bulldozers would build a sand ramp, or roadway, out to the ship's ramp, and the loading would begin. The beach at this point had a good sized surf running which made it a little harder for the troops to build the ramp out to the ship, but they persevered, and when the roadway was bulldozed into place, the ship would be completely loaded with troops and all kinds of equipment. Loading bulldozers and so forth on the tank deck was quite interesting for the people in the engine rooms located directly under the tank deck. As the steel-tracked vehicles drove across the tank deck, the terrific vibration would shake all kinds of loose dirt and paint chips down from the engine room overhead and would sometimes cause the engine room light bulbs to blink off and on. When the loading was finished, the ship would back out into the ocean and proceed on all day maneuvers before returning to the beach to disembark the troops.

To get some idea of what this involved, thirty or forty loaded Army vehicles of various types had to be loaded onto two decks, the tank deck and the main deck. The tank deck was around 275 feet or so in length, two decks high, and wide enough for three or four army trucks to fit side by side. The bow ramp opened onto this deck. The main deck was above the tank deck and was the open area forward of the deckhouse and navigating bridge. In order to load vehicles onto the main or upper deck, a large elevator was located at the forward end of the tank deck. A vehicle would back into the tank deck, back up onto the elevator platform, and be raised to the main deck where it would back off and proceed to the assigned parking area to be secured to the deck with chains and turnbuckles. When loading the main deck was completed, the elevator would be locked into place in the raised position, thus becoming part of the main deck. Most vehicles were backed into the ship so they could be unloaded quickly. As the tank deck filled, everything had to be secured with chains and turnbuckles so nothing would move around when we were at sea.

A year or so later, after different parts of the ship had begun to age a bit, the elevator developed an alarming habit of suddenly falling without warning, causing the entire ship to shake as if hit by a bomb. Fortunately, no serious injuries resulted from these unplanned descents. Had anyone been underneath, he would have been flattened and compressed by the tremendous weight .

Sometimes we would be accompanied on these maneuvers away from the Fort Ord area by several LCIs (Landing Craft, Infantry), which were also involved in joint Army-Navy training sessions. On June 26, 481 was called upon to provide assistance to LCI 326, which had broached in the heavy surf on the beach. This was no small job, but required two and a half hours of coordinated effort before the LCI was pulled away from the beach.

481 remained in this area for twelve days, practicing landing, loading and unloading. We had one liberty in Monterey and went on a swimming party on the beach one day. One of our boats took the swimming party ashore, landing on the beach, which was a nice sandy one with large waves breaking on it. We were the only people there, so it was probably part of the Army Base. The salt water caused a slight infection on my still unhealed tattoo, but this cleared up after a couple of days.
North To The Aleutian Islands
I guess we passed all of our training requirements at this time, because on June 28 we pulled away from Monterey in company with LCIs 346, 81 and 78, bound for San Francisco Bay and Mare Island. Mare Island Navy Yard had one of the largest cranes on the west coast, and there, on June 30, 1943, this crane loaded the USS LCT (Landing Craft, Tank) 320 onto our main deck. An LCT was over 120 feet long and was wide enough to just fit on the deck of an LST. They weighed more than one hundred fifty tons and were similar to a large powered barge, with an open cargo carrying area capable of carrying several tanks, a large bow ramp that lowered to open, and a navigation bridge, crew's quarters and engine room at the stem. They were powered by three diesel engines, and carried a crew of around twelve men and one officer. The main deck of our ship was fitted with huge timbers arranged so that they acted like the launching ways in a shipyard. The LCT was lowered onto these timbers and secured with chains and cables. The idea was that when we got to our destination, a severe list, or tilt, would be put on our ship by pumping salt water into the ballast tanks on one side of the ship, and pumping water out of the tanks on the other side. When the right amount of list was achieved, the chains and cables securing the LCT would be removed and it would slide over the side into the water, where it would be on its own.

We remained in Mare Island until July 5, moored part of the time along side LST 484. On the morning of the 5th we were underway for the Point Orient Oil Dock where the fuel tanks were topped off. That afternoon the 481 dropped anchor in the bay and stayed put until July 8 when we moved in to Pier 45-D, San Francisco to load supplies.

The Administrative Log lists some of the stores which were taken aboard in preparation for our trip. The log entry below is for July 8, 1943:
0800 -
Mustered on stations, no absentees.
1800 -
Stores were received aboard and were inspected as to quality and quantity by Ensign E.M. Hogge, USNR. They were as follows:
Potatoes, Irish -- 1500 lbs.
Orange juice -- 252 qts.
Onions, dry -- 400 lbs.
Asparagus -- 314 lbs.
Lettuce -- 59 lbs.
Beans, navy -- 300 lbs.
Celery -- 56 lbs.
Beans, string -- 480 lbs.
Carrots -- 312 lbs.
Carrots, can. -- 397 lbs.
Tomatoes -- 33 lbs.
Corn, canned -- 300 lbs.
Pineapple juice -- 252 qts.
Cherries, can. -- 400 lbs.
Potatoes, canned -- 261 lbs.
Coffee, ground -- 500 lbs.
Tomatoes, canned 780 lbs.
Catsup, tomato -- 90 gal.
Vinegar -- 8 gal.
Bacon -- 217 lbs.
Milk, evaporated -- 100l lbs.
Beef -- 3976 lbs.
Chili con came -- 4~8 lbs.
Butter -- 40 lbs.
Mix, ice cream -- 255 lbs.
Cheese -- 270 lbs.
Eggs, powdered -- 198 lbs.
Eggs, fresh -- 300 lbs.
Syrup, canned -- 9 gal.
Ham, canned -- 314 lbs.
Spaghetti -- 280 lbs.
Pork, uncured -- 425 lbs.
Oil, salad -- 30 gal.
Pork, loin -- 501 lbs.
Oats, rolled -- 200 lbs.
Pork, sausage -- 300 lbs.
Of course, this is just a partial list of the supplies we loaded. Months later, we often remembered how well we ate on this first trip out of the country, especially when we were down to two meals a day or after eating stew and rice for a week straight. Loading stores was an "all hands" job, as was ammunition loading, and even though we were always glad to see additional stores coming aboard, we were not too thrilled about the work involved. Someone in the black gang always made sure that several cases of canned peaches or something similar was diverted to one of the engine room storerooms for later use by the engineers. When the deck plates at the bottom of the engine room escape trunk were removed, a perfect storage space was exposed for these ill gotten goods.
On July 10, at two in the morning, we began to load one hundred seventy eight Army troops in the troop compartments located along both the port and starboard sides of the second deck, just below the main deck. Embarking the troops was completed two hours later. In order to load the Army's equipment, the ship moved to the Hyde Street Ferry Slip, where the loading was accomplished by way of the open bow doors and lowered ramp. In the tank deck we carried the equipment for a complete Army field hospital, trucks, jeeps, and a great number of bags of coal. All this plus the LCT chained to the main deck gave the ship a good heavy load. We pulled away from the ferry slip at 0505 on July 11, 1943, and at 0705 we were underway as part of LST Flotilla 3, Group 7, bound for Kodiak, Alaska and the Aleutian Islands.
The Japanese had occupied two of the Aleutian Islands, Attu and Kiska, on June 7, 1942, and in May 1943, American Army troops landed on Attu and took it back from the Japanese after a costly and bloody battle. Now we were part of a task force heading for Kiska to put it back into American hands.
The convoy was to get into some very stormy seas on the way north; in fact, the sea became so rough that our ship developed a large crack in a steel plate on the starboard side of the hull, running from the main deck straight down for almost two feet, This resulted from the fact that LSTs, with their perfectly flat bottom, constantly bend in the middle when going through waves of almost any size. Even in a moderately rough sea, if you stood at either the bow of the ship or at the stern, and looked at the opposite end, you could see the ship flex and bend every time it hit a wave. This flexing and bending also caused some disasters in the tank deck, when one of the large pipelines which made up the ship's fire main sprang a leak and sprayed salt water all over the area until the shipfitters were able to make repairs.
One strange thing about all this destruction was that it never happened again after this time. It was almost as if certain parts of the ship had to be loosened up so that everything would bend and flex in time with everything else. We were to discover several other things which evidently resulted from the fast pace involved in building these ships. One of the more serious incidents was when an oil pipeline feeding a centrifuge used to remove impurities from the oil, was found to be blocked by a blind gasket, which had no hole in the center to allow the oil to flow through. We also found old rags which had been left in storage tanks and in the bilges. These problems were corrected as soon as they were discovered and before long we were sailing along pretty smoothly.
On July 15, LST 479 had to leave the formation for Port Angeles, Washington, to make repairs on one of the main engines. I recently received a letter from a former crewman of the 479 who told me that one of the main engines broke a camshaft. After repairs had been made, the 479 sailed without escort to Kodiak.
As our convoy sailed into Womens Bay, Kodiak, on July 21, we passed through some of the most fantastic scenic areas any of us had ever seen. The shore and the mountains were spectacular. From that moment on, I always had a desire to go back to Alaska and see more of it. At the Navy Base in Womens Bay, we tied up to LST 480 at 1150, and repairs were made which consisted of simply welding a large steel plate over the crack in the hull. After loading some additional stores, we were on our way at 1700 for Adak in the Aleutian Islands.
I mentioned above that we were sailing in a convoy. From the time we first left the States, until the end of the war, almost every bit of sailing we did would be in a convoy with other ships and usually with a protective escort. Sometimes the escort would be made up of a couple of small PCs (Patrol Craft), or SCs (Sub Chasers), but quite often it was made up of DDs (Destroyers) or DEs (Destroyer Escorts). Regardless of their size, we were always glad to see the escorts sailing out on the horizon. As I recall, there were about twelve LSTs in the convoy to the Aleutians, and I don't remember if there were any other troop transports or cargo ships with us or not. The convoy probably consisted of LSTs and escorts only, since our top speed was under twelve'knots, and we usually traveled at nine knots or less, much slower than the normal attack transport.
Adak, Aleutian Islands
On July 25, the port engine stopped running at 2045, but the ship was able to maintain position in the formation with the starboard engine. Repairs were not completed until twenty five minutes after midnight. Shortly after four in the afternoon of the 26th we dropped anchor in Kuluk Bay, Adak, Aleutian Islands, completing our first fifteen day voyage and feeling much more confident of ourselves and the ship.

Adak, located about halfway out in the thousand mile long chain of Aleutian Islands, was where the ships of the invasion force were gathering before making the final move toward Kiska, so the harbor was crowded with all kinds of vessels. It was also one of the main bases of operation for the bombers which had been blasting Kiska for some time. It must have been the worse place in the world in which to be flying airplanes, because of the fog and the proverbial Aleutian bad weather in general. We could hear the planes flying, but couldn't see them until they came zooming down through the ever present heavy fog and clouds which always seemed to reach almost down to sea level. I am sure they must have had many plane crashes because of the weather.

July 27 was spent anchored in Kuluk Bay with nothing unusual happening, but on the 28th, the LCT carried on our main deck was launched off the starboard side of the ship at 0838. The launching went off without a hitch; all starboard side ballast tanks were pumped full of water, while all tanks on the port side were pumped dry, which resulted in a very severe list or tilt toward the starboard side. After all securing chains and cables were removed, the USS LCT 320 slid sideways over the side of the ship and into the water with a huge splash. It was quite a sight to see. After the launching, our ship was made level once more and the LCT was ready for duty.

The only problem with the LCT launching took place shortly after the actual launch, when the deck gang was clearing the main deck of the big timbers on which the LCT had been resting. They were pushing the timbers over the side into the water where they could be towed into shore for other use. To keep them from floating away, a line, which was secured to our deck, was tied around the timber, and was coiled up on the deck so it could run free as the timber went overboard. The problem came about when a seaman named James "Bull" Houston accidentally got his foot tangled in the securing line, and as the timber slid neatly off the deck and into the water, "Bull" was yanked not quite as neatly over the side and into the frigid water. It always seemed very funny to us afterward, but it could have had disastrous results because of the cold temperature of the water. Fortunately, one of our boats was able to rescue him immediately, but by the time he got back on deck, his skin had developed a definite blue tinge. The heavy foul weather clothing he was dressed in didn't make rescue any easier. Luckily, the only damage, other than being cold, was to his ego.

Shortly after 4 o'clock in the afternoon of July 28, 481 was underway for the Bay of Islands, which I think was another anchorage at Adak Island. Other than mentioning that several minesweepers tied up alongside, the log shows no activity taking place until we left the Bay of Islands to return to Kuluk Bay on August 4 where we remained at anchor until August 7. At 1000 we got underway at the request of the Captain of the Port, to move to a new anchorage, where the anchor was dropped in six and two thirds fathoms of water at 1150. By 2210 the next night, we were forced to move once again, this time because of strong winds. The anchor was dropped at 2300, but at fifteen minutes after midnight we made yet another move noted in the deck log "because of the presence of rocks". I don't know if this was when the following episode took place or not, but it seems likely that it was.

We had a misfortune of sorts happen one night while we were anchored, and which I recall because I was on a special watch in the boiler room. The ship had a small oil-fired steam boiler which provided steam for the galley and for heat in the living quarters. This boiler had automatic controls which turned it on and off, much like the furnace in a house, but on the night of which I write, the automatic controls were not working automatically, resulting in the need to station someone in the boiler room to manually turn the controls on and off as the steam pressure decreased and increased. It was my turn to be on this watch on the night in question, switching the boiler on and off as needed. I was sitting comfortably on the deck, reading a book between switchings, when in addition to the normal rolling motion, I felt a slight jar and the ship tilted slightly to one side and stayed there. Since the people who stood watches in the engine rooms and boiler room never knew first hand just what was happening topside, we had to wait for someone to tell us that one of the fierce Aleutian wind storms, called williwaws, had blown up, causing the ship to drag anchor and hit some underwater rocks. We learned that the ship had suffered some damage and had a hole in the bottom of one of the forward salt water ballast tanks, It was determined that the leakage was confined to just that tank, so our seaworthiness was not affected and repairs would not be needed until we went back to the States.

Nowhere in the deck log is any mention made of this particular incident, but the fact that we did hit some rocks that night was common knowledge to everyone aboard. Together with many others of the crew, I saw the big gash in the bottom when 481 was on a marine railway in Alameda for repairs.

By 0100 we were once again at anchor in Kuluk Bay, finally staying at one anchorage for the rest of August 9. Next day at 1140, 481 was underway in company with LSTs 480, 69, 20 and 23, bound for the Bay of Islands anchorage, where we dropped anchor in Gannet Cove at 0645. At 0615 on the 11th we headed for the Army Dock where We beached to load more Army equipment. The log states: "2135 Completed loading Army Engineers 184-3 and equipment, and retracted from beach, proceeding to anchorage". Twenty minutes later the ship was at anchor in Gannet Cove once again. This time we had a two day break before the final jump-off late in the afternoon of August 14, when we assumed our position in the formation of the Northern Landing Ship Group on our way to Kiska to "participate in Landing Operations in accordance with Commander Attack Force, Operation Plan 4-43"
Invasion No. One - Kiska, Aleutian Islands
In the pre-dawn hours of August 15, 1943, after a breakfast of steak and eggs, the invasion forces cautiously made their way toward the island and the troops made their landing, only to find that the Japanese had somehow evacuated Kiska under cover of the ever present fog. The 481 disembarked troops into Landing boats at 0720 on the 16th before coming to anchor at 0830. On August 21 we finally beached on the rocky shore next to the Japanese seaplane base which was pretty much destroyed by the bombing. Nearby was the wreck of a Japanese ship which had been bombed and was now a rusting hulk driven up onto the beach.

As our ship was being unloaded, and since there were evidently no Japanese on the island, we were allowed to go ashore, almost like going on liberty. Looking back from forty some years later, it's surprising that a lot of us were not blown up by booby traps, because we were allowed to go everywhere without restriction. The place looked like the Japanese had just left that morning; some people even found food which had not been eaten. What the Japanese had accomplished in the short time they had occupied the island was amazing. Almost everything was underground, including a full sized hospital. Every place was connected by tunnels, which had been dug throughout the area. Overlooking the water, there were many large artillery pieces in gun emplacements dug into the sides of the hills. Seeing these guns and their locations made us doubly thankful that the island had been deserted. Souvenir hunting was what we got involved in when we went ashore, and some of the things the crew brought back to the ship were out of this world. Some guys had Japanese army or navy fur coats and hats, blankets, mosquito repellent, cigarettes, uniform buttons and various other items of interest. Several of our crew found a Japanese motorcycle which they pushed for some distance before it became hopelessly bogged down in the mud. The weather even cooperated for a change by coming up with a rare fairly nice day. 481 was on the rocky beach until August 24, when we retracted at 0755, and proceeded to an anchorage in Kiska Harbor.
Back To Adak
The log for the 25th reads like a comedy of errors as we prepared to get underway for Adak.
| | |
| --- | --- |
| | |
| 1405 - | Anchor aweigh preparatory to getting underway to Adak. |
| 1410 - | Dropped anchor, departure delayed. |
| 1505 - | Anchor aweigh preparatory to getting underway to Adak. |
| 1520 - | Anchor dropped, departure delayed again. |
| 1559 - | Underway for Adak in company with LST 478, being escorted by USS Bancroft with Commander Landing Ship Group aboard escort. |
I have no idea what caused the delays, but we finally started out almost two hours after our initial preparation to get underway. The next delay was caused by the 481 on August 26 at 0323, when the auxiliary engine went out and all engines were stopped until 0342. The little convoy finally dropped anchor in Kuluk Bay, Adak, at 1955 that night. It was sometime while we were at Adak (possibly before we went to Kiska) that we sailed into a narrow fiord and had some gunnery practice, shooting at the side of a nearby mountain which ran straight down to the water's edge. It was really a beautiful area, and we shot a lot of holes in the mountainside. Our armament at the time was that which was on the ship when it was commissioned, and that was very little. It consisted of a three inch gun in a gun tub on the stern, one forty millimeter anti-aircraft gun on the bow, and six twenty millimeter anti-aircraft guns arranged three on each side. We were very lucky no planes attacked us, poorly armed as we were. At the time, not knowing any better, we didn't realize how under gunned we were. When we were sailing out of this beautiful area, we got the word that when we came to a certain area, all hands were to evacuate the engine rooms because of some possible mines. That was the only time in the ship's history that no one was in either engine room while the ship was underway. Fortunately, we hit no mines and emerged safely.
In addition to being woefully under gunned, LSTs at that time had no radar, and no evaporators for making fresh water, thus the only fresh water we had was that which we carried in several storage tanks built into the hull as were the fuel tanks and ballast tanks.
Since the LSTs had no radar, navigating in a heavy fog while in convoy was a tricky business at best. Each ship carried what I seem to remember was called a "fog buoy", which was a piece of equipment that was towed behind the ship far enough so the following ship could see it and use it to maintain the correct interval between vessels. The fog buoy's design caused a spout of water to shoot several feet above the surface of the sea as it was towed through the water. The bow lookout was supposed to keep the OOD informed of the location of the fog buoy trailed by the ship in front of us, but I can remember times when we looked out of the galley passageway and could see the other ship's buoy throwing up a spout of water almost even with the stern of our ship. This meant that either the lookout wasn't too alert, or the OOD had not slowed down the speed of the ship, and was getting too close to the LST ahead of us.
We were in Adak until September 4, when we pulled away from the island at 0715 as first section guide in LST Group 7, headed for good old San Francisco. Originally we were prepared to get under way on the 2nd, and again on the 3rd, but each time there was some kind of delay once again, as there had been when we were leaving Kiska. After finally moving out of Adak, each LST in the convoy was towing an LCT astern, using the large stern anchor cable as the towing cable.
The anchor was securely fastened in its housing at the stern of the ship and the cable was removed from it and led out to the LCT where it was fastened to a bridle looped in front of the bow ramp of the LCT. We were towing LCT 81 about two hundred yards or so astern. The LCTs could not be reloaded onto the LSTs since there was no crane available which was capable of lifting the heavy weight. I have no official information on LCTs being towed by LSTs, but this voyage from Adak in the Aleutian Islands to San Francisco must surely have set a distance record for this type of operation.
Fifteen LSTs took part in the Kiska operation; 20, 23, 69, 169, 205, 451, 466, 476, 478, 479, 480, 481, 482, 483, 484. Several of these were Coast Guard manned LSTs. The Aleutian Island operations were among the very earliest in which LSTs were used. Most of the LSTs left the area after Kiska, but several remained in the Aleutians until December 1943.
Return To The U.S.
Several days after leaving the Aleutians, the convoy sailed into the worst storm we had seen up to that time. The waves were coming directly against our bow, and were so high that we could look over at the LST sailing next to us and see daylight under the ship for almost half it's length as it went over the crest of a wave. As we went over these crests and the bow of the ship came down with a crash, the entire ship shuddered and bounced because of the flat bottom.

Below decks in the crew's quarters, which was also the mess deck, mess table benches were crashing and flying around, as was anything else not securely fastened down. At chow time, for those who were able to eat, it was a question of getting anything to stay in one place long enough to eat it. The mess tables had legs which were permanently bolted to the deck, and the men sitting in front of the table legs had to wrap their own legs around those of the table so the entire bench full of men wouldn't topple over.

The galley was located in the after part of the deckhouse on the main deck, and the food was served over a counter to the men as they passed along the galley passageway from the port side to the starboard, after which they had to go down a ladder or stairway to the mess deck below. Going down the ladder with a full tray of food could be very interesting, depending on how much the ship was rolling. If you got caught at the wrong time, you would have to try to walk down a ladder which was almost straight up and down rather than slanted like a stairway should be. Many a poor sailor lost control of his tray full of chow trying to negotiate that steep ladder. When we had troops on board it was even more chaotic, since they weren't used to the rolling of the ship. The troop mess deck was on the starboard side where some of the troop compartments were located, so they had to go down the same ladder used by the crew in order to get to their mess tables. Without fail, if we were in any kind of rough weather, several chow trays would end up on the deck at the bottom of the ladder. This must have been one of the cleanest areas on the ship, since it had to be swabbed after each meal.

Another nasty thing that happened when the ship hit these huge waves, was that the terrific crash would cause the bunks in the crew's quarters to bounce, sometimes high enough to unhook the chains which fastened the three tiered bunks to hooks on the overhead or ceiling. The bunks were simple pipe frame with a canvas bottom held in place by a line running through eyelets in the canvas and looped around the pipe frame. The inner edge of the bunks were fastened by hinges to two stanchions, or steel pillars, so they could be folded up during the day. The outer edges of the bunks were supported by a chain near each end, fastened to the hooks on the overhead. There were three bunks, one over the other, on each side of the stanchions. The bottom bunk was about eight inches above the deck; the middle one was about two and a half feet over the lower, and the top bunk two and a half feet above the middle one. Each occupant had his two and a half feet of overhead space and about two feet from side to side. The bunks each had a section of railing about two feet long welded to the outer side to keep the occupant from falling out when the ship rolled. During the day the three bunks would be folded up and hooked almost flat against the stanchions, making it easier to clean the deck and also preventing anyone from sacking out in his bunk during the day. Several times, during rough weather, the ship crashed into waves with such force that some of the chains jumped out of the hooks, throwing the occupants out onto the deck. On one occasion, a man suffered a cut over his eye when the pipe frame of the bunk hit him. My bunk was a top one and was located next to the head, almost as far in the stern as you could go, so we got a pretty rough ride in heavy weather. The crew's quarters were directly under the galley, and when we were in heavy seas we could always hear pots and pans falling and rolling around on the deck above us. The amount of noise coming 'from the galley was usually an indication of how rough the sea was.

Earlier, I mentioned that when we watched the LST next to us in the convoy, we could see daylight under part of the ship when it went up over one of the huge waves. This also meant that when the ship went down the other side of the wave, the stern came out of the water so we could see the twin screws churning and making a froth as they came into the air. This made for an interesting situation in the main engine room because the engines would speed up when the screws came out of the water. Since the main engines were equipped with an overspeed trip type of governor, they would automatically shut off if they were permitted to exceed the limits of the governor, placing the ship in an extremely dangerous condition without power and at the mercy of the waves. Normally, the speed of the engines was controlled by a man operating two electric throttle levers located on pedestals at the forward end of the engine room. These levers also controlled the forward or reverse action of the clutch, causing the ship to move ahead or astern. In order to prevent the engines from automatically shutting down in very rough weather, it was necessary to station a man at the manual throttle located on the front of each engine. He kept an eye on the RPM gauge, and as engine speed increased, he was able to adjust the manual throttle in order to slow the engine down.

The storm we ran into on our way home from the Aleutians increased in ferocity until the convoy was unable to make much headway at all, and finally we had to turn and sail with the storm for a time. This made for a little smoother ride since the waves were overtaking the ships from the stern rather than the ships trying to force their way into them.

The LCTs towed by the ships really had a rough time; in fact, one towed by one of the LSTs suffered severe damage from the heavy weather and had to be abandoned by the crew before it sank. I have learned from a crew member of LST 479 that the LCT towed by that ship sank after repeated failure of the towing bridle and tow line. The 479 was damaged in the very rough sea by heavy contact with the LCT when she pulled alongside to remove the crew of that stricken vessel. Mattresses were stuffed into several holes in 479's hull to help stop the sea from flooding the holed compartments. Fortunately, according to my source of information, the damage was confined to sections of the hull which were above the waterline and 479 continued to sail with the rest of the convoy. The LCT towed by 481 was only visible to us when it was up on the crest of one of the huge waves, or when we were on a crest and the LCT was in a valley.

Some strange things happened while we were being overtaken by those big waves. One of the funniest to anyone not involved, was when a wave would break over the stem and flood the main deck to a level high enough for the sea water to flow into the ventilation ductwork leading to the head in the crew's quarters. This duct had vent openings located directly over each toilet in the head, resulting in a free salt water shower for anyone unlucky enough to be occupying one of the seats at the time of the flood. To make matters worse, this surprise cold shower would come as the poor guy was trying to hold on to the john so he wouldn't get bounced off, and could make one's day very miserable. On another occasion, someone was foolish enough to open one of the emergency hatches in the crew's quarters, allowing a deluge of water to come crashing in. He said he was only trying to get a little air into the area, but it turned out he got more salt water than he did air.
Back In the San Francisco Bay Area
Eventually we sailed out of the big storm and continued on our way back to the States, arriving in San Francisco on September 18, 1943, feeling like old salts after our trip up north. Several of us even grew scraggly looking beards while we were on our Aleutian sojourn. We dropped anchor in San Francisco Bay at 2210 and LCT 81 was moved up to moor along our port side until the next morning when a tug arrived to assist the LCT to her destination. As soon as the tug and LCT moved out, we got underway for Pier 35, where we moored port side to the dock, remaining here until September 23. Our next port of call was Drydock #1, General Engineering Company, which was a shipyard in Alameda, across the bay from San Francisco. The 481 was pulled up out of the water on a large marine railway so repairs could be made to the hole in the bottom. When the ship was high and dry, they discovered the hole was quite large; in fact it was a gash about nine feet long.

As I mentioned earlier, the hole was fortunately in one of the forward ballast tanks, which did not affect the seaworthiness of the ship, but did render that particular ballast tank useless. The ballast tanks were an important factor in the design of the LST. The ships were constructed so that they had an extremely shallow draft at the bow, enabling them to beach in shallow water, yet they also needed stability when sailing on the deep oceans. This stability and weight was provided by a sophisticated system of ballast tanks and high volume ballast pumps. The ballast tanks were also an important factor when we were making a landing on the beach. If we went on a beach to pick up a load, some of the ballast tanks were flooded before we landed, giving the ship extra weight. After we were loaded, the tanks would be pumped dry, thus compensating for the load, and theoretically allowing us to retract from the beach with a full load. Of course, this didn't always work; sometimes the load would be heavier than the water which had been pumped out, resulting in the ship being stuck on the beach, often until a high tide came in. We were always able to back off, although in some cases, not without a mighty struggle. When the repairs were made, a large steel plate about an inch thick was welded to the bottom and covered the entire area which normally hits the beach first when making a landing. As a result of this reinforcement, the ship suffered no further damage to the forward section of the bottom.

I think it was at the same time these repairs were made, that some changes were made to the two bow doors. After a few landings, it was discovered that when the doors were opening, the lower outside corner would drag on the bottom if the beach was a steep one. They tried to correct this by making the lower corner into a hinged section which would fold inward if the doors hit anything while they were being opened. These hinged sections proved to be more of a problem than a solution and eventually were discarded entirely, leaving a large open section at the bottom of each bow door. The open area between the bow doors and the bow ramp, which was sealed with a watertight gasket, was a favorite place for some of the crew to cool off in the tremendous rush of water that came pouring in through the openings when the ship was underway.

We moved away from the drydock on September 26 and were soon underway for the Point Orient oil dock to refuel. About two and a half hours after refueling was completed, the ship was underway as formation guide of a convoy consisting of LSTs 481, 482 and 478, bound for Port Hueneme, California, which was a Seabee base located a bit north of Los Angeles. We remained in Port Hueneme from September 28 until October 2, loading cargo.

At three in the afternoon of the 2nd, we were underway for San Diego as guide for the same group of three ships. We tied up to Broadway Pier, San Diego, on the morning of October 3 and by 1000 had commenced loading a number of LCVPs (36 foot landing boats) on the main deck, as cargo. Along with the LCVPs, we also embarked 192 sailors from the Landing Craft School. Loading was completed on October 4 at 1615, and we were underway out of San Diego at 1758, bound for Pearl Harbor, Territory of Hawaii.

During the ten day voyage to Pearl Harbor, we had to refuel and provision YMS-290 (a small minesweeper) while underway. Because of their small size, they evidently couldn't carry enough food or fuel for such a long trip. Refueling took almost an hour and provisioning took only fifteen minutes.

On October 8 at 1700, a fire was reported in the Metalsmith shop which resulted in minor damages before being extinguished by CO2. The fire started from a torch being used to cut some angle iron.
Pearl Harbor,T.H.
On October 14, 1943 we pulled into the famous Navy base at Pearl Harbor on the island of Oahu, Territory of Hawaii. The sunken battleship Oklahoma was still in the process of being raised by means of many steel cables powered by large winches set up on Ford Island. The Arizona was barely visible, with only the uppermost parts of the ship showing. Otherwise, very little of the damage caused by the Japanese attack on December 7, 1941 remained to be seen. In 1943 this was the headquarters for all the major Pacific operations, and the base was crowded with all kinds of naval vessels from battleships and aircraft carriers to the lowly LSTs.

By 1030 we were tied up alongside LST 482 at the Ferry Slip of the Cooling Plant to take on fresh water. On October 16 the ship moved to Berth [..] 4 to discharge the passengers, completing the disembarkation at 1100, after which we moved back to our previous mooring next to LST 482. On the 17th we got underway for Iroquois Point, where the ship beached at 1145, with LST 478 on the starboard side, to unload cargo from the tank deck. This job wasn't completed until the 22nd, when we retracted from the beach and were underway for Pier K-l to unload the LCVPs from the main deck. Next day at 0545, unloading the LCVPs was completed, and we moved to Pier K-6 to begin loading for our next assignment. At this pier, we moored port side to APA-12 (an attack transport) and commenced loading Army equipment. Late evening of the 24th found us underway for Dog Easy dock, where an unusual mooring arrangement came about. 481 tied up starboard side to 482 and 480 moored to our port side, thus placing the three ships in numerical order: 480, 481 and 482, possibly the only time this happened.

On October 27 we made our way into the Thomas Drydock, where we remained until the 31st of the month. The log doesn't mention it, but this must have been when the pontoon mounting brackets were welded along both sides of the hull near the waterline. After the pontoon brackets were added, four big pontoons were mounted, two on each side of the ship. A crane lifted the pontoons on their sides and lowered them so the bottom of the pontoon rested in the mounting brackets. They were held tight to the side of the ship by chains fastened to the deck. We were to drop them at some future location by removing the chains and allowing the pontoons to fall into the water alongside the ship. Also while in drydock, on October 30, we loaded up with one hundred ninety seven Army enlisted personnel and nine Army officers. On October 31, the ship backed out of the drydock at 1100 and by 1138 we were passing the entrance buoys on our way to Funafuti, one of the Ellis Islands, located not too far south of the Equator.
Central Pacific - Funafuti, Ellice Islands
On November 7 we crossed the equator and all of us Pollywogs who had not previously made the crossing, were duly initiated into the realm of King Neptune, thus being transformed into Shellbacks. The initiation ceremonies were fairly lenient since only a small number of the crew had previously crossed the Equator, but we all got our heads shaved, ran a gauntlet of people belting us with rag-stuffed, greased socks, had to try to swallow an oyster which was attached to a string held by someone who yanked the oyster out when we had partially swallowed it, and various other playful deeds. Now that I think about it, they used the same oyster over and over. Our turn would come at a later date when we would head south with a new crew of Pollywogs.

On November 11, 1943, we pulled into Fongafala Anchorage, Funafuti. Here we waited for the invasion force to form up for our next destination, which we learned was to be a group of atolls in the Gilbert Islands, just north of the Equator and slightly to the northwest of Funafuti. The names of these places were strange to us, but were to become well known in a short time; Tarawa, Makin, and Abemama atolls, with the first named to be more famous than the others. I might add at this time that the crew seldom knew where we were going to end up until we were underway for a day or two; however, most of the time we were able to make a pretty good guess.

While we were in Funafuti we witnessed our first air raid. It was shortly after midnight on the night of November 13 when General Quarters sounded. The log reads as follows:
| | |
| --- | --- |
| | |
| 0040 - | Sounded General Quarters. Jap planes overhead. This vessel withheld fire as range was too great. Planes were taken under fire by beach batteries. |
It was also an excuse for most of the ships in the harbor to see how their anti-aircraft guns worked, and soon the sky was a blaze of tracers until it looked like it was raining red rain. As noted in the log, our Captain, George "Mickey" McGuire, would not let us open fire, so we were able to enjoy the fireworks from our ringside seats in the middle of everything. The Captain was correct in not firing, since no one on the 481 saw any planes, which didn't even fly over the area where we were anchored. Incidentally, I believe the plane or planes got away.
Twenty Millimeter AA Guns
At this time, my General Quarters station was on a twenty millimeter gun on the starboard side at the after end of the deckhouse, over the galley. There were three men in each twenty millimeter gun crew; a pointer, a trainer, and a loader. The pointer was strapped into two shoulder supports which enabled him to aim and fire the gun. The trainer had to operate a crank which raised or lowered the gun mount, thus keeping the pointer's legs fairly straight as he aimed the gun. The loader had the unenviable job of lifting the heavy magazine with both hands, and, while holding it at arms length, had to release the breech lock with the heel of his left hand so the magazine could be fitted into the breech.

These magazines each held sixty rounds of twenty millimeter ammunition and were very heavy. Twenty millimeter shells were designed to explode on contact, therefore, the first round in the magazine was always a sand shell, so called because it fired a non- explosive, sand filled projectile as a safety precaution in case the muzzle cover was accidentally left on the end of the gun barrel. On these occasions, the sand shell would blow the muzzle cover off without the danger of exploding on contact. Every third or fourth round was a tracer shell which the pointer used as an aiming aid, something like squirting a garden hose at an object, and although electrical gun sights were added later in the war, many pointers still preferred to use tracers as an aiming devise.

At every twenty millimeter gun station there were two steel ready boxes which each held eight or ten loaded magazines. The magazines had to have sixty pounds of tension added to internal springs which forced the shells out into the breech of the gun when firing. The tension was put on by means of a ratchet and crank arrangement, and if you weren't careful when cranking up the tension, the ratchet could slip and you would get a hefty whack in the ribs as the crank handle was yanked out of your grasp. The magazines were loaded with greased twenty millimeter shells at a steel loading table in the forward end of the crew's quarters. This was done by the gun crews, usually when the ship was not in a forward area, or whenever the need came up.

Every man in the gun crew had to be able to totally dismantle, clean, and reassemble the gun, and this was done each time the gun was fired. At each gun mount there were two long steel tubes welded either to the side of the protective gun tub or to the side of a ready box if there was no gun tub. One of the tubes contained a spare gun barrel because the barrels were supposed to be changed after firing several magazines, since a lot of heat, which could warp the gun barrel, was generated during firing. The other tube was filled with water which cooled the gun barrel after it was removed from the gun. When a hot gun barrel was placed into the water tube, it looked like a miniature volcano with steam and hot water erupting into the air.
Forty Millimeter AA Guns
LSTs at this time also had one forty millimeter anti-aircraft gun mounted in a gun tub on the bow of the ship. The forty millimeter gun crew consisted of four men; a pointer, a trainer, a first loader and a second loader. The pointer and trainer sat on metal seats, one on each side of the gun. The pointer, in the left seat, cranked handles which caused the entire gun mount to traverse from side to side, while the trainer, in the right seat, controlled the up and down motion of the gun. The first loader stood on a small platform on the back of the gun, and dropped four-shell clips of forty millimeter ammunition into the breech. These four-shell clips were handed to him by the second loader who took them from a rack which completely encircled the inside wall of the gun tub. The empty brass shells were ejected onto the [the front of the gun deck from a chute coming out]. Forty millimeter projectiles would explode either on contact or after they had traveled a certain distance, making a black puff of smoke in the sky. At a later date, after 481's armament had been increased in number, I was assigned as trainer on the forty millimeter gun located on the starboard side, just aft of the bow. This gun was in an elevated gun tub which meant we had to climb a ladder to get to the gun, and which always made us feel just a little exposed, sort of like sitting out in the open, which we really were. projectiles would explode either on contact or after they had traveled a certain distance, making a black puff of smoke in the sky. At a later date, after 481's armament had been increased in number, I was assigned as trainer on the forty millimeter gun located on the starboard side, just aft of the bow. This gun was in an elevated gun tub which meant we had to climb a ladder to get to the gun, and which always made us feel just a little exposed, sort of like sitting out in the open, which we really were.
Three Inch Fifty Caliber Gun
While on the subject of armament, the ship also had a three inch gun which was mounted in an elevated gun tub on the stem, This was a dual purpose gun which meant that it could be used as an anti-aircraft gun or for shooting at surface targets. Since I was never assigned to this gun, I'm not too familiar with the make up of the gun crew, but I know it had a pointer and trainer whose duties were identical to those on the forty millimeters, except that they had telescopic sights instead of open ring sights such as the forties had. There were also a first and second loader, a hot shell man, and probably one or two more crew members in addition to the above.

This gun fired what was known as fixed ammunition, which simply meant that the shell and the projectile were a single unit, unlike larger naval guns which used ammunition with separated projectiles and powder bags. The three inch shell weighed twenty seven pounds, and was pushed into the breech by the first loader's right hand, Since the breech lock automatically closed in an upward motion when the shell was inserted, it was most important that the first loader's fingers not be curled around the end of the shell, otherwise he might lose a digit or two.

Because of the weight of the shell, it was a good idea to have a pretty muscular man as first loader, particularly when aiming at a high flying airplane, which could put the gun in a near vertical position, requiring the loader to almost be on his knees in order to shove the shell in an upward direction. The 481 had just the right man in the person of Pete Zolnak, Seaman First Class, later promoted to Coxwain, from Gallitzen, PA. Pete could shove shells into this gun so that it seemed to fire almost as fast as a forty millimeter anti-aircraft gun.

Another gun crew member was the hot shell man, who wore long heat-proof gloves which reached above his elbows, and whose job was to catch the empty shell casings, which were very hot, as they were automatically ejected from the breech after firing. This turned out to be sort of a dangerous job at one point in time when the ejection mechanism got fouled up. Instead of just dropping the empty casings into the hot shell man's waiting arms, something went wrong, and they began to eject with such force that one flew right past the hot shell man, and crashed into the outside bulkhead of the galley, about twenty five feet away, putting a large dent in the steel bulkhead, This gun had a history of unusual things happening to it, such as the time a loader pulled a shell out of the ready box, and discovered that the projectile had fallen out of the shell, probably because of the vibration at the stern of the ship, and then discovered that more shells were in the same condition. Or the time, during target practice, that the gun fired, but no projectile came out it stuck in the gun barrel and had to be dislodged by a gunner's mate with a ramrod. As everyone in the area scrambled for safety, he said it was O.K. to bang it loose by hitting it on the nose, because it wasn't armed until it had made a certain number of revolutions, which were caused by the rifling in the gun barrel. I really don't know how they finally cleared the projectile from the gun barrel, since we all evacuated the area.
General Quarters - Battle Stations
Another necessary man was the talker, who wore earphones and had a telephone mouthpiece hanging by a strap around his neck, allowing him to communicate with the bridge. His station was usually in an area where he could be in contact with several gun crews. He would call the bridge and let them know that gun number so and so was manned and ready, and would receive and pass on to the gun crews, information as to the location of enemy planes, and would also relay the commands to open fire or to cease fire. The talker's steel helmet was different than the normal helmet because it had to be large enough to fit over the earphones he wore.

All helmets and life jackets for the gun crews were kept at the gun mounts. General Quarters (battle stations) was sounded by means of bells ringing, loud horns blowing, and in the engine rooms, by a flashing light together with the above. In addition to the gun crews, everyone else in the crew had a job to do and a station to go to during G.Q. There were the Damage Control Parties whose job it was to close all the water tight doors and make sure the ship was sealed up. They were also the ones who had to make emergency repairs, and to fight any fires. Both engine rooms had to be fully manned, usually by the more senior rated members of the Black Gang. The Sick Bay had to be manned by the Pharmacist Mates who would care for any wounded people, and the bridge and conning tower had to be manned by the most qualified people in those sections. It might have looked like a madhouse when G.Q. sounded, with everyone seemingly running in all directions, but we were usually able to be fully manned and ready in two minutes or less.
Mess Cooks
All Apprentice Seamen, Seamen Second Class, and Firemen Second and Third Class were required to put in three months duty as Mess Cooks, which is comparable to K.P. in the Army. Mess Cooks were excused from their normal duties and had no regular watches to stand during the three month period. It happened that it was my turn to do a tour of Mess Cooking during part of the time we were in the Central Pacific area. Every sunrise and sunset we went to General Quarters, and as members of gun crews, we Mess Cooks had to man our battle stations for however long G.Q. lasted, and still had all our Mess Cook duties to finish after the all-clear was sounded. At this time, I was assigned to the galley, together with several other Mess Cooks, where we helped the cooks to prepare the meals. At meal time, the Mess Cooks dished the food out into metal trays carried by the men as they passed along the galley counter, and then we did all the clean up work after. We got so we could tell which cook was on duty by the number of dirty pots and pans we had to clean. Some cooks seemed to use every pot and pan in the galley, while others used only the minimum number. We peeled potatoes, carried stores from store rooms and reefer to the galley, made coffee and lemonade, among other things. Quite often we had lemonade with the noon meal, and it was made in the big coffee urn, using powdered lemonade mixed with water. The powder was always lumpy and didn't dissolve in water very readily, so the cook would tell us to reach our arm down into the water in the urn, up to our armpits, so we could break up the lumps with our hands; "a little sweat won't affect the taste" This, together with stirring with a big wooden paddle, usually mixed everything up to the point where it was drinkable. Except for when we had lemonade, the coffee urn always had coffee in it, night and day. Sailors seemed to drink a tremendous amount of coffee or "Joe", as it was called. Potatoes and other vegetables, when we had them, were cooked in big steam heated vats called coppers. The amount of heat a copper generated was terrific, and even after the steam had been turned off, they still retained heat to the point where you had to be careful not to get burned when cleaning them .

Another duty the Mess Cooks had to perform was to work in the scullery, where all the garbage was ground up and pumped overboard, and where all the trays, cups and silverware were washed. The scullery was a tiny compartment located in a passageway between the crew's quarters and the sick bay, and was equipped with two sinks which were filled with steaming, hot water, and with a garbage grinder that was mounted under a hole in the steel counter top. As people finished eating, they would bring their tray and utensils from the mess compartment, and shove them through a small window located in the bulkhead of the scullery, where the person working in the scullery (the Scullery Maid) would scrape any remaining food into the grinder, stick the tray into the soapy sink, scrub it, rinse it in the other sink, and put it on a rack to dry. Before meals, the trays would be taken to a place at the beginning of the chow line for use. The scullery was a hot, steamy place, and sometimes the combination of heat and the smell of garbage was enough to make the person working there feel queasy, especially if the ship was rolling and trying to stand on end. In those instances, the garbage grinder was a handy thing to have if you were going to lose your meal. It would get all ground up and pumped over the side with the rest of the garbage. Mess Cooking was not all that bad, but we were always glad when our time was up and we went back to our regular duties.
Hot Weather
This might be a good time to talk about the heat. Remember that we were sailing around just above or below the Equator much of the time, and you will have some idea of how hot it was. Usually, there would be a pretty good breeze blowing when we were at sea, and it felt fairly cool when you were top side, but below decks was another story, especially at night when all the hatches had to be closed because of the total blackout.

Located in the after part of the crew's quarters was a large square hatch which was placed there so ammunition could be hoisted up to the main deck from the ammo storage compartment located below our living area. This hatch was a major source of fresh air for the crew's quarters during the day when it was kept open, but when it had to be closed at dusk, the crew's compartment was ventilated by a blower circulating air through a system of metal ducts attached to the overhead. Unfortunately, this seemed to blow more hot air than anything else and did little in the way of cooling the compartment. Someone came up with the idea of building a wooden cover for the open hatch, which allowed some air to circulate, and at the same time maintained the light-tight condition required by the blackout. This, together with running one of the big ventilating fans in the tank deck, kept a good flow of cool air coming into the crew's quarters, until a side effect was discovered which involved ship's baker Harold "Red" Ellis.

The bakers always worked at night, baking bread and any other baked goods required for the next day. The range and oven in the galley were oil fired units which burned fuel oil pumped from the engine room fuel tanks to a day tank in the galley, and the oven oil burner turned out to be the problem which messed up our nice fan-driven cooling system in the crew's quarters. One night, not long after the new ventilation system was put into use, the baker was standing in front of the oven when the burner backfired, shooting a large flame out the front, right between his legs, slightly searing him, and scaring the daylights out of him. Eventually, he figured out that the tank deck vent fan was sucking air back through the oil burner, causing the burner to backfire. For his own safety, he shut off the big tank deck fan in the wee hours of the night, causing numerous sweats to break out among the sleeping crewmen. Everyone was waking up totally soaked and overheated. A big to-do took place between the baker and everyone sleeping in the hot compartment, with the baker eventually winning, because of the unsafe conditions under which he had to work. This meant only one thing; we would have to find somewhere else to sleep. Consequently, you could find people sleeping anywhere on the main deck where it was flat enough to lie down without rolling off, This was nice, and seemed to solve the problem; that is, until the nightly rain squalls came along, in which case you got rain soaked unless you had picked a spot under some overhanging protection. We were allowed to sleep anywhere on the deck, but you had to make sure someone knew where you had sacked out so you could be called when it was time to go on watch. Some of us strung up our hammocks, but these had a nasty habit of filling with water when it rained. Some people got so used to the rain that they slept right through all but the very heaviest downpour; at least it was cool.

The heat in the engine rooms, where I worked and stood watches, was ferocious. The Main engine room wasn't too bad since the big main engines sucked an enormous amount of air into the engine room through the escape hatches, thus keeping the heat down to a point where it was tolerable, but the auxiliary engine room was a different situation. Usually, there was only one noticeable amount of air flow into the engine room, so the heat just built up and was retained within the compartment. Around noon seemed to be the hottest, because every day at this time, the engine room thermometer always indicated around one hundred twenty five degrees. When we were on watch or working in this engine room we wore only the bare minimum amount of clothing, and shoes without socks, all of which were soaked by the end of our watch. Just standing watch wasn't too bad, it was when an engine had to be worked on that you really were able to work up a good sweat. Each engine room had four or five air ventilation pipes about eight inches in diameter which blew air in from topside, but you had to stand directly in front of one to feel anything blowing on you. These blowers were turned off during General Quarters, which really made it hot in both engine rooms. The constant heat was something we all learned to live with, especially since there was nothing we could do about it. Eventually the Captain gave permission to move one of the big tank deck vent fans and weld it to the main deck over one of the auxiliary engine room escape hatches, where it did make a lot of difference in the temperature down below. This eliminated one of the escape hatches, but the extra ventilation made it worthwhile. We also cut out a large round opening in the bulkhead between the two engine rooms and installed a big watertight porthole which a man could climb through to get from one engine room to the other. This gave access between the engine rooms in addition to helping the ventilation in the auxiliary engine room.

The heat in the engine rooms probably had something to do with the crazy things that happened down below from time to time. Once one of the auxiliary engines seized up and stopped running, resulting in the need to do a complete overhaul. This meant that the generator had to be separated from the engine and moved back so the engine could be worked on.

Electricians Mate Zeke Nixon was standing down in the bilge using a crowbar to try and move the generator, without much success . He was sweating and swearing and pulling and still nothing would budge. It finally got to be more than he could stand. He Yanked the crowbar out of the space between the engine and generator and with both hands began banging it point down on the bottom of the bilge. We thought sure he was going to punch a hole right through the not too thick steel plate which was the only thing between us and the deep blue sea. Fortunately, the steel was stronger than we thought it might be. At one time this same engine had a valve on it's main salt water cooling line which was inoperative, and could not be closed. Since the salt water inlet for the valve was below the waterline, the valve could not be repaired until the ship was in dry dock at some future time, so whenever any maintenance was needed which required the salt water to be shut off, Chief Earl Svec had a system set up to accomplish it. Because the valve couldn't be shut off, it had to be unbolted at a flange, resulting in a two inch diameter stream of salt water shooting across the engine room. The teamwork began when the bolts were removed and the pipe was taken down. At that time one man quickly jammed a two inch wooden plug into the stream of water and a second man would drive it into the end of the pipe with a heavy hammer. This effectively shut the water off and also gave everyone a chance to cool down in the gushing sea water.
Watch Sections
The crew was divided into three watch sections, which meant that when the ship was at sea, we stood a four hour watch and were off watch for eight hours, but just because we were off watch didn't mean we had nothing to do for eight hours. The off watch people were the ones who had to do all of the work necessary to keep the ship in good operating condition, since the watch section had specific jobs which had to do with the actual operating of the engines and related equipment. An example of how this worked to a disadvantage at times; if you had the four AM to eight AM watch in one of the engine rooms, you got off watch at eight o'clock in the morning and then you were assigned to a job scraping and painting in the shaft alley or some other similar job until four o'clock in the afternoon, when it was time to go on watch again until eight at night. By that time, you were ready to sack out on the first flat place you could find. This type of watch was called four on and eight off (condition three), and was observed by the entire crew in normal conditions when we were not in a dangerous area. Sometimes the engine rooms operated on a continuous four on and eight off type of watch, but usually, in order to rotate the crew so they didn't have the same watches over and over, we stood two two-hour watches, called dog watches, with the first dog watch being from four PM to six PM, and the second from six PM to eight PM. The dog watches automatically moved things up so you were on a different watch every day. When we were in a dangerous area, we stood watches of four hours on and four off (condition two), or we were at General Quarters manning our battle stations (condition one, when everyone remained at his station for as long as necessary). Every ship had a Watch, Quarter and Station Bill posted which showed where each crew member was supposed to be during General Quarters or other emergencies, the watch section to which he was assigned, and his cleaning station, if he had one. The watches we stood while in port did not require as many men to be on duty, since only the auxiliary engine room was in operation, and needed just two people, so we did get a break by having fewer watches to stand.

Each division on the ship had their watches to stand; that is, the deck division had lookout watches and bridge watches, the black gang had engine room watches, etc. Previously, I noted that everyone had to make it known where they were going to be sleeping so they could be called in time to relieve their watch. During the night, each division usually sent one man around to wake those people who were to go on duty. The particular night I am thinking of (date and place unknown at this time), Seaman John Casey, from West Virginia, was sent to wake the deck force people, one of whom was Harold "Red" Ellis, who later became ship's baker. For some reason, Ellis didn't seem to want to wake up, so Casey proceeded to bang him on the head with the heavy battle lamp he was carrying. Needless to say, this got an immediate response which also woke up most of the other sleepers in the crew's quarters.
Invasion No. Two - Makin Atol, Gilbert Islands
Earlier, I mentioned that we had been told we were going on an invasion of the Gilbert Islands. After our first serious General Quarters on November 13, things were calm for the remainder of our stay in Funafuti, and in the afternoon of the 16th we moved out and were on our way to Makin Atoll in the Gilbert Islands.

On November 20, 1943, the invasion of Makin Atoll took place without any difficulties for the 481. We moved into Makin Lagoon early in the morning of November 21, and came to anchor at 0940. At 1145 the two starboard side pontoons were launched, and the two on the port side were in the water at 1240.Our first beaching, on November 22, was near two Japanese ships which had been bombed and were grounded in shallow water near the beach. We were told later that there were Japanese snipers on the ships, but we saw no action on either of them while we were beached nearby. The log states that on our first beaching, we came to rest 300 yards away from the beach, which was too far out to begin unloading. Next day, after we retracted to make a better landing, carrier-based planes were sent in to bomb and strafe the two grounded ships. Before we learned that we had to move, the first vehicle, a bulldozer, was driven out of the tank deck, down the ramp, and promptly disappeared from sight into an underwater bomb crater. The only visible part was the cable mechanism which extended over the driver's head, I imagine they pulled it out later.

At 0620 on the 23rd, another attempt was made to get on the beach, this time alongside King's Wharf, with LST 476 on the port side not far away, but we were still unable to do so because of low water. The Captain drove the ship in as far as he could and dropped the bow anchor to wait until the tide came in enough to permit the ship to advance towards the beach. At 1050, the bow anchor was heaved in and the ship moved closer to the beach, but was still unable to make a good beaching, so the bow anchor was let go once again to await a higher tide. At 1304 the anchor was heaved again, and at 1330 in the afternoon we finally made a satisfactory beaching which enabled us to lower the ramp onto one of the pontoons being used as a dock of sorts.

About an hour later LST 477 came in along our port side attempting to beach, and carried away our life raft #10 as she got too close to us. LSTs seemed to be very hard to control as far as steering in close quarters was concerned, and almost all of them had dings and dents where they had made contact with a dock or with another ship at some time in their life.

After 477 was more or less safely beached on our port side, we continued unloading cargo, and at 1700, 250 troops came aboard for transfer to the transport ship USS Leonard Wood. This was another advantage of the LSTs. Since we were on the beach and it was impossible for the transports to get anywhere near the beach, we were able to load a large number of troops and take them out to where the transports were at anchor in deeper water. Otherwise, many small boats would be required to make several trips to carry the same number of people that we did in one trip.

At twenty five minutes after midnight on the 24th, unloading was called to a halt when the unloading officer on the beach requested that we raise the ramp off the pontoon. By 0105, the bow anchor had to be lowered in order to keep the ship from swinging as the tide came in. LST 477 retracted from the beach at 0130 and 481 did the same at 0300. The bow anchor was dropped in 12 fathoms of water at 0330 and we remained anchored until 0930 when we got underway for the USS Leonard Wood to disembark the 250 troops who were still aboard .

By 1015 we were moored port side to the Leonard Wood and began transferring the troops to that ship, completing the job at 1045. After moving away from the Leonard Wood, 481 was underway to an anchorage where both the bow and stern anchors were dropped to hold us in place until our next assignment.

The assignment for next few days was another good example of the adaptability and versatility of the LSTs as they were put into service transferring cargo from the cargo ships anchored in deeper water, and then delivering the entire load directly to the beach. In the late afternoon of the 24th we tied to the SS Island Mail, Taking cargo from the merchant ship until mid afternoon on the 26th. Pulling away from the Island Mail, 481 anchored for a short time in Makin Lagoon before beaching starboard side to LST 78 at Kings Wharf to unload.

We remained on the beach at Kings Wharf until November 28. During this time on the beach, General Quarters was sounded on eleven different occasions. At 1720 in the evening of the 28th we retracted from the beach and were underway to unload another cargo ship, the SS Cape San Martin, undergoing yet another call to General Quarters after mooring alongside that ship. Loading was completed by 1500 on the 29th and we got underway to the anchorage before moving in once again to Kings Wharf, beaching starboard side to LST 482 at 1750.

Makin Atoll was secured in less than a week with relatively few casualties suffered by the Army's Twenty-Seventh division, but many by the Japanese.

Once again, as at Kiska, we were allowed to go ashore and look around. Since the island had only been secured for a short time, the Army had not gotten around to burying the dead, so we saw lots of Japanese bodies, bloated by the heat, and loaded with large green flies. Some of the crew searched the bodies for souvenirs, but most of us just looked around.

The natives of Makin Atoll were Polynesians who still wore grass skirts for the most part. I imagine the Japanese were the first outsiders they had seen in any great numbers. The highest spot on the atoll was probably around ten feet above sea level and looked like a large sand bar with coconut palm trees.

Most of the Central Pacific atolls were similar to the Gilbert Islands. From the deck of the ship in the lagoon, you could see the ocean on the other side of the island.

On December 1, at 0630, we retracted from the beach at King's Wharf and by 0741 we were underway for Abemama atoll in company with LSTs 476 and 477, with Harrison (DD-573) and Whitman (DE-24) as escorts.
Abemama Atoll, Gilbert Islands
On December 2, we arrived at Abemama Atoll, Gilbert Islands. There were only a few Japanese on this island, and it had been secured in a very short time in late November. Our job here was to assist in unloading cargo ships as we had done at Makin, so we tied up alongside the SS Jane Addams on the same day we arrived, and began taking cargo from that ship. By the morning of December 4, we had completed loading and were on our way to the beach, beaching on the coral reef at 1140. Unloading being completed on December 6, we repeated the process with the SS Cape Isabel, finally retracting from the beach on December 13. An entry in the deck log for the 14th reads: "Pulled into open sea and commenced unloading debris from the tank deck. Returned to lagoon". Some early ocean dumping! Meantime, while we were engaged in unloading cargo ships, a large number of oil and gasoline drums had been unloaded from another ship and left on the beach, but the tide had claimed them, and washed them out into the lagoon, where they were floating around partially submerged. Our two thirty six foot LCVPs (Landing Craft, Vehicle and Personnel) were put to work scooping up the oil drums and taking them to a safe beach where the tide wouldn't wash them away again, This took several days to complete.

Several times, while we were anchored, we were permitted to go swimming and diving from the bow ramp which had been lowered for the occasion. Since up the SS Island Mail, taking cargo from that merchant ship until mid-day most wore no bathing suits and spent a lot of time floating on inflatable rubber life belts, a lot of us wound up with sunburned rear ends, an area of the body which was not used to so much exposure to the sun. Several times while we were on the beach, the tide receded and left the ship sitting high and dry. We could wade through the shallow water at the stern and stand on the rudders and screws. At these times, the engines operated with salt water from a ballast tank providing the coolant for the engine heat exchangers, since the sea chests were now above the waterline.
Tarawa, Gilbert Islands
After all the oil drums had been gathered up, and all the cargo transferred ashore, we were underway for Tarawa, arriving on December 15, the same day we left Abemama. The landing at Tarawa on November 20 resulted in a fierce battle with many U.S.Marine casualties and total destruction of the Japanese defenders. Since the island had been secured by the time we got there, naturally we were allowed to go ashore once more. I remember very little of our liberty on Tarawa, except for the great amount of destruction inflicted on the Japanese bunkers, and the palm trees that had been hit with shells, leaving nothing but stumps. The entire island was a shambles.

Our trip in from the ship was almost a shambles since our boat was unable to get in near the beach because of grounding on the shallow coral. As a result of this, we all had to take our clothes off and walk in to shore, holding our clothing above our heads. The same thing had to be done when we were leaving the island. In the process of rolling my clothes up and holding them out of the water, I had taken my wrist watch off and put it in a safe place in the rolled up clothing where it wouldn't get wet. All hands had to push the boat through several areas of coral before we reached water deep enough for the boat to float free, and in the process of getting dressed, the watch plopped out of my rolled up clothes and overboard into deep water, never to be seen again.

Twenty five LSTs took part in the Gilbert Islands invasions of Abemama, Makin and Tarawa.
Return To Pearl Harbor
The ship stayed at Tarawa just long enough for a convoy to form up before heading back to Pearl Harbor on December 17 . After a rough trip through seas which were flowing against us all the way, we arrived at Pearl Harbor on December 30, 1943.

The rough seas on the way back to Pearl resulted in one of the funniest happenings I had seen in a long time. One afternoon I was talking to Bethel Evans, who was the Cook on duty in the galley, preparing the evening meal, which was to be a big roast of some kind. As usual, the ship was slamming into the waves, causing the stem section where the galley was located, to bounce up and down like a car riding on a very bumpy road. Evans was so proud of the beautiful big roast that he opened the oven door to show me his masterpiece. Just as he opened the oven, the ship hit a particularly big wave and the resulting jolt sent the big chunk of meat bouncing out of the oven and rolling across the deck like a football. Evans, however, was cool under duress, and simply ran it down, scooped it up from the deck, gave it a quick wipe off, and slammed it back into the oven without a word. Afterwards, we both practically rolled on the deck laughing. The roast that evening was very tasty.

The sea on that trip was rough enough for the following note in the log for Dec.28: "Gyrocompass rendered inoperative by heavy sea"

We always knew when we were approaching Hawaii, because for about two or three days before, the ship's loudspeakers would be playing Hawaiian music, picked up on the radio. It was always a welcome sound, even if you didn't like Hawaiian music, because it was a change from the music of the four or five records on the ship, most of which were what was called "hillbilly" music in those days. Two bits from these songs that stand out in my memory were, "I heard the wreck on the highway, but I didn't hear nobody pray" and "on the wings of a great white bird" The Hawaiian music also meant we would be able to go on liberty soon. In those days, liberty in Honolulu was limited to about six hours; from noon until six in the evening, but it still meant we would be off the ship for a short while. Mostly, we would wander the very crowded streets, looking at the sights, and sometimes going to a movie at the Waikiki Theater. Once a group of us went swimming at Waikiki Beach, which was protected by barbed wire, in case any enemy tried to land there. Waikiki Theater was a beautiful movie, with palm trees growing along the walls inside the theater, giving you the impression that you were outside. One day, three or four of us were in the YMCA looking around, when an older man and woman came in and offered to drive some servicemen on a sightseeing trip around the island. We decided to take the offer, and had a nice ride over to the north side of the island to the Pali, which is a tremendous cliff overlooking the ocean. It was a good trip and we were glad we went; although I have often wondered where they got gas enough for a trip like that, since gas rationing was in effect at the time.

Some of the crew always managed to visit a few of the more exotic sections of Honolulu and returned to the ship in various stages of disarray. Moe Lombardi, a seaman, was never able to get back to the ship without sporting a new tattoo somewhere on his body, and always claimed not to remember even visiting a tattoo parlor. He and others had a grand collection of dragons entwined around their legs, bluebirds on their back or chest, "Sweet" and "Sour" inscribed over each nipple, and all kinds of anchors and other naval paraphanalia. Some were regular walking art galleries. Leo "Popeye" Wolfe, Boatswains Mate 1c, was an old sailor who came back into the Navy after having retired, and he had a tattoo of a sailing ship which covered his entire back, in addition to any number of smaller pictures over his arms, chest and other places.

The log for January 1, 1944 has the following entry regarding two of the crew who were transferred to the base hospital:
| | |
| --- | --- |
| | |
| 1305 - | Following men transferred this date to USN Hospital, Pearl Harbor: ,T.H. Felsted, Ernest Albert, MoMM1c; diagnosis: Chronic Seasickness. Dupepe, Ray Savois, S2c; diagnosis: Spondylitis. |
We always felt sorry for Felsted because he used to get so seasick he was unable to crawl out of his bunk. This happened every time we went to sea, and after he left the ship we heard that he was eventually transferred to permanent shore duty. After checking in my dictionary I learned that Dupepe had an inflammation of the vertebra.
The deck log indicates that we were in Drydock #2 in Pearl Harbor, from January 5, until January 10, 1944, I remember the ship being in a large drydock together with four other LSTs and a big barge of some kind. It was at this time that some major additions were made to our armament. I mentioned earlier just how lightly armed the LSTs were in the Aleutians--that was about to be corrected. We still had one three inch gun on the stem and one forty millimeter on the bow, but they added two forties on the forward end of the deckhouse, and instead of just six twenty millimeter guns, we now had sixteen.
The log also shows that on January 14th, several of the original crew members, James A. Boatman, MoMM2c, Donald A. Shulz, EM2c, Waiter C. Fredericks, BM2c, and Charles A. Thorson, MoMM3c, were transferred from the 481 to the Receiving Ship, Pearl Harbor for further transfer to new construction.
Invasion No. Three - Kwajelein Atoll, Marshall Islands
We didn't remain at Pearl Harbor very long before we were on our way to our third invasion. On January 18 we took on board one hundred fifty-two enlisted men and eleven officers of the US Marine Corps, together with all their equipment and vehicles. Leaving good old Pearl Harbor on January 19, we headed for Kwajelein Atoll in the Marshall Islands, another Central Pacific group of atolls about twenty-five hundred miles west of Pearl Harbor. D-Day at Kwajelein was January 31, 1944, and was the largest operation we had seen up to that time.

A couple of interesting notes from the log show that we refueled and watered SC-1033 on the 23rd, and provided the same service for LCI 365 on the 26th. LSTs were often called upon to refuel and re water some of the smaller vessels in a convoy when a long voyage was being made. These services were performed while the ships were still moving with the rest of the convoy. The 26th was also the day a Captain's Mast was held for C.F., S2c, whose offense was sleeping on watch. The punishment was five days solitary confinement on bread and water.

To illustrate the happenings for the next few days, I will include the short daily entries by Captain McGuire in the 481"s War Diary. This is the only document I have which covers the month of February 1944, since the Deck Log for that month is missing.
Jan 29, 1944 -
Formation executing various zig zag plans. Several times during day went to General Quarters. All contacts proved friendly. Since January 27, ship has been in condition Two. LST 482 left formation and headed for Majuro Atoll.
Jan 30, 1944 -
Underway and zig-zagging. Electric steering gear failed. Handling ship by hand steering. Went to General Quarters several times during day. All radar contacts proved friendly. Task Force 52 passed to westward heading in southerly direction.
Jan 31, 1944 -
Arrived off Porcelian Island, Kwajelein Atoll. Heavy Naval and air bombardment of island going on. Large percentage of shells from battleships seem to be landing on reefs. Task Group designation changed to 52.5.4, A.M. Hurst, Commander, USN, commanding. Remaining LSTs of this group proceeded to load troops from transports, this vessel and LST 31 standing by in Tractor Area. Carlson Island and islands to north and south of Cecil Pass taken by our forces during the day. At 1900 LST 31 and this vessel entered lagoon and anchored. Remainder of Task Group cruised with transports during night.
Feb 1, 1944 -
Departed from lagoon and acted as reference vessel for LSTs in launching LCVs for landing on KwajeleinIsland. Upon completion of mission returned to anchorage in lagoon and transferred five hundred [...]
Feb 2, 1944 -
Anchored in Kwajelein Lagoon off Ennylabegan Island. During day re watered and provisioned LCIs 77, 366 and 437.
Feb 3 through 5, 1944 -
Uneventful except refueled LCI 79 on the 5th
Feb 6, 1944 -
During day went alongside USS Cambria (APA-36) and transferred two light tanks and 100 tons organizational equipment. Returned to anchorage off northwest end of Kwajelein Island.
Feb 7, 1944 -
During day went alongside USS Neville (APA-9) and transferred three light tanks, three wheeled vehicles and 100 tons of organizational equipment. Returned to anchorage off northwest end of Kwajelein Island. At 2135 Red Alert. 2147 Secured.
Feb 8, 1944 -
Transferred 60,000 gallons fresh water to USS LST 42
Feb 9, 1944 -
Uneventful.
Feb 10, 1944 -
At 1530 commenced sortie from lagoon with elements of T.G. 51.19.9. At 1707 completed sortie and formed column of sections and adjusted course and speed for Pearl in accordance with CTG 51.19.9 orders.
And so we sailed away from our brief eleven day visit to Kwajelein Island, having suffered no damage other than an electrical steering failure on January 30.
Prior to the landing at Kwajelein, the island was subjected to some of the most intensive bombing and shelling seen in the Pacific up to that time. In some sections of the atoll, all of the coconut palms had the tops sheared off by heavy gunfire from the bombarding fleet, leaving nothing but a lot of stumps sticking up, which gave the island the appearance of having had a crew cut. Because Admiral Spruance was in command of the operation, it was said that the island had received a "Spruance Haircut". Since the Marshall Islands had been in Japanese control for many years, the fortifications were much more sophisticated than they had been on the Gilbert Islands. Heavy concrete blockhouses were common, but the tremendous bombardment had taken their toll of these.
Forty three LSTs were involved in the Marshall Islands invasions. The number of LSTs used in each operation increased as shipyards all over the country launched them in record times.
Back To Pearl Harbor Once Again
While the 481 was in Kwajelein, someone brought a young Coast Guard sailor aboard from the island. We were told that he had jumped ship from a Coast Guard ship of some kind and was on the beach in the middle of the invasion, and we were to take him back to Pearl Harbor. We couldn't get over the fact that he had run away to the beach in the midst of all the fighting. He really must have had a problem on his ship. We never heard what happened to him after we got back to Pearl.

The trip back to Pearl Harbor was mostly uneventful except for an accident which happened on the 16th of February. The War Diary has the following entry for that date:
"Fired automatic weapons on water targets. During practice Guns #10 and #16 fired into guard rail slightly wounding five members of other gun crews. From personal investigation it is believed that fragmentation of 20mm projectile is not very effective against personnel."
Edwin Dunn was one of those who were wounded at that time, and I think he would dispute Captain McGuire's observation about the effectiveness of 20mm shrapnel fragments, since he told us that when he got hit with a small piece of shrapnel, it felt like someone picked him up and slammed him down flat on the deck. The Pharmacists Mates did patch him up so he was able to continue with his duties, so possibly the Captain was right.
Seeing The Hawaiian Islands
After returning to Pearl Harbor on February 23, the War Diary states that at 1020 troops were disembarked via LCMs, and on the following day, at berth K-12, we began to unload the medium tanks, completing this task on the 25th. These entries cause me to wonder if the troops and equipment we carried had been held in reserve. Possibly someone with greater knowledge of the operation will be able to give me more facts someday.

The next assignment for the 481 was to sail to the big island of Hawaii, and from there to Maui Island, so on March 5, we made our way out of Pearl Harbor loaded with one hundred thirty five Navy men, thirteen Marines and one Navy Ensign. The Marines were the crews for some LVTs we were transporting, and the sailors and six landing craft (four 50 foot LCMs and two 36 foot LCVPs) loaded on the main deck were to go to the USS Sheridan (APA-51). Normally, we carried LVTs in the tank deck only, because they were too long to fit on the elevator which raised vehicles up to the main deck, but on this trip, we also had some on the main deck. At Pearl Harbor, they had outfitted the ship with a large steel ramp which could be bolted to the elevator. The tank would drive to the elevator and pull up onto the ramp, which would put the tank at almost a forty five degree angle, allowing it to fit through the elevator opening in the main deck. After the elevator was raised up to the main deck level, The tank would back off the ramp and maneuver to the assigned space, to be securely chained to cleats on the deck for the trip.

On one of the islands, we could see what looked like snow on top of a high mountain, probably one of the volcanoes which are found on these islands. [Haleakala on Maui?]

On March 6, we unloaded the LVTs and Marines at Kawaihae Bay on the big island of Hawaii and headed for Maalea Bay, Maui Island, T.H., where we were scheduled to transfer the landing craft and the Navy crews to the attack transport USS Sheridan. Because of heavy weather, it took two days to unload the six boats. We had to pull away from the transport the first day because both ships were being damaged by banging into each other, due to the rough sea. Transfer of the boats finally completed after two more tries on the second day, 481 headed back to Pearl Harbor, arriving on March 9.

On the day we returned to Pearl, we picked up thirty additional crew members. An interesting note about some of these new crew members is that they came from the brig in Pearl Harbor, where they had been serving time for various misdemeanors. I guess the powers that be figured LST duty was almost as much punishment as being in the brig.
South To New Guinea And Second Crossing Of The Equator
After mooring to the dock at Berth H-3 at 0915 on March 9, Captain McGuire received orders at 1000 which stated that our LST group had been loaned out to General MacArthur in New Guinea, so on March 10, after rewatering and refueling, off we went, heading south once more, this time with an empty ship.

On March 18, the War Diary has the following entry:
| | |
| --- | --- |
| | |
| 0900 - | Relieved of command by King Neptune. At 1100 the ship was declared purged of Pollywogs. Resumed command. |
On this date, with the Jolly Roger skull and crossbones flag flying from the masthead, we made our second southbound crossing of the Equator, this time being much more enjoyable than in November, since most of the crew were Shellbacks, and it was our turn to initiate the poor Pollywogs. This was accomplished with much gusto on our part, and with much trepidation on the part of the Pollywogs. For starters, we had saved all the garbage for about a week; this was to go into the garbage chute rigged in the form of a canvas tunnel through which the Pollywogs had to crawl on their hands and knees. As they emerged from the garbage chute, they next had to run a gauntlet of people swinging clubs made from socks stuffed with rags and smeared with thick grease. They were then taken before King Neptune by the Royal Jailer, and sentenced to a series of punishments suitable for uninitiated Pollywogs.
First was the Royal Doctor who administered shots in the rear, supposedly from a huge hypodermic needle he had in his hand. Actually, the "shot" consisted of a metal rod which was touched to the Pollywog's bare backside and which gave a slight electrical shock when the Doctor's assistants cranked a magneto which had been set up for this purpose. They then had to pay homage to the Royal Baby, by kissing him on the belly. Of course, the Royal Baby was one, of the fattest men on the ship, and of course, his belly was smeared with thick black grease. Next, they were taken to the Royal Dog (the ship's dog, Gadget, and before being blindfolded, were told they must kiss the dog's rear end. A piece of fur was substituted for the dog's backside at the last secend, but the Pollywogs were certain it was the dog they had smooched. The final ordeal they had to suffer was the ducking in a water-filled collapsible Japanese boat which we had picked up on the beach at either Kiska or Makin. Some Pollywogs were sent to climb the mast to the yardarm where they maintained a lookout using binoculars made from two toilet paper rolls.
The initiations when crossing the equator were performed on all Naval vessels in the same basic form and were part of a long tradition. All Pollywogs were given a signed certificate showing when they had been initiated as Shellback, and on what vessel the crossing had been made. A good time was usually had by all, both Pollywogs and Shellbacks. These groups, incidentally, were made up of both officers and enlisted men, one of the few times in the Navy when everyone was on an equal footing.
New Guinea
After the fun of crossing the equator and a two and a half hour stop at Guadalcanal on March 26, we continued on our way to New Guinea and our next assignment. In addition to the daily General Quarters on the nineteen day trip, we had anti-aircraft gunnery practice on eleven days. The group of LSTs arrived at Milne Bay, which is on the eastern tip of New Guinea, on March 29, 1944, and we were immediately aware that this must be one of the places in the world which God had intended to be a punishment for all who were required to be there. It was the hottest, smelliest place we had seen thus far in our travels, and we felt sorry for those who were stationed there. During the time we were there, the weather remained the same; just as hot as it could be, and without any breeze whatsoever. The ocean's surface was as smooth as glass, without even the semblance of a ripple.

Fortunately, our stay at Milne Bay was a short one, and we left with no regrets on April 1, after refueling and rewatering from the SS Aase Maersk on March 30. While the ship was in the New Guinea area, we were to find that most trips were shorter than those we had been taking in the Central and North Pacific; usually only two or three days or so. From Milne Bay we moved around to the northern coast of the island and west to the village of Buna, arriving on April 2. Here, conditions were somewhat, but not much, better than Milne Bay. We remained in the Buna area until April 15, using the time for two runs out to sea for target practice together with LSTs 469, 474, 181, 482 and 247. Some of the crew got to go ashore for supplies and told us of seeing New Guinea natives who were fierce-looking individuals with very black skin and huge shocks of hair which was sort of an orange color. They also saw Fiji Islanders who were evidently in the Australian army. They were somewhat similar in appearance to the New Guinea natives.
Invasion No. Four - Aitape, New Guinea
On the 15th, 481 assumed tactical command of LSTs 482, 247 and 181 as we stood out of Buna bound for Lae, New Guinea. On April 16 we were beached at Lae between LSTs 181 and 482, loading two hundred twenty four enlisted men and eleven officers of the Royal Australian Air Force, and all of their equipment. The ship had a tough time trying to retract from the beach, and according to the log, we evidently had to unload, retract, beach again and reload, finally retracting on the next day at 1:40 in the morning, probably at high tide. At 2:20 AM, as we were underway to the anchorage in Markham Bay, off Lae, the stem anchor and several hundred fathoms of cable were lost when the brake on the stern anchor winch failed to hold. Fortunately, the ship carried a spare stern anchor and cable, which the deck crew quickly got into place. By 3:30 AM the ship was anchored with the bow anchor in 45 fathoms of water in Markham Bay.At 5:45 AM, April 18th, we were underway for Cape Cretin, New Guinea, arriving at 2 PM and beaching the ship once more. Next day, we backed off the beach and formed up in a convoy headed for our fourth invasion, farther up the coast at Aitape, New Guinea. There were to be simultaneous landings here and at Hollandia, a bit farther west than Aitape. These were part of the leap-frog type of operations which were common in New Guinea, whereby landings would be made in places which enabled our troops to by-pass entire Japanese armies, thus cutting them off from supplies, and gaining an advantage in battle positions. In order to maintain the element of surprise, our convoy sailed in a big circle around the Admiralty Islands and approached the coast at Aitape from a northerly direction. D-Day was April 22, 1944, and went off without any problems for the 481.
Hollandia, New Guinea
After the landings at Aitape had been made and the beach secured, we got underway for Cape Cretin on the 23rd, arriving there on the 26th of April, and by 7:30 AM we were on the beach loading cargo. We loaded twenty one US Army and RAAF officers, together with one hundred nine Army enlisted personnel, one hundred seventy six RAAF enlisted men and one Chief Petty Officer of the US Navy. In the afternoon of the 27th, we took LCT 959 under tow on our stern anchor cable, with one hundred fathoms of cable out, and by 2 PM were underway for Hollandia on Humboldt Bay, New Guinea. On April 30, after casting off LCT 959, we beached at Humboldt Bay and disembarked the two hundred eighty-six men and twenty-one officers. Before we backed off the beach, we took on board one hundred twelve Indians who had been freed from Japanese captivity as a result of the landing at Hollandia. These people from India had been taken prisoner at the fall of Singapore in February 1942, and were nothing but walking skeletons when they boarded our ship for the trip down the coast to Finschhafen. Some had to be carried aboard on stretchers while others could barely make it under their own power. Other LSTs carried groups of nuns and priests who had also been prisoners. When we arrived at our destination, a Life Magazine photographer came aboard and took a lot of pictures of the prisoners and the crew, but we never saw any of them in future magazines. In the combined Hollandia-Aitape operations, fifty two LSTs saw action.
Russell Islands - Guadalcanal - Tulagi
From Finschhafen we went to Cape Gloucester on New Britain Island, which lies to the north of New Guinea. There, on May 4th, we loaded up with Marines who had been on that island since it was invaded on December 26, 1943. After running back to Buna for refueling from LCI 593 and LST 455, and rewatering from LST 219, we transported these First Marine Division men to a rest camp in the Russell Islands in the Solomons, pulling into West Bay, Pavuvu, Russell Islands on May 12. This was a place which had been fixed up to give battleweary Marines some badly needed rest and recreation, and it looked pretty nice from what we could see. One thing I remember about the Russell Islands was how crystal clear the water was when we landed on the beach. Looking down into the water from the bow of the ship, we were able to see all kinds of small colorful fish swimming around. It was amazing to be able to see with so much clarity from such a height above the surface of the water.

On Saturday, May 13, 1944, we left the Russells bound for Port Purvis, Florida Island, in the Solomons, arriving there the same afternoon. From that date on, until May 31, we spent all of our time on training runs between Purvis Bay, Guadalcanal and Tulagi, cruising back and forth across Ironbottom Sound, so called because of all the ships, both Japanese and American, which had been sunk here in the early days of the South Pacific campaign. It seems that each invasion taught the planners something new that would make the landing a bit easier. The use of amphibious tanks (also called amphtracs or LVTs) is an example. At the earlier landings in which we were involved, there were very few of this type of vehicle, but, as the war progressed, each LST carried about seventeen of them which were used in all of the initial waves of troop landings. The LSTs would approach the beach to what was called the "line of departure", open the bow doors and ramp, and the amphtracs, loaded with combat troops, would drive off the ramp into the water and head for the beach.

Between May 14th and 31st, we trained with Marines, loading and unloading LVTs a total of eight different times in preparation for the next invasion. A partial listing of some typical entries in the deck log for this time period is as follows:
| | | |
| --- | --- | --- |
| | | |
| Sun. May 14 - | 0515 - | Underway for Guadalcanal from Port Purvis |
| | 0915 - | Anchored, north coast, Guadalcanal |
| | 0945 - | Loaded DUKWs (amphibious trucks) |
| | 1130 - | Underway to Tassafaronga |
| | 1325 - | Unloaded DUKWs at Tassafaronga & underway to north coast anchorage |
| | 1740 - | Loaded LVTs at north coast anchorage |
| Mon. May 15 - | 0620 - | Underway to Tassafaronga |
| | 0835 - | Unloaded LVTs & underway to Port Purvis |
| | 1230 - | Anchored, White Rock Bay, Port Purvis |
| | 2300 - | Underway to Hutchinson Bay to go alongside SS Greece Victory to pick up a crawling crane |
| Tue. May 16 - | 0015 - | Alongside SS Greece Victory and loaded |
| | 0045 - | Back in White Rock Bay 6t anchored |
| | 0755 - | Underway to north coast Guadalcanal |
| | 1400 - | Anchored, loaded LVTs |
| Wed. May 17 - | 0600 - | Underway, training exercise |
| | 0850 - | Launched LVTs & moved to anchorage, anchored |
| | 1605 - | Loaded LVTs |
| Thu. May l8 - | 0625 - | Underway, training exercise |
| | 0810 - | Launched LVTs & anchored |
| | 1515 - | Underway to Kukum Bay, Guadalcanal |
| | 1630 | Beached at Kukum Bay, loading cargo |
And so it went, day after day, with an occasional trip to the waterhole in Purvis Bay, or a trip to Tulagi Harbor, where some of us got to go ashore one night to see a movie under the open sky. unfortunately, it rained quite hard during the movie, but that didn't stop us from enjoying an evening off the ship.
Movies
Whenever we were in an anchorage that was more or less safe, and there was a ship which would be showing a movie, all the ships in the area could send a movie party, if they desired to do so. On our ship everyone in the off-duty watch section would be allowed to go. At that time, it seems that only the larger ships, such as transports or cargo ships, had movie equipment. The movie party from the 481 would climb down into one of our boats and head for the ship with the projector and screen. We always left our ship before dark and finding the movie ship was no problem, but returning home after dark was a bit more difficult. All the ships were totally blacked out, and one LST in the dark looked pretty much the same as all the others, so we sometimes spent an hour or more before finding the 481, which might be only a ten minute trip away from the movie ship. It took even longer if the movie ship was anchored all the way on the other side of the bay and the boat Coxain had to use the compass to get us back. Sometimes the movie would be one we had already seen several times before, but we would go anyhow.

All of the training exercises led up to one grand final training exercise on May 25th. It was a full scale rehearsal with planes dropping bombs on the beach and large warships bombarding the shore and jungle nearby. The size of the force involved in the rehearsal was an indication that it was to be a large operation. After each training exercise, we retrieved the LVTs, minus their loads of combat troops, while we were anchored some distance from the beach. The LVT driver would approach the lowered bow ramp and our men would toss two lines out to the amphtrac. These lines would be secured to cleats at the back of the LVT, and our deck crew would heave in on the two lines, which had been criss-crossed to give more maneuverability, guiding the tank to the ship's ramp which had been lowered into the water. When everything was lined up correctly, the LVT would back up the ramp under it's own power. This operation got pretty scary several times because of the large swells which were running, almost trapping an LVT under the bottom of one of the bow doors, but fortunately, there were no mishaps during any of the loading procedures,
Spare Parts
Between operations, we quite often were in need of spare parts for some piece of equipment or other, and the Navy maintained supply centers at various locations throughout the Pacific where just about any kind of part could be obtained. Somewhere in the Solomons was the location of the strangest spare parts supply building we had ever seen. Actually, it wasn't a building at all, but was the forward half of a bombed or torpedoed LST which had been pulled up onto the beach with the bow pointing out into the water, and it was being used as a supply office and warehouse. The stern of the ship had been blown off, and the counter where you ordered parts was built into the rear of what had been the tank deck, which now served very nicely as the warehouse for all kinds of engine parts and so on. Possibly, the people who worked there also used some of the former troop compartments as quarters for sleeping.

I have been told by a former crewmember of LST 449 that this was what remained of the Coast Guard manned LST 167, severely bombed by the Japanese at Vella Lavella on September 25, 1943. However, the LST Association newspaper "Scuttlebutt" for January-February 1992 published a letter from a former crewman who was one of only five survivors of LST 342, torpedoed off the Solomon Islands on July 18, 1943, in which he says the bow section of the ship was towed back to Tulagi, where it was pulled up on the beach and used as a spare parts warehouse.
Fresh Water
One thing we enjoyed while we were in the Solomon Islands were the impromptu races with other LSTs from the anchorage at Guadalcanal or Tulagi to the fresh water filling station, or waterhole, as it was called, in Purvis Bay. Docking space was limited at the waterhole, with only enough room for a small number of LSTs, so it was sort of a prestige thing to get there first. The 481 won the Great Waterhole Race on several occasions.

Since LSTs at that time had no equipment for making fresh water, they were required to carry all of their own, and to ration it as needed. To increase the fresh water capacity on our ship, one of the large salt water ballast tanks had been scrubbed out by a crew from the Black Gang who made the occasion into a water hose war. The battle was fought by two parties squirting high pressure hoses at each other through the large holes in a baffle which ran from top to bottom of the tank. After this thorough cleaning, it was used as an extra storage tank for fresh water, to which a Pharmacists Mate added a little chlorine for purification. The only problem was that there was no pipe connection with the main fresh water system, and all the transferring from this tank had to be done through a manhole in the tank deck with a submersible pump and hoses.

Because of the need to carry all of our water, we always filled our tanks whenever we were in a place where water was available. As mentioned earlier, when we were at sea for long periods of time, we also had to supply water to some of the smaller ships in the convoy. Since water was rationed, the faucets in the head were only turned on for an hour in the morning, an hour at noon, and an hour in the evening. The showers were only turned on for an hour every three or four days. You would have to be there to imagine the chaos caused when one hundred men all tried to take a shower within an hour in the two available showers. It required a lot of teamwork! Salt water showers were available at any time, as was salt water soap, which came in long square bars, but a salt water shower with salt water soap left you so sticky, it felt like you never had a shower. We cheated rationing just a bit in the auxiliary engine room where we had a fresh water hose rigged up for a quick rinse off, badly needed after spending four hours working in the over one hundred degree heat.
Loading Up For The Next Invasion
Finally, on Tuesday May 30, 1944, after all of the training, and after one last fill at the waterhole on the 28th, we made the final loading of LVTs in White Rock Bay, Florida Island. From there we got underway to Domma Cove, Guadalcanal, where we beached and loaded two hundred nine Marines of the First Provisional Marine Brigade on Tuesday afternoon. As soon as the troops were loaded, we were underway for Tassafaronga Point to anchor for the night.

On May 31, the day on which we were to form up into a convoy for invasion number five, the log has the following entry:
| | | |
| --- | --- | --- |
| | | |
| Wed. May 31 - | 1155 - | While anchored in 52 fathoms of water, attempted to heave in on bow anchor. Anchor windlass stalled. All attempts to hoist anchor failed. In going ahead one- third on all engines while attempting to break anchor from bottom, chain parted at the 30 fathom detachable link. |
We always thought that the anchor had possibly become entangled in one of the numerous sunken ships which littered the bottom of Ironbottom Sound, preventing it from being hoisted. It didn't seem to be such a good start, but by 1200, with no bow anchor, we were underway for Kwajelein in the Marshall Islands.
The load we had when we finally pulled away from Guadalcanal consisted of two hundred fifty tons of large caliber artillery ammunition in wooden crates piled up about three or four feet high for almost the entire length of the tank deck. Thick planks were laid on top of these sturdy ammo boxes, and the amphibious tanks (LVTs) were driven up on the planks and parked on top of the whole thing. The main deck was loaded with all kinds of support vehicles, including a portable evaporator unit used to make fresh water from sea water. All this came with several hundred Marines in attendance, so we had a pretty cozy group of people aboard when we left Guadalcanal and headed north for Kwajelein Atoll. We arrived at Kwajelein on Tuesday June 6, after refueling SC-1325 on the way. After anchoring in Kwajelein Lagoon, we refueled and watered LCIs 365 and 450, and on June 7 we filled with fresh water from YO-184. Following a very short visit to Kwajelein, we were underway on June 9, heading west for the Marianas Islands, our next destination, one thousand miles away.
Waiting For Saipan To Be Captured -- Return To Eniwetok
Our group of LSTs was part of the Southern Attack Force and we were scheduled to land troops on June 18 on the American island of Guam, captured by the Japanese in 1941. D-Day for Saipan, further to the north, was June 15, 1944, and it turned out to be a tougher fight than was expected, not being secured until the end of June. On June 15, U.S. submarines cruising far to the west reported that two Japanese battle fleets were sailing out of the Philippines area toward the Marianas. Admiral Spruance, in Task Force 58, did not want to have to protect two invasions at the same time, so the assault on Guam was delayed while the Task Force went off to what became known as "The Great Marianas Turkey Shoot", when several hundred Japanese planes were shot down and several of their carriers were sunk.

Meanwhile, our convoy circled around just over the horizon from Saipan for fifteen days. We did come close enough on a couple of occasions to see the top of a mountain on the island.

The time spent cruising to the Marianas and off Saipan did not have too many dull moments and I suppose the best way to illustrate this is to use some entries from the deck log for that period.
| | | |
| --- | --- | --- |
| | | |
| June 10 - | 1400 - | AA practice with Condition 3 watch. |
| | 1440 - | Agat beach exercise (training while at sea - for Guam landing) |
| June 14 - | 1410 - | SC 1325 refueled and watered |
| June 15 - | 1705 - | Sounded General Quarters |
| | 1708 - | Sighted three enemy planes. DD 666 opened fire. Planes dropped bombs astraddle DD 666 and strafed ship. One plane continued on course 350 (t), other two turned back on 170 (t). |
| | 1730 - | One plane came in at 85 (t) and attempted to bomb APC 46, but missed. Plane hit by AA fire and hit water at 35 (t) This ship opened fire when plane was in range, with hits from forty millimeter observed. |
| | 1737 - | Plane sighted at 191 (t), but did not make run. |
| | 1745 - | DD shot several rounds at plane bearing 190 (t). |
| | 1755 - | Secured from General Quarters |
| June 16 - | 0937 - | Unidentified aircraft reported - sounded G.Q. |
| | 0953 - | Secured from G.Q. |
| June 17 - | 1800 - | Sounded G.Q. |
| | 1805 - | Noticed firing from Task Group 53.16 (another convoy) and saw plane shot down in flames. |
| | 1930 - | Secured from G.Q. |
| June 18 - | 0840 - | SC 1325 refueled and watered. |
| | 1027 - | Sounded G.Q., unidentified aircraft reported - 17 miles. |
| | 1043 - | Secured from G.Q. |
| | 1332 - | Sounded G.Q. enemy plane reported - 22 miles. |
| | 1350 - | Secured from G.Q. |
| June 21 - | 1316 - | SC 1326 dropped a depth charge 5000 yards astern of column where sound contact was made. |
| | 1330 - | SC 1326 dropped second depth charge. No results and sound lost. |
| June 22 - | 0840 - | Phillips, William John, S1c, fell overboard from the fantail. Made signal for man overboard. PE 1127 left formation and made search for man. Life buoy was thrown and man last sighted swimming strongly on bearing 270 |
| | 1140 - | PC 1127 gave up search for man and returned to formation. |
| June 24 - | 0705 - | SC 1325 refueled and watered. |
| | 1550 - | Unidentified aircraft reported - 25 miles. Sounded G.Q. |
| | 1555 - | Aircraft identified as friendly - secured from G.Q. |
| June 26 - | 1415 - | LST 479 alongside to refuel this ship. |
| | 1800 - | Refueling completed - 28,375 gallons taken aboard. |
| | 2345 - | Observed tracer fire bearing 285 (t). |
| | 2350 - | Observed explosion and fire on the horizon bearing 285 |
| June 27 - | 1140 - | DD 666 alongside to deliver ships stores. |
| June 28 - | 0905 - | SC 1325 refueled and watered. |
| June 31 - | 1705 - | Underway for Eniwetok Atoll, Marshall Islands |
| July 4 - | 1730 - | SC 1328 watered. |
| July 5 - | 1227 - | Anchored - Eniwetok Atoll. |
Note the tragic log entry on June 22, 1944. On that date, some of the Marines were having target practice, shooting at a target which was towed behind the ship. This was not an unusual thing, but was something which was done quite often. As the target was being retrieved by some of our deck gang, a portion of the steel lifeline gave way and William John Phillips, Seaman First Class, fell overboard. Although a life ring and life jackets were thrown into the sea near him, he evidently never saw them and was drowned. At the time, because of constant formation changes and zig zagging, our ship was last in line in the convoy, except for an escort vessel off on the horizon, so there was little possibility of rescuing him. The Captain wanted to stop the ship and launch a boat, but was denied permission to do so because of the possible danger from enemy submarines. Our watch section was on duty in the auxiliary engine room at the time, when we got a call to put power on the boat davits, something which was not normally done while we were at sea, so we knew something unusual had happened, but it wasn't until later that we found out about poor Phillips. According to information on the Muster Roll for June 1944, this happened at Latitude North 15 degrees 37.2 minutes, Longitude 168 degrees .05 minutes East. We were all very much saddened by this accident, since we had known Phillips from when we were in Mare Island waiting for the ship to be finished.
With more than three hundred men to feed and water, it wasn't long before we were down to two rationed meals a day, and no fresh water showers at all. We had to share what food we had with one of the small vessels in our escort fleet. We also had to supply them with fuel oil and water every four to six days or so, and of course, we had the usual number of calls to General Quarters to put up with. All those men being crowded together in a small ship for such a long time created a certain amount of friction, and a number of fights broke out between Marines and crew, and between Marines and Marines, so it was a great relief to everyone when we finally headed back to Eniwetok where the Marines were unloaded for a few days so everyone would have a bit of room in which to turn around. The crew was also given a few hours on the beach or R&R, badly needed by all. The tanks, ammunition and support vehicles all remained on board. 481 had been at sea for twenty seven days.
One Marine practically became a crew member since his services were pressed into use by our Captain. He was the Sergeant in charge of the Marine's portable evaporator unit which made fresh water. He had a big hose over the side of the ship to pump salt water up to the evaporator, and another hose which came out of the unit and pumped fresh water into one of our water tanks. I don't remember his name or how much water he made in a day, but every bit helped when we were so short of water. He even lived with us in the crew's quarters and said he almost felt like a swabbie since he had been on the ship for so long. He remained with us until we landed at Guam, where he finally disembarked with the other Marines.
After returning to Eniwetok, one of the first things we did was to refuel the ship from AO 75. On July 12 we went alongside LST 482 to take aboard a bow anchor to replace the one we lost in Guadalcanal. I don't know why the 482 had a spare bow anchor, but they did and the transfer was completed in just over an hour. That same day we loaded up with water from water barge AO 84, taking from 1555 until 1940 to fill up, so our tanks must have been almost dry. After filling with fresh water, we anchored with our new bow anchor. Following is an entry in the log for July 13:
| | | |
| --- | --- | --- |
| | | |
| July 13 - | 1415 - | Householder, Franklin R., Pvt. USMC, Ist Provisional Brigade, shot himself in the foot while cleaning his gun. Transferred to USS Zielin for treatment. |
After refueling our ship on July 7, it seems that within a very short time we were refueling other ships. On the 14th we pumped 8000 gallons of fuel oil aboard USS Centaurus, and on the 15th we refueled our old friend SC 1325 once more, just an hour and a half before getting underway from Eniwetok and heading west again on July 15, 1944, with July 21 set as the new date for the invasion of Guam.
Invasion No. Five - Guam, Marianas Islands
After replenishing our supplies and fuel as noted above, and loaded with the same Marines who had been with us from Guadaicanal, we started once more on the thousand mile trip back to the Marianas. D-Day at Guam was July 21, 1944, and turned out to be quite a show. At 0657 our LCS (36 foot landing craft, support) was launched. This boat had been substituted for one of our LCVPs during the time we were having all the training exercises in Guadalcanal. The LCS was a landing craft which carried a set of rocket launchers on each side of the armor covered cockpit, together with a heavy machine gun, and was scheduled to go in towards the beach ahead of the first wave of troops, where the crew would begin to launch rockets at the beach area. All went well with them until later in the morning, when one of the rockets fired prematurely, injuring Michael A. Boyko, Flc, the boat engineer, who was loading rockets into the launching racks. They took him to the USS Ringgold, DD 500, for emergency treatment and he was further transferred to LST 446, which was equipped as an emergency hospital ship.

At 0729 we commenced launching the troop laden LVTs and by 0739 launching was completed. At 1042 we received twenty one Marines and one officer aboard as a working party to assist unloading cargo. At 1758 the LSTs got underway for the night, pulling away from the island. Next day found the ship lying to in the transport area, maneuvering as needed to stay in the area. An entry in the War Diary states: "From what could be seen, enemy appears to be putting up stubborn resistance. Observed two of our planes shot down by A.A. fire over Orote Peninsula. At 1750 Task Group 53.17 retired to SW during night hours." On the 23rd, we were finally able to anchor 1000 yards off shore in Agat Bay, where the Marine working party began unloading the artillery ammunition into DUKWs (amphibious trucks). At 1745 we got underway for Togcha Beach (Yellow #1), where we beached at 1803 and proceeded to unload the wheeled cargo. Unloading took all night and most of the next day. Our night on the beach gave us an eerie feeling, with the jungle just yards away from the open bow doors of the ship. Periodically, we could hear the sounds of heavy fighting just beyond the beach, and the entire area was kept illuminated by destroyers firing star shells over the LSTs on the beach. It was really a weird scene, and we were more than happy to see daylight the next morning.

The War Diary for the 24th mentions that at 0800 a group of six LVT-As 1000 yards north of the beach area came under fire from enemy 77mm guns, sinking two of the amphibious tanks and driving the others off. The enemy fire could be seen coming from concrete emplacements in the cliff face of Orote Peninsula.

At this time, I will use a portion of the log entries to chronicle some of the events of the 24th.
| | | |
| --- | --- | --- |
| | | |
| July 24, 1944 - | | Beached and unloading at Togcha Beach (Yellow #1), Guam. |
| | 1503 - | Sounded G.Q., enemy shells landing on beach forward of the bow. |
| | 1505 - | This ship opened fire on enemy pillbox on Orote Peninsula. Completed unloading. |
| | 1519 - | Observed several three inch shellbursts near pillbox (from our three inch gun). Enemy battery silenced. |
| | 1523 - | Retracted from beach and underway for anchorage. |
| | 1530 - | Secured from G.Q. |
| | 1601 - | Dropped bow anchor. |
| | 1855 - | Received first salve from Jap 77 millimeter located in pillbox on Orote Peninsula. |
| | 1856 - | Sounded G.Q. |
| | 1858 - | Three inch gun opened fire on target. Several enemy shells hit ship on starboard side, main and second decks. |
| | 1901 - | Underway with bow anchor still out. |
| | 1902 - | Several fires started on second deck, starboard side. |
| | 1912 - | Enemy battery ceased firing. |
| | 1913 - | Struck coral reef while maneuvering to avoid enemy shells. Bottom of ship stove in enough to cause starboard shaft to be out of alignment. Starboard engine out. |
| | 1930 - | Anchored, bow and stern anchors. |
| | 1935 - | All fires under control. |
To give a more comprehensive view of what the above log entries tell us, I submit the following narrative:
When we backed off the beach at 1523, after the initial shelling from the enemy pillbox which our three inch gun silenced, we dropped the bow anchor in an anchorage several hundred yards away. At this time, another LST, possibly 482, was anchored off to our port side, with no ships between it and the beach which curved around to form the base of Orote Peninsula. Evidently some kind of Japanese activity was taking place on that section of beach because a flotilla of four or five small LCI gunboats were called in to shell the shore line. These LCIs (Landing Craft, Infantry) were small landing ships designed to land infantry troops on a beach. The troops disembarked via two ramps which were lowered to the beach. LCI gunboats were LCIs which had been equipped with much more and heavier armament than usual. Some were armed with heavy mortars so they could go practically up on a beach and provide firepower for the troops ashore. This flotilla proceeded to cruise very close to the shore where they opened up with all of their forty and twenty millimeter guns, one ship after the other in single file. We could see palm trees being blasted out of existence as each ship took it's turn sailing past the beach, firing with everything they had. Then we could see return fire in the form of mortar shells and other gunfire dropping onto the LCIs. Every ship in the small flotilla took a terrific beating, but they continued to bore in and blast the beach. Evidently their mission was accomplished after six or seven passes along the shore, because the return fire ceased and they were able to pull out into the bay.
Under Fire From Japanese Shore Batteries
After this fire-fight, during which the LCIs were circling around her in their runs on the beach, I believe the other LST brought up her anchor and moved away from the beach, leaving us as the closest ship next to the peninsula. This was our position later in the afternoon, when we watched as dive bombers swooped down on the steep cliffs just beyond the beach on Orote Peninsula, not far from our anchorage. Our three inch gun crew watched through the telescopic sights on the gun, and could see caves in which Japanese artillery moved out to fire and then was rolled back into the cave for protection. After the dive bombers finished their runs, a destroyer was brought in, and from point blank range in very shallow water, let fly with her main battery of five inch guns. After firing a tremendous number of shells at the caves, the destroyer pulled away into deeper water, probably believing the artillery to be silenced for good.

Unfortunately, this was not the case, because at 1855, as indicated in the deck log, our ship began to receive artillery fire from the same caves. Being already manned, our three inch gun returned fire once again, but before it was over we had taken thirteen hits; ten along the starboard side, which caused internal damage and started fires on the second deck, and three on the main deck, which damaged rigging, boat and superstructure. Luckily, none exploded in the tank deck where most of the two hundred fifty tons of ammunition was still on board; however, fires were started in the wooden planks which covered the ammo, and we did suffer casualties among the crew and also among the Marines in the unloading detail.

At; this time I will include the Action Report submitted by Captain McGuire, subtitled "Covers damage received as result of repeated shell hits while beached at Yellow Beach 1 near Agat, Guam on 24 July 1944".
CONFIDENTIAL
28 July 1944

From:
Commanding Officer (USS LST 481)

To:
Commander in Chief, United States Fleet

Via:
(1) Commander Task Unit 53.4.4 (Commander R.W.Cutler, USNR, Commander LST Group THIRTEEN, LST Flotilla FIVE, USS LST 446, Flagship).
(2) Commander Task Force 53 (Rear Admiral R.L.Conolly, USN, Commander Group THREE, USS APPALACHIAN, Flagship).
(3) Commander in Chief, United States Pacific Fleet, and Pacific Ocean Area.

Subject:
Action Report.

Reference: (a) Pacific Fleet Confidential Letter 2CL-44.

1. In accordance with reference (a) the following report of action is submitted:

(a) On 24 July 1944, while beached on yellow beach #1 on the island of Guam, the beach area was subject to a sudden and intense fire from Japanese 77mm guns. Previous observation had disclosed several concrete emplacements in cliffs of Orote Peninsula. These were taken under fire by 3" battery and several hits were made, and enemy fire silenced. Enemy fire on beach was very rapid and accurate causing several casualties to personnel and material on beach.

(b) At 1601 this ship retracted from beach and anchored eight hundred (800) yards to north and west of yellow beach #1, in fifteen (15) fathoms of water. Condition THREE watch was set. At 1855 ship was subject to fire from enemy 77mm guns, the first shot going over 50 yards. General Quarters was sounded and ship was immediately hit. In three minutes the ship was hit thirteen times in hull and various places about deck. It was instantly realized that enemy fire was so accurate and rapid that the range must be immediately changed. The anchor was steamed out at full speed ahead on all engines and enemy fire commenced dropping astern. Fire from 3" battery contributed materially to disturbance of enemy fire.

(c) At 1912 enemy battery ceased firing. Several fires were burning in the ship including one in lumber covering 250 tons of ammunition.

(d) At 1935 due to splendid work of all hands all fires were brought under control.

(e) An inspection of the ship was made and the following damage ascertained:

Ten men wounded, one fatal.
One shell exploded in Compartment B-203EL.
Two shells exploded in Compartment B-303-E.
One shell exploded in Compartment B-201L.
Two shells exploded in Compartment A-313A.
One shell exploded in Compartment A-2~5L.
One shell exploded in Ballast Tank B-405W.
One shell exploded on Compartment C-205EL.
One shell exploded in Compartment C-203AL.
One shell struck mount of Gun #11, destroying gun and fatally wounding pointer.
One shell exploded on LVT ramp that was carried on after hatch.
One shell struck deck and ricocheted off exploding in [...]
Compartments and upper works were considerably cut up by shell splinters.
Damage to Starboard main shaft bearing caused by after part of ship striking coral head.

(f) The following conclusions were drawn by the CommandingOfficer:

1. Ship was saved by experienced officers and crew; the majority of whom have seen five actions.

2. Impact fuse projectiles are not extremely destructive other than to exposed personnel.

3. Damage control personnel should be as intensively trained as gun crews.

4. Fire hoses should be kept made up and stowed in splinter proofed spaces.

(signed) G. McGuire
The next document in the Action Report is a copy of a letter from the Commander LST Group Thirteen, Flotilla Five, and is as follows:
3 August 1944

First endorsement to CO USS LST 481 letter dated 28 July 1944.

From:
The Commander LST Group THIRTEEN, Flotilla FIVE.

To:
The Commander-in-Chief, United States Fleet.

1. Highly approved, recommending citation.

(signed) Roger W. Cutler, Comdr., USNR
I guess Commander Cutler's recommendation didn't carry much weight since we never did receive the citation.
Casualties
One crewman, George "Rabbit" Daniels, Officers Steward Third Class, suffered multiple shrapnel wounds and lacerations, and died shortly after. Eight crewmen and three Marines were wounded:
Charles Angle, Motor Machinists Mate Second Class, shrapnel, left leg.
Joseph Phifer, Motor Machinists Mate Second Class, shrapnel, left leg.
Andrew Johnston, Seaman Second Class, shrapnel, right shoulder.
Nicholas Gier, Seaman Second Class, shrapnel, right arm and back.
Henry Homerighaus, Radioman Second Class, shrapnel, back.
Johnny L. Speight, Electricians Mate Third Class, multiple shrapnel, back and left leg.
James Lucas, Fireman First Class, multiple shrapnel, back.
Rudolfo Urbie, Seaman Second Class, shrapnel, right wrist.
Wilbur Jones, PFC, USMC, shrapnel, legs.
Jim W. Webb, Pvt, USMC, shrapnel, legs.
John L. Haynes, Pvt, USMC, shrapnel, legs.
All the wounded men were given emergency treatment by the Pharmacists Mates on our ship, and were then transferred to LST 446, which was the emergency hospital ship. Some were further transferred to the USS Harry Lee, probably a transport having better medical facilities [APA-10]. Eventually, some of the wounded crew members returned to duty on the 481.
Assessing The Damage
When the shelling began, the Captain attempted to move the ship out of range, and in the process of getting underway while letting the anchor chain go out, the ship drifted up on a coral reef, causing some damage to the hull under one of the starboard shaft bearings, which made the bearing run hot thereafter. Some people said we also received rifle fire from the beach when we drifted so close, but this was not confirmed.

The damage from the shore batteries was confined mostly to large holes in the starboard side of the hull, resulting in much damage and fires in the compartments which were pierced by the shells. One shell hit the degaussing cable in a troop compartment, leaving hundreds of small wires looking like so much spaghetti. This same shell hit the watertight door leading to the shaft alley ladder way, and knocked a piece of steel a foot and a half square out of the door and down two decks to the bottom of the ladder way. Another hit in the sick bay, causing a lot of damage to that compartment.

One hit in the crew's quarters, causing some unusual damage in Electricians Mate Zeke Nixon's locker. A piece of shrapnel went in the back of his locker, through a can of peanuts, and came out the other side of the locker; however, it also went through his neatly folded clothing, so that when he took out his dress blues they looked as if the moths had been at them, they were so full of holes.

A potentially more serious hit was one just at the waterline which penetrated a ballast tank that was between the engine room and the ocean. Once again we were very fortunate, since the only damage, other than the hole in the hull, was a huge bulge in the outboard bulkhead of the main engine room escape trunk, from the impact of the shell hitting the inside of the ballast tank. The men on duty in the engine room said that when the shell hit, paint flaked off the bulkhead and flew like snow across the front of the engine room. We eventually learned that the shell did not explode, but remained in the ballast tank until it was finally removed several months later when the ship was undergoing repairs. Measurements proved it to be a 77 millimeter shell, slightly larger than one of our three inch shells.

We had always considered the 481 a lucky ship, although some crew members insisted that our luck was bound to run out someday, and it looked as if July 24, 1944 was the day. In retrospect, I guess our luck did hold out long enough to prevent all the ammunition in the tank deck from exploding, even though some of the covering lumber caught fire.

After proceeding to a safer anchorage, all hands were treated to a shot of whiskey, a couple of bottles of which had been rescued from the debris of the sick bay. This was considered to be for medicinal purposes, and it had a calming effect on some shaky nerves.

On July 25th, unloading the ammunition from the tank deck continued while we were anchored, using DUKWs which drove out of the water onto our lowered bow ramp and into the tank deck, where they were loaded by the Marine working party. Once loaded, they reversed the procedure and made their way in to the beach.

At 1055, we pulled alongside the repair ship ARL 8 to begin repair work. At 1750, while still tied up to ARL 8, enemy shells began falling in the water alongside. G.Q. was sounded once more, and at 1756, our three inch gun opened fire on a target on Orote Peninsula. The ship secured from G.Q. at 1805, and at 1827 we cast off and were underway to allow ARL 8 to change anchorage, probably to a safer spot. By 1940 we were once again alongside the repair ship, and LCT 968 was tied up on our starboard side to transfer defective star shells to the 48~. We also had a pontoon barge alongside to remove some pontoon propulsion units and lumber from our main deck. At 2~35 ARL 8 cast off all lines and moved to yet another anchorage, and the 481 anchored with 105 fathoms of cable out on the stern anchor. We completed loading the defective ammunition by 2300 and LCT 968 cast off. By 0345 we had to change to another anchorage, where the ship anchored with bow and stem anchors. Later in the morning of the 26th, we went alongside ARL 8 once again, to complete repairs of battle damage, and by 1450 we were underway to the rendezvous area preparing to retire out to sea for the night. The repairs consisted of welding steel plates over the holes in the side, after the jagged metal had been trimmed away. Repairs inside the ship were minimal, except those made by our crew, consisting of a general cleanup of the damaged areas.

At the same time we were alongside the repair ship, one of the LCI gunboats damaged in the afternoon shore shelling was tied up on the other side, also receiving some emergency Repair work. The repair ship crew told us that when the LCI came alongside, the crew was still cleaning up body parts with a dust pan. They suffered tremendous damage, and needed a lot of repair work.

In the War Diary entry for July 27, Captain McGuire exhibits a humorous side:
| | |
| --- | --- |
| | |
| July 27 - | Lay to in Tractor Area #1 and loaded LCI ramps and defective star shells. Orote Peninsula seemed to be catching everything except the kitchen sink. Hope our straight shooting Jap friends got it in the neck. Retired from Tractor Area during night. |
Ninety-three LSTs saw action in the combined Marianas landings at Saipan, Tinian and Guam.
Back To Eniwetok And Beyond
We remained at Guam until July 28, when a convoy of LSTs formed up for the long trip back to Eniwetok, pulling out of Guam in the late afternoon. The Special Sea Detail, the watch which was always on duty when entering or leaving port, had been relieved, and the regular watches had been on duty for several hours when the next incident took place.

I was in the main engine room with the rest of our watch, just before 2100, when we heard a tremendous bang and the entire ship gave a lurch, and General Quarters sounded. We were positive we had been torpedoed, especially since everyone was still nervous from our fight on the 24th, but we Learned that LST 449, next to us in the convoy, had lost her steering power (a common occurrence in LSTs), and had suddenly swerved into our starboard side, ramming into our starboard bow first, then bouncing off and hitting us again just aft of midships. 481 had attempted to avoid the collision by sheering off to port, and sounding blasts on the ship's whistle, but we were unable to get out of the way of the oncoming 449. Our ship suffered fairly severe damage from this collision; a hole in the hull near the bow on the starboard side, life lines on the starboard side of the forecastle were flattened and the deck plates in that area were sprung, and the starboard boat davit was severely damaged, rendering it inoperable. The 449 looked as if someone had taken a giant can opener and run it along the port side, about two feet below the main deck, opening a huge slit fifteen or twenty feet in length. We could see into their crew's quarters through the opening. The damage was not severe enough to cause either ship to turn back to the anchorage in Guam, which was still in sight.
Steering Failures
The deck log of our ship has many, many entries indicating the failure of the electrical steering system. The steering system on LSTs evidently had a built in abnormality which periodically would cause the total inability of steering the ship from the wheelhouse. At these not infrequent times, when the ship would go wandering off to one side, four or five seamen would go racing down ladders, through the crew's quarters, and down a hatch to the steering engine room, located all the way in the stern of the ship on the next deck below the crew's quarters. Once they arrived there, they would engage two cranks into sockets on each side of the steering engine, and begin cranking like mad until the ship was back on course. Contact with the conning tower was maintained by way of the sound powered phone system which had phone jacks in various locations throughout the ship. The trouble always seemed to be in the electrical contacts which transmitted the movement of the wheel in the wheelhouse to the steering apparatus in the steering engine room and it usually didn't take the electricians too long to make repairs. Meanwhile, several men would be working the big cranks to keep the ship on course. When steering in this manner, the wheel in the wheelhouse had to be disengaged by pulling out a locking devise in the hub of the wheel, thus disconnecting it entirely from the steering engine. Once, when several of us were watching the electricians at work, someone in the wheelhouse accidentally engaged the wheel before the cranks had been removed, causing them to spin at a high rate of speed and knocking the people working the cranks across the room like so many bowling pins. Fortunately, some bad bruises were the worse injuries suffered by the crankers but they were so mad, it was a good thing they were far removed from the person who engaged the wheel.
Continuing Eastward
After the unwelcome diversion of a collision with LST 449, the convoy sailed directly to Eniwetok, arriving at that atoll in the Marshall Islands on August 3, 1944. Soon after anchoring, LST 207 pulled alongside and received 20,000 gallons of water from our ship. By 0710 on August 4th we were underway for Pearl Harbor and civilization.

A log entry for August 9th indicates that Eddy, William V., BM2c, was treated for a simple fracture of the left clavicle after a fall while working on the tank deck.

Twenty-one days after leaving Guam, we were moored next to LST 461 in West Loch anchorage, Pearl Harbor, on August 17. This was the first time since March that we had been in Pearl Harbor and it was a great shock to us when we saw about five or six LSTs which had been involved in some sort of explosion in West Loch. They were badly burned and had all kinds of severe structural damage, and were now abandoned. Although it was a well kept secret during the war, we later learned that there had been a terrible ammunition explosion on May 21, and that six LSTs loaded with ammunition for the Saipan invasion were lost, with 163 men killed and 396 injured. A close relative of ours, LST 480, was one of the ships which was totally destroyed.

After hearing this sad news about some other LSTs, we got the best news possible for us--we were going back to the States for repairs and overhaul! You can't imagine the thrill this news gave us. Next day, after moving around several times so that some other LSTs could move out and in to the mooring, we unloaded two boatloads of the defective star shells into LCVPs. On Saturday, August 19, we moved to berth K-12, which was a dock that LSTs pulled into so that loading or unloading took place through the bow doors. For us, it was unloading cargo and taking on water. A crane barge was moved in next to us to assist in unloading cargo and it had completed the job at 0545 in the morning of the 20th.

By 0740 we were underway for San Pedro, California. The log indicates that at 0940 we took position as section leader of the second section of Task Unit 55.1.15, formation course 100 t, speed 10 knots.

The log also shows that a Captain's Mast was held at 0930 for "H"P"C., Jr. StM 2c, who was AOL from 1830, 18 August to 1830, 19 August, period of 24 hours. Punishment: to be restricted to the ship for 10 liberties. Bad news, when we are going back to the States!
Return To the Good Old U.S.A.
To give you an idea of how fast a WW II LST could sail, I submit the following time schedule. After leaving Guam on July 28, and traveling full speed except for the brief stops in Eniwetok and Pearl Harbor, we finally arrived in San Diego thirty four days later, on August 30, 1944. Our original orders had us going to the Navy Repair Base in San Pedro, just outside Los Angeles, which we thought was great, but when we were preparing to enter San Pedro Bay on the morning of August 30, and in fact, even had the harbor pilot aboard, the orders were changed to go to San Diego, much to everyone's disappointment, since we knew what it was like in Dago, but San Pedro would have been new to us. However, it was so great to be back in the States, more or less safe and sound, that we really didn't care what base we went to.

At 1916 on August 30, we finally tied up next to LST 446 on the north side of Pier #2, Naval Repair Base, San Diego, California, where a lot of us had labored when we were in General Detail in early 1943. After the ships were tied up, the LSTs attracted a lot of attention from people on the dock, since all were pretty weather beaten and war weary. They could see all the rusty steel patches which covered the shell holes in the side of our ship, and the Japanese flags painted on the conning tower, which stood for a Japanese plane and a shore battery our ship was given credit for destroying. Everyone wanted to know where we had been and what it was like out there. I'm sure a lot of bull flowed at that time.
Liberty And Leave
The crew had always been divided into port and starboard watches for leave or liberty purposes, and at this time our watch section was given the honor of being the first to go on liberty and a good time was had by all, notwithstanding the fact that most were suffering from severe hangovers the next day. Several of us visited a uniform shop and bought tailor-made dress blues in preparation for going on leave. We also updated our campaign ribbons since we were entitled to wear five battle stars on the Asiatic-Pacific Theater of Operations ribbon.

Next day, those of us who were paying for our celebration of the night before, tried to lay low and stay clear of the Chief Petty Officers who might be looking for work details. Thankfully, not much in the line of work had been planned, so most of us had a successful recovery not doing anything.

On September lst, however, all hands were put to work unloading all the ammunition from the ship, the normal practice when major repair work was to be done. Unloading ammunition commenced at seven in the morning, and was not completed until five in the evening. This was a job everyone hated, because it was pure bull work, and involved much heavy lifting and carrying. We all breathed a sigh of relief when all of the ammo was off the ship. On that same day, we began taking fresh water from a shore hookup.

We were told that half the crew would be given leave, and upon their return, the second half would go. Excluded from the leave program were ten new crewmen who had reported aboard for duty when we made our short stop in Pearl Harbor on the way to the States. I was lucky enough to be one of forty three men and five officers in the section which was the first to be given leave. Most of the crew were from either the Midwest or the West Coast, and were able to get home in a fairly reasonable time, but those of us from the East Coast and the South had to use half of our leave time just traveling to and from our homes. Our leave began on September 2, 1944, and we had to be back aboard ship at 0800 on the 22nd, allowing us only twenty days with no extra time for travel. Only two of us, Sam Mays, from Norwood, PA, and myself, were heading for Philadelphia.

After a dirty five day trip, part of it spent riding in an old Santa Fe day coach pulled by a cinder spewing steam engine, it was really good to get home, especially after being out in the islands with the heat and the air raids. We must have received a telegram granting us an extension on our leave -- because the log indicates that the first leave section didn't report back to the ship until September 28, giving us twenty six days instead of the original twenty.

All too soon it was time to make the return trip back to San Diego and Navy routine. Seaman Sam Mays and I met at 30th Street Station in Philadelphia as we had previously arranged, and off we went to Chicago. After going through the process of changing trains and stations in Chicago, we met up with another crew member, James "Smiley" Burnett, who was returning from his home in Ohio. We were not too thrilled about returning to the ship, but there was nothing we could do about it short of going AOL, which is just what Sam Mays did when we reached San Diego. Sam thought he needed some additional time off before reporting aboard. He was one of seven others who had the same idea. All but one, a Quartermaster 3rd class, returned anywhere from fifty minutes to two days, five hours late. Mays returned after thirty six hours. The QM3c was declared a straggler on October 14, and on November 3, his records were transferred to the U.S. Naval Repair Base, New Orleans, for disciplinary action at their request. I have no idea what kind of trouble he got into down there.
Back To The Good Old 481
On September 28th, most of us reported aboard the old 481, and learned that it had just been moved into drydock ARD 29 two days before we got back. We had been hoping that most of the dirty work would have been completed by this time, but, unfortunately for us, it was just beginning. The second leave group told us that they had been doing nothing but going on liberty since we went on leave, but, regardless of what they said, a lot of repair work had been done prior to the ship moving into drydock. We learned the ship's Captain, George "Mickey" McGuire, had been transferred on September 19, and that the Executive Officer, Lt. W.H. Bundy, had assumed command.

While the ship was in drydock, we had to provide crew members for scraping, cleaning, and painting the bottom, in addition to other dirty work. Since we were on shore power, we had no regular engine room watches to stand, but the black gang did have to stand fire watches wherever any welding or burning was done, and the deck force had to stand gangway watches. All that was required on the fire watches was for one of the crew to stand by with a fire extinguisher. Work on the ship went on around the clock, and almost led to mutiny one night when a shipyard worker came into the crew's quarters around midnight and began using an air driven chisel to cut away a steel hatch coming right next to where we were sleeping. After a lot of threats and arguing, he finally left the job to be completed the next day.

The ship was in drydock ARD 29 from September 26 until October 4, when it was moved out to Pier 2, still undergoing repairs. On October 11, Yard Tugs 254, 88 and 311 once again moved us back into ARD 29 for additional repairs. This time, we were in drydock until October 16 when the tugs moved us out to pier 2 once more.

Evidently some of the crew enjoyed liberty in San Diego more than most of us, because while the ship was there, thirteen of them were AOL or AWOL at various times, some more than once. This was in addition to those who were late returning from leave on September 28. Of the thirteen, two were declared deserters, one was recommended for a General Court Martial, three spent two weeks in the brig (one for threatening some crew members with a knife; one for being drunk on duty; one for stealing a truck), the rest received various amounts of restriction to the ship. One man, a Stewards Mate Second Class, who had been placed on restriction after being AOL when the ship was in Pearl Harbor, had a record as follows while we were in San Diego:
| | |
| --- | --- |
| | |
| Oct. 28 - | AWOL. |
| Nov. 1 - | Returned under guard at 1605. |
| | AWOL again at 2000 |
| Nov. 3 - | Returned under guard at 0400. |
| | AWOL again at 0800. |
| Nov. 8 - | Returned under guard. |
| Nov. 9 - | AWOL. |
| Nov. 23 - | Returned under guard at 0300. |
| | At 0315, transferred to shore brig for safekeeping. |
| Nov. 30 - | Returned to ship under guard just before it left for San Francisco. |
This man had a definite preference for life away from the Navy. On several occasions, he had been handcuffed to the steel pipe part of his bunk and had somehow slipped out of the locked handcuffs. I think we will run across him again later in the story.
On October 24, the second half of the leave section returned to the ship. Of the thirty six enlisted men and four officers in this group, only one Seaman Second Class failed to be back on time. he returned on October 31 seven days, seven and a half hours AOL, for which he received two months restriction at Captains Mast on November 9.
One of the major changes made in San Diego was the addition of an evaporator unit for making fresh water from sea water. This unit was placed in a former ballast or water storage tank just aft of the main engine room, between the two shaft alleys, with access via a ladder way located in the after part of the tank deck next to the port side ladder from the crew's quarters to the tank deck. We also acquired two Water tenders who would operate the evaporator unit. This unit was not meant to totally supply fresh water for the ship, but was to supplement our storage tanks, hopefully giving us a longer range between water fills.
Some other changes were those made to our armament. The gun in the stern gun tub was replaced by a forty millimeter AA gun, and just forward of it another forty was installed in a gun tub built at a slightly higher level over the stern anchor winch. Two more forty millimeters, in elevated gun tubs, were added near the bow, one on the starboard and one on the port side just forward of the companionways leading to the troop compartments. Changes were also made in the placement of several of the twenty millimeter AA guns, which now numbered fourteen.
Another thing the older LSTs did not have was radar. This was remedied by the addition of a small surface radar unit which was installed high on the mast, This would be an aid to navigation in foul weather.
These additions and changes were all items which the newer LSTs now had when they were launched, so the old 48~ was being modernized.
Eventually most of the work on the ship was completed and we were ready for a trial run or two before we went off into the war once more. The ship had bekn on shore power and water since early in September, and now it was time to prepare to switch over to our own power and water. On November 25 we took on 130,000 gallons of fuel and 45,570 gallons of water, and on the 26th, at 0756, we were underway to the outer harbor for a trial run. I guess what happened next was not totally unexpected, but at 0812 the port engine stopped, and at 0843 we were on our way back to the dock to repair the engine. At 0853 the steering mechanism failed and we went on hand steering as we were assisted by YTB 266 to a mooring on the north side of Pier #3, where repair work commenced on the port engine and the steering mechanism. By 0700 next morning, these repairs had been completed, and at 0845 we cast off from the pier for another attempt at a trial run. This time, everything worked to perfection as the ship went through all the speed changes from "stop all engines" to "all engines ahead emergency". We dropped and retrieved the bow anchor and then did the same with the stern anchor, and at 1728 we were moored starboard side to the Mole Pier at the Repair Base, having successfully passed the requirements of the trial run.
On November 28 we began loading our ammunition at 0830 and by 1100 the ammo loading was completed. After moving to allow LST 446 to get next to Mole Pier, we finally got underway and moored starboard side to the north side of Pier 3 at the Repair Base.
On the 29th three of our crew were returned to the ship from safekeeping in the Base brig and one man who had been recommended for a General Court Martial was transferred to the Administration and Military Command on the Base. At muster the following morning, two of the three returned from safekeeping were reported AWOL. so they were also transferred to the Administration and Military Command. At 1530, just ten minutes before the pilot came aboard to get the ship underway from Pier 3, the Stewards Mate who had been in the Base brig for safekeeping, was returned to the ship. I guess they waited until the last minute because they didn't want to take a chance on him escaping from the ship one more time before we left the harbor.
While the ship was in San Diego, sixteen enlisted men and the Captain had been transferred, and we had received twenty eight new enlisted men and two officers. Most of those transferred were original crew members who had been aboard since commissioning in May 1943.
San Francisco and Oakland To Load the Ship
At 1555 on November 30, 1944, we were underway from San Diego to San Francisco at a speed of eight knots. On December 3rd, at 1203, the ship was moored starboard side to 9th Avenue Pier, Oakland, California, across the bay from San Francisco. This was only a temporary stop for us, because on the 4th, we moved out to tie up at Pier 1, Treasure Island, in the middle of the bay, to undergo further repairs.

Liberty in San Francisco was much nicer than it had been in San Diego, mostly because it was a larger city and didn't seem to be as crowded with servicemen. It was also much cooler, requiring peacoats when we went on liberty. It got to be pretty exciting for a couple of the crew who were returned to the ship on the 5th, after trial by civil authorities on charge 300-B of the civil code, whatever that was. It was probably for fighting or being drunk and disorderly. On the 7th, our famous escaping Stewards Mate was transferred to the Receiving Station, San Francisco, to await trial of General Court Martial. That was the last we heard of him. Two others were declared Deserters on the 14th, after being AWOL for some time.

481 remained at Treasure Island undergoing repairs until December 17, when we moved back to Oakland's 9th Avenue Pier and began loading cargo, which turned out to be a huge load of steel piling, which was to be used at some distant place to form a breakwater or seawall. At this time, we had no idea where that place was to be. These pilings were so long that it took two fork lift trucks to lift one piece of piling in order to properly stow them in the tank deck. After loading the tank deck several feet deep with steel pilings, the remaining space was filled with steel pontoons which were in the form of a cube about six feet square. When these pontoons were unloaded at some future time, they would be bolted together with others to form larger pontoons which could be used in many different ways. Sometimes they were used as a pontoon barge powered by a huge propulsion unit which resembled a giant outboard motor. These barges were used as lighters to carry cargo from large ships to the beach at places where there were no docking facilities. At other times, these very useful and versatile pontoons were used to make a floating dock. They seemed to have any number of useful purposes. I mentioned earlier in the narrative that the 481 carried four side-mounted pontoons to the Makin Island invasion.

While we were in Treasure Island and Oakland, we received eleven more new crewmen, while three additional people were transferred from the ship.

After filling the tank deck with heavy steel pilings and light steel pontoons, on December 21 we headed north to Mare Island Navy Yard where a crane loaded USS LCT 350 on the main deck at 2320 that night. The LCT crew and one officer also reported aboard the 481. This LCT was the same kind of vessel we carried on the main deck when we went to the Aleutian Islands in 1943, and which we towed from Adak back to San Francisco. By this time I guess the powers that be figured we had just about all we could carry, so back we went to San Francisco the next day, where the ship dropped anchor in anchorage 12 out in the bay. While we were anchored there, five additional seamen reported aboard for duty, and thirty four enlisted men with several officers reported aboard as passengers.
Off to the War Once Again
On December 22 we were told that we would be leaving the good old USA on the following day, two days before Christmas. A fine Christmas present that was! This news was so cheerfully received by the crew that seven more failed to show up at muster and were eventually declared deserters. I don't believe any of the so- called deserters ever returned to the 481, but we fully expected them to be caught or turn themselves in, and to do some brig time as a result.
Brig Information
Speaking of the brig, on several occasions we had crewmen punished for some misdemeanor or other, resulting in them being put in the ship's brig. Since we didn't have a formal brig, different spaces were used on different occasions. The first time I remember, we had no troops on board, so they locked this guy in the troop's head on the starboard side. For a crime serious enough to warrant brig time, it also meant reduced rations, which in the Navy meant bread and water, or "piss and punk" as it was called. The deck log has numerous entries calling for solitary confinement on bread and water, which made up the meals for three days, and on the fourth day a regular meal was given to the prisoner. This fellow who was incarcerated in the troop's head got something like ten days bread and water, but fortunately for him, some of his friends discovered that the door of the head had louvers at the top and bottom which could be forced open enough to allow them to slip in some more substantial food. The guy in the brig had it made - no watches to stand and all the food he needed.

On some later occasions a small compartment under the stern gun mount was used as a brig. This was definitely a more secure place than the troop's head. It was on the main deck and had a watertight steel door which was locked with metal dogs and a padlock. It had no windows or portholes and no light, and was a thoroughly miserable place in which to be locked up. One man being put in there fought so hard that it took three or four people to get him through the door. Discipline in those days could be pretty harsh.
Back To Pearl Harbor And Beyond Again
I believe it was on this trip from the States to Pearl Harbor, that an incident in which I was involved took place, momentarily giving me a good scare. One of the many improvements made to the ship while we were in dry dock in San Diego, was the addition of a diesel driven emergency fire main pump, located in a small compartment under the tank deck which was formerly a salt water ballast tank or void space near the bow of the ship. This pump was a backup for the electrically driven fire main pumps, and could be used in case we lost our electrical power. In order to break in the new diesel engine, the pump was put on the line from time to time, supplying salt water to the fire main system. The unit had been running for a day or so, with someone from the Black Gang on watch in the pump room during the time it was operating. An hourly log was kept, recording the temperatures, pressures, etc. of the engine and of the pump. It happened to be my turn to be on watch this particular day, and I had just finished filling in the log for the hourly readings, all of which were normal. Just as I returned to the front of the compartment, the engine seemed to explode with a terrific banging noise. A connecting rod had broken and was punching out through the side of the engine block, scattering pieces of engine across the pump room. Even though this damage was taking place, the engine didn't seem to slow down, but kept on running, almost at normal speed. As I ran to the throttle to stop the engine, the oil filter went flying across the room, just missing me, and hot lubricating oil sprayed out all around the throttle area, preventing me from approaching and shutting the monster down. I finally stopped it by turning off the fuel oil supply valve coming into the engine, which caused it to shut down when the fuel in the system ran out. The noise generated by this mayhem soon attracted many people to the pump room, among them Chief Motor Machinists Mate Earl Svec and Mr. Webber, the Engineering Officer. The consensus seemed to be that the engine had a defect of some kind which caused the rod to break, since the oil pressure and temperature were showing normal only seconds before the breakdown. So much for the backup fire main pump. I don't remember whether or not the engine was ever replaced, but I think it was. At any rate, it gave me quite a scare when I saw pieces of engine flying around the pump room. To get back to the story; after leaving San Francisco on December 23, 1944, minus several crew members, we arrived in the West Loch anchorage at Pearl Harbor on January 2, 1945, having celebrated both Christmas and New Years at sea.

The 481 was moored with LST 785 on the starboard and LST 771 on the port side. As I read the deck log, it is surprising how many times the ship moved from one mooring to another and maybe on to yet another. A sample of the log follows:
| | | |
| --- | --- | --- |
| | | |
| Jan. 3 - | 0000- | Moored alongside LST 785 on starboard side and LST 771 on port side at berth Tare 17 in West Loch, Pearl Harbor, T.H. |
| | 1640- | Underway from alongside LSTs 785 6r 771 for berth W-3 Powder Point. |
| | 1710- | Moored port side to, berth W-3, Powder Point, West Loch. |
| Jan. 4 - | 1505- | Underway from berth W-3 for berth Tare 15. |
| | 1525- | Moored alongside, port side to, LST 728, berth Tare 15, West Loch. |
| | 1630- | LST 829 along starboard side, port side to. |
| Jan. 5 - | 0900- | LST 829 cast off from alongside. |
| | 0920- | LST 796 along starboard side, port side to. |
| | 1534- | LST 796 cast off from alongside. |
| | 1856- | Cast off from alongside LST 728 and underway for berth Baker 3. |
| | 2022- | Moored alongside, port side to starboard side of LST 756 at Berth Baker 3. |
| Jan. 6 - | 1450- | Cast off from LST 756 and swung stern out in bay to allow that ship to retract from pier. |
| | 1455- | Moored port side to berth Baker 3, Navy Yard, Pearl Harbor,T.H. |
| | 1535- | LST 449 alongside, port side to. |
We remained at berth Baker 3 until January 12, when we moved once more to Powder Point, West Loch to begin taking on ammunition. We loaded ammunition from 2000 until 0230 the next morning, so it looked as if we were getting ready to enter the rat race of war once again in the not too distant future.
On the Ilth, Lt. W.H. Bundy, Captain of the ship since September 1944 was transferred, and replaced by Lt. W.L. Boyer, the former Engineering Officer. On that same day, Charles Angle, Nicholas Gier, and Andrew Johnston, three of the crew who had been wounded in the fight at Guam, reported back aboard for duty. We were especially glad to see these guys, since we had heard nothing of them since they were transferred to the hospital ship at Guam in July. Two new Ensigns reported aboard for duty on the 12th.
On Sunday, January 13, LCT 1122 came alongside loaded with 142 Marines and two Marine Captains, all of whom transferred to our ship. Also on the same day, 16 enlisted men and one Ensign reported aboard as a new crew for LCT 1350, mounted on our main deck. The original crew was transferred to LCT Flotilla 21 for further assignment. Three more of our crew were transferred to the Receiving Ship, Pearl Harbor for further assignment on this same day.
After all this movement of personnel, the 481 finally got underway at 0940 on the morning of the 14th, bound for Eniwetok, Marshall Islands, at a speed of ten knots, as part of Convoy PD 253.
After a mostly uneventful trip during which we got back into the old routine by observing morning and evening calls to General Quarters and by having several gunnery practices, we pulled into Eniwetok Lagoon on January 26,1945, and were anchored in twenty five fathoms of water at 0958. Eniwetok had become an important base and anchorage since it's capture just about a year before, but the major base of operations in the western Pacific had been moved to the islands of Saipan and Guam in the Marianas.
The Marianas Islands Revisited
Saipan was to be our next port of call when we left Eniwetok on the 28th after a two day layover during which we picked up Lt.(jg) Ernest B. Ellis, who was a doctor, and who reported aboard for temporary duty from LST 449. By 1850 on February 1, we passed through the anti-torpedo nets, and at 1915 the ship was anchored in Saipan harbor. On the following day the Marines disembarked from the ship and we were on our way to Tinian Island, which is just across a short stretch of water from Saipan, so in a bit more than two hours we were beached in Tinian harbor for the purpose of unloading cargo. That night at 2030, unloading the pontoons and steel piling began and was not completed until 1755 on February 4. The pilings were to be used in the construction of a breakwater to give a protected landing at Tinian harbor. Tinian was being built up to be a major base for the Air Corps B-29s which were already beginning to fly all the way to the Japanese home islands on bombing runs.

Retracting from the beach at 0805, we anchored in Tinian harbor until 1615 that afternoon, when we took position as second ship in column one of a convoy headed for Guam at a speed of 8 knots. After an offshore look at the island we had last seen under very different circumstances on July 28, 1944, we entered Apra harbor and beached at New Landing at 0902 on the 6th of February, for the purpose of taking on cargo. Guam had undergone a tremendous change since our last stopover, and was now a major naval base, with all of the necessary facilities for ship repair and overhaul, including a floating drydock big enough to handle all but the larger ships in the fleet. Much activity indicated that another important operation was in the making, and probably not too far distant in time.

Loading of cargo consisting of forty five tons of ammunition, four tons of rations and ninety drums of gasoline, commenced at 1100 that morning and was completed at 2005 that evening. The gasoline was stowed topside, forward of the elevator; the small arms ammunition was stowed topside in wooden bins the remaining ammunition, wire, water, and rations were stowed in the after part of the tank deck. The entire cargo was lashed down with cargo nets to prevent its shifting. Also taken aboard were four officers and sixty-eight enlisted men of the US Marine Corps, and seventeen LVTs (amphibious tanks). YO 108 came alongside at 1510 to refuel our ship and had completed this job by 1730, but did not cast off until 1020 next day. We retracted from the New Landing beach at 1702 on February 7, and were underway for Saipan, where we anchored in Saipan Harbor at 1020 on t41e 8th.

At 1600 an LCVP from LST 449 arrived to take off 80 cases of 30 caliber ammunition consigned to that ship. Next day at 0805 we moved to go alongside AO 86 to take on fresh water, topping off by 1010, when we moved back to our previous anchorage. We continued to transfer 30 caliber ammunition to small boats which came alongside to load it. While we were taking on water, 39 more cases were taken by a boat from LST 449, and later that day 45 cases went to LST 354, and an additional 39 cases went to LST 449.

On Sunday, February 11, we embarked 13 officers and 282 enlisted men of the Fifth Marine Division, together with 17 enlisted men of the Navy (probably medical corpsmen who would go ashore with the Marines). The 12th saw us underway for a training exercise during the course of which the troop laden LVTs were launched at 0745 in the morning of February 13 near Tinian Island. The ship lay to until 1315 when we began loading the LVTs, but had to discontinue, probably because of bad weather. We then moved into Tinian harbor and resumed loading the LVTs at 1530, completing the job at 1655, and by 1710 we were underway for the anchorage in Saipan harbor where the anchor was dropped at 2040 that evening.

One training exercise seemed to be all that everyone needed for the upcoming operation, because we remained at anchor all of the following day, occupying our time by taking on 3541 gallons of water and disposing of 42 more cases of ammunition to LST 354. Thursday the 15th began early as 167 cases were transferred via an LCM to LSTs 70 and 634 at 0215 in the morning. We still had one more delivery of ammo to make, and that consisted of 480 rounds which went to LSD 2. The log doesn't specify the size of these 480 rounds. This seems to have completed unloading the ammunition, and at 1620 on the afternoon of February 15, 1945, we were underway for a place called Iwo Jima, as the fifth ship in the second unit, Tractor Unit Able, at a Formation speed of seven knots. LST Unit Two was composed of LSTs 70, 390, 449 (Unit Flag), 481, 634, 748 and 1038.
Invasion No. Six - Iwo Jima
As we progressed farther north, we could notice a definite change in the weather, which became much cooler. This was a change for most of us, since we had spent much of the previous two years in warmer dimes. As the convoys approached territory which was practically part of the Japanese homeland, the number of air raids increased accordingly. One of our sister ships, LST 477, sailing in an LST Unit just over the horizon from the one in which we sailed, was hit by a Kamikaze plane during one of the raids. I have a photograph taken by Ted Lewis, Radioman Second Class on our ship, which shows the huge hole in the starboard side of the 477. The plane crashed into the troop compartments near the bow of the ship, and evidently exploded into the tank deck because we could see one corner of the elevator sticking up into the air. There must have been a lot of fire also, since the forty millimeter gun mount on the starboard side was scorched and burned. This part of the ship was where gasoline drums were usually stored on LSTs (as mentioned earlier, 481 had ninety drums of gasoline stored forward of the elevator). We never found out how many casualties the 477 suffered, but the numbers must have been high because of the location of the crash in the troop compartments. 477 was also carrying an LCT loaded on her main deck. We were much more fortunate in the air raids since no ships in our unit took any hits.

Other than the frequent calls to General Quarters, the trip was pretty uneventful until the 18th, when a sick Marine had to be removed from our ship by LCI 995, which came alongside for the transfer. The Marine was probably transferred further to a ship with more medical facilities. This was the first time we had anyone taken from the ship because of illness while we were at sea.

Iwo Jima is in the Volcano group of the Bonin Islands group and seemed to be an unimpressive island at first glance. Only four and a half miles long by two and a half miles wide, the main feature of the island is Mount Suribachi, a volcano five hundred fifty feet high, which is located on the extreme southern tip of the island. The beaches chosen for the landings were on the southern coast just east of Mount Suribachi, or "Hot Rock" as we called it.

D-Day was February 19, 1945, and at 0645, the 481, together with other LSTs, was maneuvering to approach the line of departure for the LVTs. 481's two LCVPs were launched and acted as guide boats to help lead the assault waves of LVTs to the beach. At 0735 we commenced launching the LVTs loaded with Marines, and by 0745 all had been disembarked. From 1035 until 1130 the LVTs were reloading into the tank deck by way of the lowered bow ramp, as they returned to pick up loads of cargo for the beach. Early in the afternoon, the LVTs were disembarked once again and made their way in to the beach with loads of cargo. After unloading their cargo on the beach, the LVTs returned again to the ship and were reloaded into the tank deck beginning at 1610 and finishing at 1720 after all had been accounted for. The ship was at General Quarters from 1845 until 2045 as we maneuvered to stay in Area X-Ray, designated for ships not retiring from Iwo Jima for the night. So ended the first day at Iwo.

I have read that the operation at Iwo was picture perfect until the actual landings were made on the volcanic ash and cinder beaches, which rose in terrace- like heights and which caused the amphtracs to bog down and come under increasingly heavy enemy fire. Eventually, the Marines were able to break out of the beach area at the cost of heavy casualties. Of the thirty thousand troops landed on D-Day, there were two thousand twenty casualties, including five hundred nineteen killed or missing.

Since our ship carried only Marines and cargo which was being removed by the LVTs, it wasn't necessary for us to make an actual landing on the beach, for which we were very grateful. After launching the amphtracs full of Marines and after several times embarking and disembarking the LVTs loaded with cargo, one of our main jobs was support for the amphtracs which were plying the waters to and from the beach, carrying supplies in and casualties out. These vehicles sat very low in the water, and evidently were constantly taking on water which splashed in over the side. This water was pumped overboard by a bilge pump powered by the engine. Part of the pre-invasion planning called for some LSTs to supply boats for various special jobs; therefore we saw boats with large signs in white paint on both sides of the landing craft, indicating the special function of that particular boat. Some had the word "PRESS" spelled out, meaning that the boat carried reporters or photographers. The boats from the 481 had very large letters in white paint spelling "GAS", and they were loaded down with fifty five gallon drums of gasoline and a hand pump. They were called "Bowser Boats" and their job was to cruise around in an area about 1000 yards off the landing beaches, looking for amphtracs w which had run out of gas and were in danger of sinking since they had no operating bilge pump. In other words, they were floating gas stations and they were out looking for customers. Bert Lindstrom, Motor Machinists Mate Third Class, was engineer on one of the boats, and he reported to us later that other than refueling empty gas tanks on amphtracs and trying not to get run over by ships maneuvering around in the dark, their main concern was a hope that none of the Japanese could read English, otherwise, the large "GAS" sign would surely entitle the boat to become a prime target. The boat crews spent two days and nights in rough seas away from the ship searching for disabled amphtracs and later received an official commendation for the good job they did.
Making Smoke
This was the first invasion we had been on in which smoke was constantly used in an attempt to hide the ships of the invasion fleet from enemy planes. The LSTs and other ships each had a fog generator on the fantail which put out a heavy white smoke, and five-gallon-can sized smoke pots which had been placed at intervals along both sides of the main deck. When General Quarters was sounded, and all the smoke making devises fired up, you couldn't see more than a few feet away. The possibility of collisions with other ships was something to be concerned about, since none in our area were anchored. There were a couple of instances when we almost ran over some stalled amphtracs which were dead in the water. After breathing it for a while, the smoke would cause our throats to become sore and raspy. Sometimes they would start making smoke before the engine room ventilation system was shut off, causing the engine rooms to be filled with smoke, sucked in by the vent fans.

I have read of occasions where ships were making smoke, thinking they were totally hidden, but from the air all of the ship's masts could be seen sticking up through the smoke, marking the location of each ship. At Iwo, we never thought of anything except the feeling of security we got from the smoke screen. I guess we figured if we couldn't see anything, no one could see us.

D-Day plus one found us maneuvering and lying to until 0830 at which time we once again disembarked some of the cargo laden LVTs which had spent the night on board. G.Q. was sounded several times, and SC 1272 received 1000 gallons of fresh water from the 481. At 1750 we completed disembarking 7 LVTs loaded with cargo, and at 1900 5 LVTs made their way on board for the night, which was again spent maneuvering in Area X-Ray. Our boats were still away from the ship with their gasoline drums and hand pump.

D plus two began the same as the previous day with the ship maneuvering to remain in a designated area. Both of our LCVPs had been severely damaged by banging into the LVTs they were refueling and from contact with the 481 while alongside loading. The port boat was lost when it sank after being swamped by rough seas alongside the ship at around 0530 on this date, with no casualties. The starboard boat began to sink as it was returning to the ship at 1000, but the crew was able to secure lines to it , preventing it from going completely under and permitting it to be hoisted in the davits. (In the Action Report under 'recommendations', Captain Boyer suggested that in the future, LCVPs with reinforced hulls should be used as Bowser Boats, possibly boats with some armor plating along the sides). At 1330 we commenced launching the 5 LVTs with the remainder of the cargo. This completed the unloading of cargo from the ship. G.Q. sounded several times, finally securing at 2048.

D plus three found the ship maneuvering to remain in an area 1000 yards forward' of the line of departure. G.Q. sounded at 0316 in the morning and secured at 0349. At 0850 we were underway to Area Roger where LCI 757 came alongside to take 190 rounds of 4.2 H.E. mortar ammo. G.Q. sounded at 1507 and the next log entry at 1508 is as follows: "Observed large splash 100 yards off port bow believed to be bomb. Origin unknown due to adverse weather conditions". Secured from G.Q. at 1550 and spent the night maneuvering to remain in Area Able.

D-Day plus Four, February 23, was pretty much a repeat of the previous day, spent maneuvering to maintain position. While in the process of moving to a new area at 1726, the ship's steering went out due to a faulty contact and we went on hand steering until 2210 when repairs had been completed.

D plus five, at 0240, the ship finally was able to drop anchor in 35 fathoms of water. At 0820, LCI 633 came alongside and picked up four barrels of fog oil. This was our last act at Iwo Jima, because at 1544 the ship stood out of Iwo for Guam as third ship of Section 1 of Task Unit 51.16.3, speed 6 knots, with LCT 1350 still mounted on our main deck. Thus, on February 24, we bid a fond farewell to Iwo, where we had spent five days almost constantly on the move, about a third of which was spent in a smoke screen. Not one person shed any tears as we sailed slowly off in a southerly direction.

A total of sixty-three LSTs were used in the assault on Iwo Jima.
Return To Guam
After a calm trip down from Iwo Jima, we dropped the bow anchor at berth 24 in Apra Harbor, Guam, at 1400 on February 28, 1945. By 1605 we began to play the moving game once again when we left berth 24 to moor alongside LST 643 at berth 5. On March 2 at 0130 we commenced taking on fuel oil from YO 108 which came alongside our starboard side, and by 0245 we had completed loading 30,000 gallons of fuel. Two days later, on the 3rd, we took on 8940 gallons of water from YMS 362. This amount was a big drop from the old days before we had an evaporator.
Philippines Bound
On March 3, at 1545 we stood out of Apra harbor on our way to Leyte, Philippine Islands, for our next assignment, On this trip, we observed morning General Quarters every day, but had no evening G.Q. It took us five days to make the trip to Leyte, we dropped anchor at 1735 on March 8. General Quarters sounded at 2136 on the 9th, and secured eleven minutes later.
Leyte Gulf, P.I.
We were always glad that the ship had been back in the States for repairs when the landings were made in the Philippines in late 1944. Some of the LSTs in the invasions of these islands had a very rough time, a good amount of the trouble coming from Kamikazes, which we first ran across at Iwo Jima. Five LSTs were sunk in the Philippines area by Japanese aircraft during the month of December 1944. Sometimes it seemed that if the Kamikaze pilot was determined enough to crash a ship, nothing short of actually blowing the plane out of existence could stop them from accomplishing that feat. Unfortunately, the Navy was just beginning to have run-ins with the so called "Divine Wind" pilots. Much more death and destruction at the hands of the Kamikaze was waiting off in the near future.

With these thoughts in the back of everyone's mind, we began our stay in Leyte Gulf by beaching to load cargo on March 10, 1945, at a beach between the Bite and Maya Rivers. It took from 1745 on the I0th until 1600 on the Ilth to complete taking on cargo, after which we retracted from the beach and made our way to a nearby anchorage. While at anchor on March 12, a Captain's Mast was held for H.T.E., S2c, for being under the influence of intoxicating liquor and fighting on board ship while in a duty status. Punishment was ten days bread and water with full rations every third day.

On this date, we received the first contingent of Army personnel aboard in the person of one Ist Lieutenant and four enlisted men. This small group was the forerunner of a larger number which came aboard on the 13th, after we had moved to a different anchorage in the same area. The first large group consisted of 6 officers and 148 enlisted men of Co."C", Ist Battalion, 32nd Infantry. Next was 1 officer and 13. enlisted men of Co,"B", 13th Engineer Battalion, and then 59 enlisted men of the 536th Tractor Battalion. On the 13th, we also gave water to LCI 994. By 2120 we had completed loading 9 LVTs, and at 2130 LCI 994 cast off after taking on water. Next day, loading of 8 more LVTs and additional troops continued, with 1 officer and 9 enlisted men of Hq. Service Co., 776th Amph. Tank Btn., 3 officers and 60 enlisted men of Co."C", 776th Amph. Tank Btn., and finally, 2 Navy Ensigns from the transport USS Harris, who were to be wave guide officers for the LVTs. All these people added up to 304 passengers who were aboard for a training run in preparation for the upcoming operation. By 1635 on March 14th the ship was underway to an anchorage where we were to wait further orders to commence the training maneuvers.

Thursday, March 15th saw us underway at 0615, anchored at 1142, and underway again at 1330 for anti-aircraft gunnery practice. At 1540, the gunnery practice was canceled due to adverse weather conditions, and we were on our way back to the anchorage. After anchoring in LST Area 2-A at 1715, things were going along pretty peacefully until 1956, when one of our 36 foot landing boats was lost due to the parting of the cable on the after davit while hoisting the boat aboard. The starboard davit was badly damaged, but no casualties were suffered by any personnel.

The canceled gunnery practice, firing at a sleeve towed by an airplane, was held on the next day from 1509 until 1555, after which we returned to the LST anchorage for the night. The night proved to be a short one, since we got underway again at 0150 in the morning of March 17 for some training in LVT launching and reloading. I suppose this was mostly for the Army, since we had gone through this type of operation many times before, although we did have quite a number of new crewmen aboard. At any rate, the LVT launching began at 0715, and was completed by 0733. After successfully launching the LVTs, the ship anchored for a short time before moving into Orange beach to reload the LVTs, finishing this task at 1740 and retracting from the beach at 1820. From Orange beach we made our way back to the LST anchorage area and dropped the bow anchor in 22 fathoms of water at 1902.

After a day of rest on Sunday, March 18th , the LSTs once again got off to an early start at 0230 in the morning of the 19th for another training exercise which lasted until the LVTs were reloaded onto the tank deck and we had retracted from the beach at 1850 that evening.

Next day we went alongside LST 909 and took on 17,698 gallons of fresh water, so you can see how the water consumption increased after the troops Came aboard . Also on the 21st, we had a reunion with Joe Phifer, MoMM 2c, another of the people who had been wounded at Guam in July 1944. Joe finally reported back aboard the 481 for duty after being hospitalized for some time. He was one of the original crew members who had been with us since General Detail days in San Diego. The next few days were spent anchored most of the time, but with all of the usual moving around from one anchorage to another before finally settling down long enough on March 25th for LST 643 to come alongside to supply us with more fresh water, this time in the amount of 12,265 gallons. Someone must have been awfully thirsty! Having completed watering at 0945, we finally got underway as part of Tractor Group Dog, and stood out of San Pedro Bay, Leyte, for Okinawa Gunto, Nansei Shoto, another place which was to become very well known to all very shortly.
Okinawa Bound
Okinawa is in the Ryukyus Islands and is located 900 miles from Leyte, 4040 miles from Pearl Harbor, and 845 miles from Tokyo, so it was practically one of the home islands of Japan. This operation was to be a major step in the island hopping which had been taking place across the Pacific since August 7, 1942, when the first landing was-s made at Guadalcanal, and we were all expecting much resistance to be shown by the Japanese, both on the island itself and also in the waters surrounding the place.

On the trip up to Okinawa, G.Q. was sounded as a precautionary exercise every morning and evening. At 1500 on the 29th, LCI 632 came alongside to deliver a fuel pump gear from LST 399, after our starboard engine had some trouble the day before, The transfer took 10 minutes and LCI 632 cast off as soon as the delivery was made. As the convoy got closer to Okinawa, G.Q. was sounded more frequently, but we experienced no great problems.
Invasion No. Seven - Okinawa
D-Day at Okinawa happened to fall on April 1, 1945, April Fool's Day, which somehow seemed to be appropriate for the occasion. It also happened to be Easter Sunday, which had additional significance for many in the invasion fleet. The Japanese did not take too long to extend greetings to us in the form of an air raid at 0617. At 0657 we commenced launching the LVTs and by 0715 launching had been completed and the ramp and bow doors were closed as the ship prepared to move to the LCT launching area, where we anchored with the stem anchor at 1306. USS LCT 1350, which had been sitting on our main deck since December 21, 1944, was finally launched with a great splash at 1320, April 1, 1945. The 1350 remained alongside for the purpose of transferring aboard the two officers and sixteen men of her crew, 3300 gallons of fuel and 2700 gallons of fresh water, after which she cast off at 1515. We never ran across this ship again in any of our further travels. In addition to suicide attempts by the Kamikaze pilots, we had been warned to expect attacks against the ships by high speed suicide boats and also by swimmers who would detonate explosives below the waterline of an anchored vessel. 481's deck lookouts were armed with rifles which they proceeded' to fire at any debris which happened to go floating past the ship. Better safe than sorry, since the debris could possibly be hiding a swimmer.

At 1908 G.Q. was sounded and at 1910 we observed enemy aircraft. This ship opened fire on targets. During the raid, a stray 20 millimeter shell from an adjacent ship struck one of our 40 millimeter gun tubs and exploded. The following men suffered wounds from this action:
Harold Ellis, Bkr 2c, multiple shrapnel wounds, both legs.
Merle Freeman, GM 2c, shrapnel fragments, lower left leg.
Jodie Williams, S2c, shrapnel fragments, lower right leg.
Bert Lindstrom, who was the first loader on the bow mounted forty millimeter at the time, had a four-shell clip of ammunition in his hands which he was getting ready to drop into the breech, when a piece of shrapnel went right through the clip, causing him to have some serious thoughts about ever seeing his old Utah home again. He promptly dropped the clip over the side into the water. He was the only one of the four man crew who was not wounded. Several people said they saw a twenty millimeter gun on the LST beached next to us firing in a dangerously low trajectory towards our ship, and I remember some of our gun crews yelling over to the other ship. I know personally that when I climbed the ladder to my forty millimeter G.Q. station at that time, the other members of the gun crew already at the gun were all crouched below the edge of the gun tub, and were yelling for me to duck down because they had heard shells buzzing over the mount.
It was during this air raid, or one of the others at Okinawa, that Art Sanders shot the muzzle cover off the forty millimeter gun on which he was the pointer. Eyewitnesses said the canvas cover flew through the air like it had been shot! We secured from General Quarters at 2025, ending our first day at Okinawa.
Day 2 began very early, at 22 minutes after midnight, when G.Q was sounded again, securing at 0142. At 0545 G.Q. sounded once again, and at 0602 heavy AA fire was observed in the outer western sector of the bay. The 481 withheld fire at this time. At 0604 a large caliber shell or bomb hit the water 50 yards off the starboard quarter, but did not explode. Secured from G.Q. at 0644. The balance of Day 2 was spent at anchor west of Orange Beach 1, until 1750 when we got underway for night retirement, during which the ship maneuvered on a predetermined course, with speeds varying from stop to eight knots .
Day 3 began as did Day 2, with General Quarters sounding at 0120 in the morning, during which heavy anti-aircraft fire was observed over the southern beaches, where we would be heading at daybreak. At 0141 we secured from G.Q. until 0243 when we manned battle stations once again. This time, flares were dropped from enemy planes over the southern beaches. By 0420 the ship was laying to in a smoked area until we secured from G.Q. at 0637, and was underway for the anchorage area at the southern beaches shortly thereafter.
The stern anchor was dropped at 0850, 2000 yards off Purple Beach, with 75 fathoms of cable out in 35 fathoms of water. We remained in this position for the rest of the day. At 1445, PC 877 came alongside for refueling, and cast off at 1655 after taking on 14,000 gallons of fuel. We observed General Quarters from 1753 until 1810 and again from 1906 until 1942, when things quieted down for a while.
Day 4 found us still anchored with the stern anchor until 0900 when we got underway for Purple Beach No.2, on which we came to rest at 0920, to begin unloading cargo. The balance of this day was uneventful until 1945, when LST 930 damaged our stern 40 millimeter gun while attempting to retract from the beach. We remained beached at Purple Beach No.2 until 0944 on Day 5, April 5th, when we retracted from the beach and made our way to an anchorage 700 yards off Orange Beach 1, where the bow anchor was dropped at 1006. We were at General Quarters from 1118 until 1248, and from 1531 until 1550.
Day 6 began with the ship still at anchor until 0703 when we headed for Orange Beach 1, where we landed at 0720, and began unloading cargo at 0750 when an Army work party of 10 men came aboard. This day was to be one of the more exciting ones, beginning with G.Q. which lasted from 0516 until 0630, before we went on the beach. A calm set in until early afternoon, at which time I will pick up notations from the log:
| | |
| --- | --- |
| | |
| 1200 - | Beached as before and unloading. |
| 1235 - | Sounded General Quarters. |
| 1251 - | Secured from General Quarters. |
| 1516 - | Sounded General Quarters. |
| 1530 - | Secured from General Quarters. |
| 1607 - | Sounded General Quarters. Observed Japanese Tony crash into water due to Naval gunfire off port quarter. |
| 1615 - | Saw plane shot down over island near Kadena airfield. Later identified as American plane. |
| 1621 - | Secured from General Quarters. |
| 1640 - | Sounded General Quarters. |
| 1706 - | Observed intense AA fire over sector of Pt. Bolo |
| 1712 - | Observed enemy aircraft shot down over transport area. |
| 1715 - | Plane shot down near Orange Beach 1. U.S. Air Force insignia observed on wing before it crashed. |
| 1715 - | Following named men were injured during action due to falling friendly shrapnel. |
Day, Joseph Pierre, WT3c, wounds: multiple shrapnel - both upper arms, left shoulder & left back. Probable compound fracture, left numerous. Treatment: wounds cleansed, sulfanilimide crystals and pressure dressing, left arm splinted. Half gr. morphine - one unit of plasma. Transferred to USS LST 929(H) for further treatment.
Hedge, Orie Hamilton, S2c, wounds: shrapnel fragment, upper right arm.
Gatnarek, Edward William, S1c, wounds: shrapnel, multiple in back.
Brazel, James Arnold, S2c, wounds: shrapnel, multiple, superficial scalp and anterior chest.
| | |
| --- | --- |
| | &nbsp |
| 1739 - | Enemy plane observed shot down over sector of Pt. Bolo. |
| 1805 - | Two enemy planes observed diving in transport area amid AA fire. |
| 1813 - | Enemy plane observed shot down over transport area. |
| 1935 - | Secured from General Quarters. |
| 2000 - | Beached as before and unloading. |
April 6 had turned out to be a busy one with five calls to General Quarter's and several of the crew suffering wounds from so called accidental friendly sources. A shell from somewhere struck the open lid of a twenty MM ready box, causing the injuries and ruining the ready box lid. Some of the crew were sure that the damage was caused by over anxious gunners on a newer LST beached on the starboard side of the 481.
The log entries for 1712 and 1715 are interesting in a bizarre sort of way. We had seen a Japanese plane near the transport area, and watched as one of our planes shot it down, but evidently this action was not visible to all the ships on and near the beach. The American pilot then made the mistake of flying in a big wide turn and for some unknown reason came zooming along the beach at mast head level, parallel with the beach right in front of all the LSTs and other ships, which promptly mistook him for an enemy plane and shot him down right in front of our ship. As the plane flipped over, it revealed a large American star on the wing. No one will ever know why the pilot chose to fly in over beached ships which had been shooting at enemy planes only moments before, and certainly were not expecting one of our planes to show up in what seemed to be a very threatening manner. On Okinawa's beaches in the middle of an air raid, it was shoot first and ask questions later.
April 7 began with the 481 still beached on Orange Beach 1, unloading cargo. General Quarters sounded at 0339 to start the day off in the proper manner, and was secured at 0609.
Heavy AA fire all along the beach area marked this first G.Q. of the day. By 0752 we were back at battle stations until 0800. G.Q. number three for the day sounded at 1155, during which an enemy plane was shot down off our port bow, and an American plane was seen to be shot down off the starboard bow. The log shows that we secured from this short but furious G.Q. at 1158 but three minutes at battle stations would lead one to believe that perhaps either the beginning or the ending time in the log is shown incorrectly. One more alarm which lasted from 2016 until 2108 rounded out our day and completed our first week at Okinawa.
Sunday, April 8 saw only two calls to General Quarters, as we remained on Orange Beach 1 still unloading cargo, which we completed at 2045 that night. On Day 9, April 9, at 1856, we finally retracted from the beach and anchored with 100 fathoms of chain out on the bow anchor, in 20 fathoms of water. On this day, we had only two alarms, and only one on the following day, so things seemed to be improving just a bit.
On Day 11, at 0725, we were on our way to rendezvous in Transport Area Dog, and at 0940, the ship stood out of Okinawa for Siapan, after eleven exciting days in the Ryukyus, and not one person was sorry to be leaving as we sailed away towards the south. During our eleven days at Okinawa, we were at battle stations twenty nine times, and had lots of scary moments. Although I cannot find it specifically mentioned in the log, we also got credit for another Japanese plane during this time. From old photographs, I know there were three Japanese flags painted on the 481's conning tower, representing two planes shot down and one gun emplacement destroyed.
Some interesting statistics given in Samuel Eliot Morison's "The Two Ocean War", show that over 3000 Kamikaze attacks, together with hundreds of attacks by conventional bombers and torpedo planes were launched against American Naval forces in the Okinawa campaign. The radar picket ships, stationed around Okinawa at distances of between fifteen and one hundred miles, so that advance warning of impending air attacks could be given, bore the brunt of the Kamikaze attacks. The radar picket stations were covered mostly by destroyer types of ships, but with much support from LCI and LSM gunboats. LSTs wi;3re used quite extensively as ammunition ships to supply the radar picket ships with much needed ammunition.
During the period of April 6 to June 22, the Japanese launched massed Kamikaze attacks, called kikusui or "floating chrysanthemum", mostly against the picket ships and the ships in the landing area, but also against the fast carrier fleet, which suffered less damage. On April 6, the enemy launched 355 Kamikaze and 341 conventional attacks, sinking 6 American ships and damaging 17 others, including LST 447 which sank on the following day. During the entire period of April 6 - June 22, 1465 Kamikaze and 1351 conventional attacks sank 21 American ships; damaged 43 to the point where they were scrapped, decommissioned or had repairs incomplete by the end of the war; and damaged 23 others enough to put them put of action for over 30 days.
While we were there, we saw several of the damaged picket ships being towed back to Okinawa from the radar picket stations, and one in particular stands out in my memory. It was a destroyer, name unknown at this time, which had absolutely no superstructure remaining aft of the bridge - no deckhouse, no stacks, no gun turrets - nothing. The forward gun turret and the bridge structure were all that remained, and those had been damaged. The rest of the ship looked as if someone had come along with a cutting torch and cut everything off level with the main deck.
The Japanese had, by this stage of the war, lost most of their more experienced pilots, and were sending young inexperienced pilots, with very little training, aloft in anything that could carry a bomb and fly, after instilling in them the idea that the most glorious thing they could do was to die for the Emperor by crashing and sinking an American ship. Their fanaticism was beyond belief, and the killing and suffering and damage they inflicted on the American Navy was tremendous.
According to the U.S. LST Association publication, "Large Slow Target", more than three hundred LSTs were credited with service during the Okinawa campaign, although not all of them were present the first day or even the first month. This was quite an increase over the fifteen used in the Kiska operation in 1943.
You can see why we all breathed a great sigh of relief when we finally got underway for the more peaceful environs of Saipan. The most exciting things happening on the trip south were; on April 13, LST 334's steering went out and the 481 had to sheer to starboard to avoid a collision, after sounding four blasts on the whistle, and on the 16th when the same thing happened to our steering gear at 0055 in the morning. I suppose we had no near collision at this time, since no mention is made in the log of any. We did drop out of the column, resuming position almost an hour later, but repairs to the steering mechanism took until 1220 to complete, hand steering guiding the ship for almost twelve hours.
Also on the way down to Saipan, the log for April 14, 1945 has the following entries:
| | | |
| --- | --- | --- |
| | | |
| April 14 - | 1500 - | Flag lowered to half-mast and five minutes of silent prayer observed in memory of President Roosevelt. |
| | 1505 - | Flag two-blocked. |
In the twenty four days from the time we left Leyte on March 25, until we returned to Saipan on April 17, we had been at General Quarters forty six times, so as we moored next to LST 334 in Saipan Harbor, everyone was very much in need of a relaxing break.
A Long Visit To Saipan
We remained moored next to LST 334 until 1348 next day when we moved to an anchorage in berth L-98, Saipan harbor. After moving from anchorage to anchorage in Saipan's Outer Harbor several times, we went in to Tanapag Harbor on the 24th, sort of staying put for a few days prior to mooring alongside the repair ship USS Hector on May 2, 1945, for the purpose of effecting repairs to our damaged starboard boat davit. Before we moved next to the Hector, LST1014 spent five days moored to our port side, finally relinquishing that spot to LST 751, which was our neighbor until we moved. On April 28 we acquired another 36 foot LCVP from ARP Saipan to replace the one lost when the cable parted on the starboard davit before we left Leyte in March.

Repairs to the damaged davit took until May 6 to complete, and in that time, a number of different ships were moored next to us, including the USS Humphreys, YW 92, and LST 779. These ships probably were there also to have some repair work done. The repair ships, such as the Hector, were a vital part of the fleet, and were able to make all but very major repairs on the spot, which allowed ships to remain in the forward area without the necessity of going back to Pearl Harbor or some other large base. Usually, the repair ships dropped anchor and stayed in the same place for months on end. They were equipped with complete machine shops and all other necessary repair facilities, and did a great job.

After moving away from the Hector on May 6, we went alongside YO 185, where we took on 92,305 gallons of fuel before moving to moor next to AO 61 to take on fresh water in the amount of 52,301 gallons. Fully loaded with fuel and water, we made our way out to berth L-76, Saipan Harbor, where we anchored in 25 fathoms of water with 60 fathoms of chain out on the bow anchor. Next day we returned to Tanapag Harbor and moored alongside 88 Adrian Victory for the purpose of loading cargo from that ship. This was completed at 0150 on May 9 and we then got underway at 0800 to moor, bow to, at Pier C-4, Tanapag Harbor to unload the cargo. Saipan's Tanapag Harbor had no facilities for large cargo ships to moor to a dock and unload, thus LSTs were pressed into service to be the link between cargo ship and shore. Unloading was finished by 1845 on the I0th, and on the Ilth, we moved back out to anchor in Saipan Harbor.

Moving the ship from Tanapag Harbor, which was the inner harbor, to Saipan Harbor off the southwest coast of the island, took just over an hour. Our small boats could make the journey in just under an hour, since they could navigate a lot closer to the reef which formed the southern part of Tanapag Harbor, than a large ship could. At some earlier time, a large barge containing a load of meat, had gone aground on the northern end of the reef, and had been there long enough for the remaining cargo to rot and smell to high heaven, thus becoming a navigation aid of sorts. All a boat Coxwain had to do was run parallel to the coast until he smelled the meat barge, at which point it was okay for him to start turning in towards the island, since he would then be past the end of the coral reef. This was especially helpful if a boat had to go in to the Fleet Landing in Tanapag Harbor after dark, since there were no navigational lights marking the reef at that time. Just head north until you smell the meat barge and turn to starboard until you come to the landing.

We remained at anchor until May 15 when we moved alongside the US1c Hendry, also in Saipan Harbor, where we once again loaded cargo for transfer to Pier C-4 in Tanapag Harbor. That job completed, 481 got underway for the anchorage out in Saipan Harbor, where the bow anchor was dropped at 1807, also on the 15th.

Our next move into the inner harbor was on May 21, when we went in to unload a crawler crane and a fork lift truck from the tank deck. Then it was back to the outer harbor and anchor in berth L-86, out where the long Pacific rollers constantly rocked the ship from side to side, sometimes with enough force to cause any loose gear to travel wildly from side to side across the slanting deck. The prevailing wind at this anchorage moved the ship much as the wind moves a weather vane, and ninety percent of the time, if the wind was blowing from the south, the ocean swells would be coming from the west, rocking the ship like a large baby cradle.
Many Changes Take Place
On Thursday, May 24, the 481 was chosen to be flagship of LST Group 13, Flotilla 5, and the Group Commander, Commander C.R. Lea and his staff of fourteen people moved aboard.

Shortly after the Group Commander and staff came aboard on the 24th, we were underway once more for Tanapag Harbor to load cargo at Pier C-4, through the lowered bow ramp. I don't recall what the cargo was, but loading wasn't completed until Sunday, May 27. After the cargo was aboard, we embarked 3 officers and 204 enlisted men of the 338th Aviation Squadron of the US Army; 4 officers and 77 enlisted men of the 400th Signal Co., Aviation; and 2 officers and 11 enlisted men of the AAF Weather Station #7-41.

Once everyone was aboard, we headed back to our favorite spot, Saipan Harbor, and dropped anchor in the rolling swells, awaiting further orders.

The Group Commander's staff increased by the addition of three more officers, and on June 2, Lt. George Kuzma, one of the original officers on the 481, was transferred back to the States.

Further orders were not forthcoming until June 5, 1945, when we changed anchorages, still in Saipan Harbor. On June 6, the ship moved once again to a different anchorage in Saipan Harbor, still awaiting further orders.

On June 10, Captain's Mast was held for five petty officers. I won't use the names, just the initials and rates of the men involved. The charges were: "Drunk in duty status; drinking medical liquor."
B.J.E., Ships Cook lst class - Punishment, reduction in rate to SC2c.
L.M.S., Coxwain - Punishment, reduction in rate to S1c.
R.F.B., Coxwain - Punishment, reduction in rate to S1c.
E.L.K., Yeoman 2nd class - punishment, reduction in rate to Y3c.
M.O.W., Motor Machinists Mate lst class, punishment, reduction in rate to MoMM2c.
Before we proceed further into our story, let me write a few words about drinking. Everyone has heard the old phrase "like a drunken sailor" or something similar, and in a lot of cases this was a true statement. Almost everyone on the ship would take a drink if one was offered or if one somehow became available, but I don't think there were any who could be called alcoholics.
The Navy had a strict policy which prohibited drinking aboard naval vessels, but this didn't stop people from trying to bypass the rule in many ways. Some would trade Japanese souvenirs for a bottle of whiskey offered by a soldier who obtained the whiskey who knows where. Several enterprising folks on the ship used to make what was called "raisin jack", which was not much more than fermented raisins and apples in some water. If left to ferment long enough, this became a potent drink. A favorite place for the manufacture of raisin jack was the seldom visited emergency fire pump room, all the way forward near the bow of the ship, under the tank deck. I was always surprised that no one ever got caught in these moonshine operations, although they were not very widespread.
The Navy had a recreation area on the beach at Saipan, and we were given a few hours liberty there every once in a while. We were allowed to have two cans of beer, two bottles of Coke, and a copy of the Pacific edition of the "Yank" newspaper. Naturally, everyone tried to get the non-drinkers to trade their beers for Cokes, which they usually did. The heat and the long abstinence from drinking beer combined to get some people in a seemingly highly intoxicated state by the time our boat came in to pick up the liberty party. To sum up these paragraphs, drinking on the ship was very rare, but if the opportunity came about, some would take advantage of it, regardless of the consequences.
On June 11, the ship was underway for Tanapag Harbor once more, and at 0948, we moored, bow to, at the new Landing Craft Repair Dock in the Boat Basin. LST 655 moored along our starboard side at 1014. The log gives no indication of why we went to this location, other than it was in accordance with ComLSTFlot23's dispatch #1001202. The same day we moved here, another of the original crew, Lt. Elvin Higdon, was transferred back to the States, and a second original officer, Lt. Malcolm Commer, was transferred to the hospital on the beach, again, no reason given in the log.
Whatever the reason for going to this dock, on the next day we were back out in Saipan Harbor by 0805, and at anchor once again, remaining here until June 22, when we moved back to the LST Repair Docks in the Boat Basin, with LST 566 along the starboard side.
On the previous day, Lt. Jesse Mooney, another original member of the crew, was transferred back to the States. This left the 481's Captain, Lt. W.L. Boyer as the only remaining officer who had been aboard since commissioning in May 1943. A review of the Muster Roll shows that on this date, there were only seventeen of the original fifty six enlisted crew members still aboard. Most of the transferees had gone to form the nucleus of crews for newly constructed LSTs, which were being built as rapidly as shipyards across the country could build them.
On June 23, Joseph Day, WT3c, returned for duty after being hospitalized for wounds received at Okinawa.
We remained moored at the LST Repair Dock until June 25, when we returned to our old anchorage in Saipan Harbor. On the next day, one of the Group Commander's enlisted staff members, George Porter, S1c, was transferred to Ship's Company. I don't remember any of these staff members, and I really can't recall what their duties were or where they performed them, but having the Group Commander aboard gave the ship quite a bit of status.
Seeing Okinawa for the Second Time
An indication that something was finally going to happen took place on June 27, when we moved back into Tanapag Harbor, and at 1825, moored starboard side to the S1c Mary Freeman, for the purpose of taking on fresh water. Being away from the action for so long was nice and peaceful, but it was beginning to bore us just a bit. By 0100 in the morning of June 28, we completed taking on water in the amount of 58,000 gallons, and at 0744 were under way for Saipan Harbor, where we anchored for a short time. At 1445 the ship got underway, passing through the nets at the southern end of the anchorage at 1503, and at 1535 we stood out of Saipan Harbor for Okinawa, Ryukyus Islands, for a second visit to that most interesting place. We took position as guide ship of Division 2, Section 4 of convoy SOK 18, speed 5 knots, later increased to 10 knots, and were on our way.

We had been at Saipan from April 17 until June 28, a total of 73 days, which was the longest we had ever been in one place, with the exception of when the ship was in the States for repairs in 1944. Many events had taken place during that time span, probably the most important being VE Day on May 8th . That meant the possible movement of troops and naval vessels from the European Theater of Operations to the Pacific area, all of which would hopefully speed the end of hostilities in our part of the world. There were many, many times when we could see no end in sight for the war, and we got so that we didn't even look forward to anything more than just making it through whatever situation we happened to be in at the time. And here we were, heading back to the danger zone once more.

On July 1, Edward Keene, Y3c, was transferred from ship's company to the staff of ComLSTGrl3, whose flag was on the 481.

After an uneventful trip, the convoy arrived at Okinawa on July 4, 1945, and 481 was anchored in Berth ~I-146, Southwest Anchorage, at 1753 that evening. By June 21, organized resistance by the Japanese on Okinawa had ceased, so things were pretty peaceful on our second visit, but, regardless of that fact, we still had several calls to General Quarters.

Some additional statistics from Samuel Eliot Morison's "The Two Ocean War" indicate that the capture of Okinawa cost the United States Navy 34 naval vessels and craft sunk, 368 damaged, over 4900 sailors killed or missing, and over 4800 wounded.

On July 5 we beached on Green Beach 1 1/2, with 75 fathoms of cable out on the stern anchor, and commenced unloading personnel and cargo. One of the Army officers traveling up on the 481 had a small cabin cruiser type of boat which we hauled to Okinawa for him, so I guess it was practically peacetime. I don't recall where it was stowed on the 481, but it did end up in the water while the ship was on the beach, and several of us checked it out after it was afloat. It was a tiny craft, not really suitable for ocean cruising, so I don't know where he planned to use it.

While we were on the beach, we had a close look at a P-51 Mustang fighter plane and were impressed by what we saw. One did a complete victory roll as it passed over the beached ship. These planes were not painted with the usual camouflage we had been used to seeing, and it gleamed brightly in it's shiny, silvery skin. We also saw our first non-camouflaged LST while we were at anchor after retracting from the beach. This was really unusual, since every LST we had seen in over two years always had either jungle camouflage of green, black, yellow and brown, or was painted with a gray, blue and black camouflage. When we went to the Aleutian Islands, the ship was painted with the original light battleship gray color, but ever since then, it had worn the darker jungle paint job.

We remained beached until unloading was completed at 1558, July 8, and at 1621 we retracted from the beach, underway for Naha Harbor. At 1810, we beached on a coral ramp extending from the Southern beach in this harbor, and began loading 143 officers and enlisted men of the 6th Marine Division, together with their equipment. After the Marines were embarked, 481 sailed back to the Southwest Anchorage, remaining here until July 10 at 1240 when we took position as guide ship of Section 1, and stood out of Okinawa for Guam.

This trip to the famous island of Okinawa had been much more peaceful than our first visit in April.

The trip to Guam was uneventful until Friday the 13th of July, when the following entry was placed in the log:
| | |
| --- | --- |
| | |
| 1820 - | This ship left formation to make repairs on bow doors which had been loose from heavy seas. |
| 1853 - | Bow doors lashed down securely, began resuming position in convoy. |
Our convoy, OKG #2, arrived in Guam on July 16, with Commander Lea, ComLSTGrl3, as Commodore of the convoy. Upon arrival, 481 proceeded directly to Berth 17, LST Landing, in Apra Harbor, where the Marines and their cargo were disembarked. We retracted as soon as the disembarkation was completed, and temporarily moored starboard side to LST 703, in Apra Harbor. At 1640, 481 pulled away from Guam for the old familiar island of Saipan, anchoring in Berth L-93, Saipan Harbor at 0723 on the next day.
Saipan ! Saipan ! Some More
While we were at anchor in Saipan Harbor, our complement of officers was increased when four Ensigns reported for duty. 481's Captain, Lt. William L. Boyer was the last of the original officers left on the ship. Lt.(jg) Robert Rehling, Executive Officer, had been aboard since September 19, 1943; Lt.(jg) Ralph Webber, Engineering Officer, came aboard on November 22, 1944; Ens. Maurice Z. Cofer, Supply 6( Commissary Officer, November 29, 1944; Ens. Anthony J. DeLorenzo, Communications Officer and Ens. Benjamin R. Britt, Gunnery Officer, had both come aboard on January 12, 1945; Lt.(jg) Ernest B. Ellis, Medical Officer, had been temporarily attached since January 26, 1945; Lt.(jg) James B. McFerrin, First Lieutenant, reported on June 24, 1945. On July 18, 1945, three new Ensigns reported for duty; john C. Robertson, Ass't. Communications Officer; Paul J. Gunn, Ass't. Gunnery Officer; and Wesley P. Horner, Ass't. First Lieutenant. The Officer complement was completed on July 19, 1945, when Ens. Samuel H. Blackwood, Ass't. Engineering Officer, came aboard. We now had a total of twelve officers.

We remained in Berth L-93 until July 22, when the 481 entered Floating Drydock ARD 15 in Tanapag Harbor, for repairs. On Tuesday, July 24, we left ARD 15 and moored next to LST 913 at the LST Repair Pier in Tanapag Harbor, continuing repair work. I believe it was at this time that extensive repairs were made to the engines, since tugs had to be utilized to move 481 from berth to berth as repairs continued. During one move to go alongside the USS Burias, four LCMs were used as tugs to move the ship.

Ori August 1, 1945, Edwin Dunn, MoMMac, one of the original crew, was transferred to the Receiving Station, San Francisco. Dunn and I had both entered the Navy on the same day in July 1942 and had been in Boot Camp in Newport, R.I. and Machinists Mate School in North Dakota together. He was from Ogdensburg, NY, and when the ship was commissioned, was one of the youngest men on the ship.

Lt.(jg) Harold L. Nichols reported aboard for duty on August 9, 1945, bringing the officer complement to thirteen.

Repairs were finally completed on August 11 and the 481 worked her way out to berth L-93 in Saipan Harbor, where the bow anchor was dropped in 40 fathoms of water.

By this time in August, things seemed to be pretty much at a standstill as far as we were concerned. We watched as flight after flight of the new B-29 bombers took off from Tinian Island, across from the anchorage at Saipan Harbor. Bombing of the main islands of Japan was by now a common thing, and the huge planes were flying there and back on a daily basis. Sometimes, we would see a large plume of black smoke hanging over Tinian as one of the heavily loaded B-29s failed to make it off the runway.

It was during this peaceful time that Commander Lea decided that he wanted to have a boat suitable for a Group Commander, so one was chosen from the many sitting in the small boat section of the base. It was an old LCP (Landing Craft, Personnel), which had a narrow bow ramp, just wide enough for a person to walk through. Several of the ship's carpenters and two of us motor macs, Art Sanders and myself, went to the boat yard daily, to transform the landing craft into what we thought was a thing of beauty (beauty always being in the eye of the beholder). While Sanders and I repaired, and in some cases, rebuilt the diesel engine, the carpenters decked over the old ramp section of the boat and converted it into a nice looking runabout, fit for a Group Commander. After it was painted navy gray, and had an American flag painted on the side, it did look pretty good. This gave us something to do besides standing watches and cleaning up in the engine room.
Boat Crews
Both Art Sanders and I were also assigned as boat engineers in the small boat crews during this time. As boat crew members, we got to travel around the harbor area, taking liberty parties to the recreation area, and also in to the fleet landing at Tanapag Harbor. The boat crews consisted of three men in each boat; the boat coxwain, the boat engineer, and a bowhookman. The coxwain was in charge of the boat and was the one who operated it. The bowhookman handled the bow line when tying up and the forward cable block and hook when raising or lowering the boat from the davits. The boat engineer was responsible for the mechanical operations, handled the stern line when tying up, and the stern cable block and hook when raising or lowering the boat on the davits. Lowering or raising the boat in rough seas could become very interesting indeed. When lowering the boat into the water, both the forward and stem, hooks had to be let go at practically the same time or the boat could swamp. The same was true, and possibly even more so when preparing to raise the boat to bring it aboard. It was no easy thing to get the heavy block and hook assembly connected to the boat's large steel ring when the boat would be bobbing around like a cork, but it became easier with practice.
Countdown To Victory
In mid August, we saw a wonderful sight late one evening, when a very large flight of B-29s returning to Tinian turned on their landing lights as they were coming into view over the northern horizon. The line of lights looked like a lighted street or boulevard as they slowly approached their home base. Prior to this they had always been in a blacked out condition, so we all thought the this was a sign that the end must surely be in sight. In the next few days this proved to be a correct assumption as we listened to the radio giving what information they had about a new type of bomb which had been dropped on Hiroshima, Japan. This was really the beginning of the end of a long tough battle which had begun on December 7, 1941. After a second of the new bombs had been dropped on Nagasaki, the end finally did arrive in mid August 1945, and set off a celebration which should go down in the annals of history as one of the grandest in remembrance.
VJ Day
What was to become known as VJ Day caught us as we were scrubbing our canvas bunk bottoms on the main deck. Bunk bottoms were soon to be forgotten as Commander Lea gave an order to the medical officer to mix up a concoction of canned fruit juices and sick bay alcohol, and for all hands to grab a cup and line up on the main deck for a drink to celebrate the victory. The exuberance with which the Commander's orders were followed was truly astounding. In what seemed like no time at all, everyone was celebrating with such gusto that there were a number of people who could no longer negotiate any of the ladders from one deck to the next, resulting in a pile up of bodies at the bottom of each ladderway. In their jubilation, some of the crew were tossing all kinds of things overboard, from fire extinguishers to smoke pots. On the 481, none of the guns were fired, but this did not hold true on some of our sister ships anchored in the harbor, nor did it hold true on the island, where we could hear sporadic firing. After the initial burst of celebration, Commander Lea took all the officers, except for the Officer of the Deck, Ensign Britt, ashore to celebrate some more at the Officer's Club, leaving the ship in the hands of a bunch of drunks. In addition to the medical officer's cocktail, several brands of raisin jack mysteriously made an appearance, adding to the joyous occasion.

Unfortunately, official business raised it's ugly head, VJ Day or no VJ Day, and the OOD informed the duty boat crew that he had to make a trip in to Tanapag Harbor to deliver some highly important papers to another ship. The duty boat crew consisted of Rufus "Red" Winn, Coxwain; John Short, Bowhookman, and John Dougherty, Engineer, and a trip to the inner harbor was just up our alley at this time. After Ensign Britt bearded the boat, we took off like a shot, albeit an erratic shot. The trip to the inner harbor took almost an hour under normal conditions, but these were certainly not normal, and I can't recall just how long it did take, since we were so busy enjoying ourselves on the way. Three of us were having a grand time, but Ensign Britt maintained his composure, although he did nothing to hold down our obvious glee. On the way in, we discovered a smoke pot floating in the water, one of the items thrown ioverboard from one of the nearby ships, so we knew we had a duty to rescue the smoke pot, install it on the stern sheets of the boat, pull the mechanism which started the smoke, and we then proceeded to lay down a smoke screen almost all the way in to our destination. Ensign Britt finally suggested that we probably should kick it over the side, since it might set the boat on fire. After Red Winn almost rammed head on into our destination ship, and got a very dirty look from their GOD, Ensign Britt delivered his papers and we started the long trip back to the ship.

By the time we got back, most of our happy feelings were beginning to be replaced by headaches and so forth. The celebration on the ship had also quieted down, with many piles of sleeping beauties scattered about like dead people. It was truly a memorable day, was VJ Day. Later we found out that all of the celebrations on all the ships and on the island, had been premature by several days, but when the real day came around, no one felt up to another gala event, so it was very quietly observed in a more decorous manner than the original day had been. We found out later that the celebration at Okinawa had been so violent and so much shooting had erupted that a number of people had been killed in the process. At least, our celebration was done in a safe and sound manner.

August 14 saw Elmer Coker, MoMMlc, one of the original crew, transferred to Base Hospital # 3245 on Saipan, followed to the same destination on the next day by Alonzo R. Barnes, WT2c.

On August 22, Lt.(jg) Fred B. Lowry reported aboard to take command of the 481. The change of command took place at 1020, August 24. Our old skipper, Lt. William Boyer, who had been with us since Day One as Engineering Officer, Executive Officer, and Captain, was transferred to "the nearest Naval District, U.S.", for temporary Duty. He was the last of the original officers and we were sorry to see him go.

A near disaster took place on September 1st when the elevator gears became disengaged, causing the very heavy elevator platform to fall to the tank deck with a crash felt throughout the ship. George P. Duvall, S1c, received a glancing blow and was injured. First aid was given immediately, and he was then transferred to Base Hospital # 3245 for further treatment. I seem to recall that the elevator had fallen prior to this, but it never caused any injuries to anyone.

In order to check out the repair work which had been performed, a short, successful trial run was made on September 2, after which the ship returned to the same area to anchor.

On September 4, 1945, the entire crew of the 481 was subjected to a personnel inspection by Captain Grayson Carter, ComLSTElotS. The uniform for inspection was dress blues. Here we were, in the semi-tropics, hot as could be, and we had to be in dress blues!! We had supposed the uniform of the day would be whites. Captain Carter picked out several men who were in need of haircuts and so forth. The inspection was over in about fifteen minutes, after which we all went back to our normal dungarees.

Since the war was over, more and more people were being transferred as they became eligible for discharge. CMoMM Edward V. (Andy) Anderson left on September 11, together with Richard Rogers, OSlc, and James P. Boyer, EM3c. On the 15th, George Duvall, S1c, returned from the hospital, a very lucky person, because he would have been flattened if he had been standing just a little closer when the elevator fell.

Also on the same day, we pulled into Tanapag Harbor and began loading cargo, completing this job on September 17. Five officers and sixty enlisted men of the 2nd Marine Division, and twelve enlisted men of the 43rd Navy Seabees also came aboard this day. At 0800, shortly before retracting from the beach, ten more of the crew were transferred. Among the ten were Gene Cooper, MoMMlc; James Burnett, MoMM3c; Ray Olin, EMlc; and Sam Mays, BM2c, who was my traveling companion when we went on leave from San Diego.
North To the Land of the Rising Sun
We learned that we would be taking our cargo to the once dreaded and feared Japanese Islands, which were now to go down in history as recipients of the first two atom bombs ever to be used. As a matter of fact, we would be landing in Nagasaki, on the island of Kyushu, target of the second A-bomb, so we didn't really know what to expect to see when we got there. All we knew about the power of the bomb was that it was supposed to be many times more powerful than dynamite, an explosive we all thought was pretty potent.

On September 17, at 1330, the 481 stood out of Saipan for Nagasaki, as guide ship of two Task Units. Although the war was over, some danger still existed. This was shown to be true when the convoy had to make emergency turns to avoid a mine on September 20. Again, on the 21st, the formation course was changed to avoid a suspicious object. The 22nd seemed to be a day of steering failures, beginning at 0700. Electrical steering resumed at 0710, and held up quite well until 1848, when we had to sound four blasts on the whistle as we fell astern of the column of ships, and the hand steering mechanism was once more put into operation. The old steering failure bugaboo seemed to plague the LSTs until the very end. A hydraulic steering backup system had evidently been installed during one of the repair sessions, since the log mentions this type of steering for the first time. Unfortunately, the hydraulic was as prone to failure as the electrical, according to several log entries. On September 23, two more emergency turns had to be executed to avoid floating mines, and once again, the electrical steering failed.
Nagasaki, Japan
We arrived in Nagasaki on September 24, 1945, and indeed, the destruction looked pretty complete to us. After beaching on Beach #1, south of the Customs Wharf, it was a strange feeling to be in the midst of what seemed to be almost total ruination, and to have people warily staring at us, whom we surely would have attempted to kill just a little more than a month before. We felt absolutely no pity or remorse for the few Japanese people who could be seen slowly walking near the docks. A lot of us had suffered through some terrible trials and tribulations at the hands of their countrymen, and we always knew the end would be as it was in those late days of September, 1945. None of the crew was permitted to go ashore in Nagasaki, but the boat crews did get a chance to sneak ashore and look around. Art Sanders and I were not in the boats at this time, having been replaced by Bill Jackson in one boat, and I think it was Joe Phifer in the other. I guess they were in no more danger from radiation than the rest of us, but then I think about the Marines and Seabees we took up there, and often wonder how they made out in later life, after the danger of radiation had become more widely known. Unloading of cargo and personnel was completed on September 25, and the 481 retracted from the beach at 0955. We proceeded to anchor in berth 41 where we transferred 20,000 gallons of fuel to USS LSM 170, and on the 26th, the 481 stood out of Nagasaki, bound for Leyte, Philippine Islands.
Typhoon
After the convoy left Nagasaki, we had been underway for two days when we were diverted to Okinawa on September 28. This was the typhoon season in the Western Pacific, and one of the fierce storms was found to be on a path which would have coincided with that of the convoy. On the 30th, all the ships pulled out of Okinawa in accordance with the typhoon retirement plan of SOFA, Okinawa. For two days we sailed in a variety of courses which kept us away from all but the fringes of the big typhoon. Storms of this intensity had begun to worry me, since I wasn't sure whether or not the old 481 could stand up to a typhoon. I didn't think that LSTs were built strongly enough to weather such a storm, but in retrospect, the old tubs seemed to have held their own in this category, thank goodness. While still operating under the typhoon retirement plan, a floating mine was sighted off the port beam at 1523 on the 30th, causing the 481 to hoist emergency signals to alert the other ships in the formation. The Log entry at 2000 on the same day attests to the seriousness of these floating mines:
| | |
| --- | --- |
| | |
| 2000 - | The following named man (E.A.D., GM3c.) stood trial this date for Deck Court Martial for the reason to follow: |
| | While acting as bow lookout on 30 September, 1945, at approximately 1500, while this ship was in company with other ships of Task Unit 95.5.209, did fail to see and report a floating mine which passed close to port, as it was his duty, thereby endangering the safety of this and other ships. The following sentence was given: To lose twenty five dollars ($25.00) per month of his pay for a period of two months. |
On October 1, the typhoon having passed, 481 and several other ships withdrew from Task Unit 95.5.209 and formed a single column preparatory to carrying out the original sailing orders for Leyte. Formation Guide was passed to LST 166 on October 2 when 481's gyro compass failed. After resuming our position as guide on the 4th, an emergency turn was made at 1022 to avoid an unidentified floating object, which was later found to be a large tree trunk as we passed it at a distance of 500 yards on the port beam. At 1305, the 481 pulled alongside, port side to, LST 166 for the purpose of picking up a main engine spare part. No indication is given as to what kind of engine part was involved in this transfer. Al Erickson, a crew member of LST 166, took a picture of the 481 as we were approaching the starboard side of 166 and through an astounding coincidence met former 481er John Higgins at the LST Association convention in Orlando, FL in September 1993. He sent a copy of the photo to John, which as far as we know, is the only one ever taken of 481 underway .
Leyte, P.I.
October 7 found us finally at anchor in San Pedro Bay, Leyte. The USS SC 749 came alongside on October 8 and received 600 gallons of fresh water from 481. Our next move was to go alongside USS Rigel on the 9th for some repair work. On October 10 we moved away from that ship to allow LST 742 to tie up to the Rigel and we moored starboard side to LST 742. LST 1083 moored to our port side and transferred 53,000 gallons of fuel into our tanks. Also on the 10th, Howard L. Heath, S1e, suffered burns in an accident as indicated in the log:
| | |
| --- | --- |
| | |
| 1300 - | The following named man was injured (multiple burns) at Tacloban, Leyte, P.I. while coxwain in LCVP which ignited when gasoline, being transferred to drums on stern of boat, overflowed and carried into engine box. He was immediately taken ashore and placed in Base Hospital Navy [...] for treatment. Heath, Howard L., S1e. |
The Log shows that he returned aboard at 1530 on October 12, after receiving treatment at the hospital.
Mindanao
We left San Pedro Bay on the 13th, bound for Davao (Talomo), Mindanao, P.I. Mindanao is a huge island with a very large Muslim population. Many of the people had the betel nut chewing habit, which caused them to have black teeth. It was always somewhat of a jolt to have a person give a big smile, revealing a set of black choppers, except for any gold replacements which might have been made.

When we beached to begin taking on our cargo at Talomo Bay, we landed on a beautiful sandy beach which sloped gently down to the water's edge. Located just beyond the beach was Dumuy, a typical coastal village of huts built up on stilts to allow circulation of cooler air, and also for the sea to pass beneath the huts if the waves got too high. As the ship approached the beach, practically the whole village, including the pigs, chickens, and dogs, must have been in attendance to watch. When we hit the beach at full speed, the amount of water we pushed ahead of us was like a tidal wave roaring across the sand, scattering pigs, chickens, dogs and people in all directions. The water ran under the stilted huts and through the little village, and then receded as the high point was reached. It really looked funny, and the villagers didn't seem to mind getting their feet a little wet, especially since some of them wore no shoes of any kind.
Japan Again
When loading was completed on October 16, we retracted from the beach, and left Talomo Bay as guide ship of a formation headed in a northerly direction which would take us to the land of Nippon for a second time - destination, Matsuyama, located on the Inland Sea of Japan, on the island of Shikoku.

Captain"s Mast was held at 1900 on the 16th, and the following men were sentenced by Deck Court Martial:
R.(n) D., S1c; sleeping on watch. Sentence: loss of thirty dollars of his pay.
G.P.T., S1c; AWOL from 1300, 16 October, 1945 to 1700, 16 October, 1945, a total of four hours. Sentence: Five days solitary confinement on bread and water, with full rations every third day.
Note that G.P.T. made it to back to the ship just as it was pulling away from the beach, and in fact, he had to crawl in through the open space at the bottom of the bow doors, since they were already closed and secured.
It seems unusual to read in the log "sighted lights of ship bearing 178(t), distance 10 miles". Remember that all ships traveled in a blacked out condition prior to the end of hostilities.
Again on October 17 Captain's Mast was held, this time for P.H.S., PhM3e and R.C.W. , S1c. Charges : Drinking of alcohol beverages which were unauthorized. Sentence: Solitary confinement of ten days on bread and water, with full rations every third day, and loss of forty dollars of their pay ea~h. The brig must have been getting a little overcrowded by this time.
LST 785 assumed formation guide at 0900 on October 20 while the 481 sheered to starboard to make some repairs on the starboard engine, meanwhile keeping up with the formation on the outside of the column. Repairs completed, 481 resumed position as formation guide at 1030. A cruise through the Inland Sea on our way to Matsuyama almost made all of our past efforts seem worthwhile. This is one of Japan's truly beautiful areas, and to be sailing here without the threat of someone dropping some bombs on us allowed us to sit back and enjoy the scenery. On October 25 we anchored with the stern anchor, in berth 50, Mitsugahama Hagushi, Matsuyama, Shikoku, Japan. At 2310, 483. beached, on the second try, at Red Beach, Slot #10, after retracting from the first attempt in order to make a better approach and to push further up on the beach .
After arriving in Matsuyama and unloading the cargo, we were allowed to go ashore, and believe me, that was really a strange feeling. The few Japanese we saw didn't say anything to us and we said nothing to them. After a stroll around the town, it was time to go back aboard. This town didn't seem to have a whole lot of damage and was fairly intact.
Before we left Japan this time, we made an additional stop near the big Japanese naval base at Hire Wan, Kure, also on the Inland Sea. Here we saw one of the enormous Japanese battleships which had been so furiously bombed by the fast carrier Task Force 38 planes that it had been totally destroyed and now sat grounded and abandoned like a huge junkyard waiting to be dismantled. While anchored at Hire Wan, seven men were transferred back to the States on October 31. Merle C. Freeman, GM2c, one of the originals, was among this group. The old original crew was slowly being diminished as they were transferred after accumulating enough discharge points.
Back To the Marianas
At 0709 on November 1, 1945, the formation stood out of Hire Wan, Kyushu. Japan,rfor Saipan. 481 was the fifth ship in the column, and as if to prove that nothing had changed while we were in Japan, the electric steering failed at 2315. Breakdown signals were made by signal light, together with sounding the usual four blasts on the whistle. During this failure, the rudder went to hard right of it's own accord, requiring an emergency "all engines backed full" entry in the log. After all engines were stopped, we proceeded on a course 1000 yards to port of the column until repairs had been made, at which time we had to play catch up to regain our position in the column at 0020. At 1056 on this day, which was now November 2, a horned mine was sighted on the port bow, distance 600 yards, and at 1135, a second horned mine was sighted on the starboard side. This second mine was destroyed by gunfire from LST 953 at 1150.

November 7 saw us safely back in Saipan Harbor where we anchored until 1655 when we were underway for the inner Tanapag Harbor for refueling from AOE 22. A type of entry unseen since 481 was first commissioned appears in the log at this time; i.e. indicating the draft of the ship before and after refueling or rewatering. At 1830 we commenced refueling, with the draft forward, 4 1/2 feet; aft, II feet. Refueling was completed at 1940 with the draft forward, 5 feet; aft, 11 1/2 feet, after taking on 37,000 gallons.

After refueling, 481 moved away from AOE 22 on November 8 to go alongside LST 809 and moor with the bow on the beach at Pier C4, still in Tanapag Harbor, where we began loading tractors, LVTs and other vehicles of the US Marine Corps, completing this at 0540 on the 9th. The cargo loaded, we moved out to good old Saipan Harbor, anchoring in berth L-91 at 0912 to wait for the next move.

On November 12, at 1330, an award ceremony was held after all hands fell in at quarters for muster. Purple Hearts were awarded by Commander Lea to the following men:
Angle, Charles A., MoMM2c
Ellis, Harold O., Bkr3c
Gier, Nicholas J., RM3c
Freeman, Merle C., GM2c
Johnston, Amdrew G., S1c
Gatnerak, Edward W., S1c Phifer, Joseph C., MoMM2c
Hedge, Orie R., S1c Brazell, James C., S1c
Williams, Jodie C., S1c
These awards were for wounds received in action at Guam in July 1944, and at Okinawa in April 1945. I imagine Merle Freeman's award was sent on to him since he had been transferred while we were in Japan.
Transporting occupation forces to Japan seems to have been completed by this time in early November. For some time, now that the war was over, every one was trying to figure how many points they had accumulated toward being discharged. Several weeks before, as some of us were comparing I.D. cards, I discovered that an error had been made by some one who had originally prepared my records, because my discharge date was shown to fall on my twenty second birthday instead of the twenty first. I had never really looked too closely at the date before, and was pretty surprised to find that I might have to serve an extra year. I immediately went to see the Executive Officer, who agreed that a mistake had been made, but all he could do was to write a letter to the Bureau of Naval Personnel in Washington, and wait for a correction to be made.
Meanwhile, the 481 got underway for Guam on November 16, in company with LSTs 997, 894, 895 and 898. On the 17th we were in Apra Harbor, Guam, along side LST 871, with our bow to the breakwater, when we learned that 481 was to go back to the States. The 871 moved out on the 18th, and her place was taken by one of our old sister ships, LST 483. On this date, eighteen Navy enlisted men came aboard as passengers, to be transported back to the good old U.S.A. Next day, Lt. J.B.McFerrin was detached from the 481, nine men came aboard from LST 997, and we also began loading some cargo, completing this at 2245. U.S. Mail began to be loaded at 2330, as additional cargo for the States.
November 20 turned out to be a fateful day for many of the 481's crew. First, twenty seven men came aboard from LST 898, then twenty men from LST 483. After receiving all these men, it was time to make room by transferring some of 481's crew who did not have enough points for discharge, and also some Regular Navy people with time left to serve. At 1300, eight were sent aboard LST 997; one went to LST 483. At 1430 one man was sent to LST 646, and at 1500, six went aboard LST 898, among them two of the original crew; Joseph Phifer, MoMM2c and John Dougherty, MoMM2c, both in the Regular Navy. Also on the 20th, 481's Captain, Lt. F.B.Lowry was detached and command was assumed by Lt.(jg) H.L.Nichols.
481 Homeward Bound
On November 21, 1945, those of us who had been so suddenly transferred, watched as the 481, with Homeward Bound pennant flying, retracted from the beach at Guam and headed independently for the States for the last time. After the usual steering failure and a breakdown involving the port engine, 481 pulled into Pearl Harbor on December 5, stopping for two days in order to take on 48,960 gallons of fuel and 29,000 gallons of water. The final leg of her journey would take her to San Francisco, starting from Pearl Harbor at a speed of 9 knots, soon increased to 10.5 knots, then to 10.8 knots, and finally to 11.1 knots, all the way to her destination. This was probably the fastest the old ship ever traveled, but everyone was anxious to get home. On December 11, the crew commenced throwing overboard all exposed 40mm and 20mm ammunition, taking five hours and forty five minutes to accomplish this disposal. One thousand eight hundred ninety six rounds of 40mm and eleven thousand eight hundred fifty six rounds of 20mm were thrown overboard about half way between Hawaii and California.

The day everyone had been looking forward to came on December 15, as the old 481 passed under the Golden Gate Bridge at 0915, and came to anchor in San Francisco Bay just long enough for Lt. Robert Rehling to be transferred and released to inactive duty. She then proceeded down the bay to a buoy just north of Hunters Point where she moored to ATR 26 at 1429, December 15, 1945, Fifty nine men were transferred on the 16th, among them C.A. Angle, MoMM2c; D.R. Clemens, Cox.; J.B. Gwin, MoMM2c; T.G. Lewis, RMlc; and M.O. Windh, MoMM2c, all original crew members. On the 17th, seven more were transferred, including original crewmen G.W. McGerty, CQM; E.J. Reuter, EMlc; and A.B. Sanders, MoMM2c. One man, W.E.H., SK2c, was reported AOL at muster on this date. On the 18th, the ship moved to Pier 54 and commenced unloading the U.S. Mail, completing this on the next day at 1050, after which she moved back alongside ATR 26. William V. Eddy, BMlc, was transferred on the 22nd, and W.E.H.,SK2c, returned from AOL. The long decommissioning process was begun on December 24th, and evidently involved a lot of hard work on the part of those who were still aboard. W.E.H.,SK2c, had a Deck Court Martial on the 26th and was re~uced in rate to the next lower rating and also fined ten days pay. The Muster Roll for January 1, 1946 shows sixty eight people in the crew, many whose names I don't recognize. An interesting side note; this list of the Muster Roll shows that only four members of the original crew were still serving aboard the 481. Those were; Harold Ellis, Baker 2c; Bethel Evans, Ships Cook 2c; Vance Harris, Chief Commissary Steward; and Earl Svec, Chief Motor Machinists Mate.

The next big move for the 481 came on January 8, 1946, when she got underway for buoy #7, off Tiburon, California, where most of the ship's equipment would be removed. Lt.(jg) Ralph Webber, the Engineering Officer, was detached from the 481 on January 12, after having been aboard since November 1944. On January 16, YCF 83 moored along the starboard side for the purpose of removing the guns from 481. January 17 saw a final change of command when Lt.(jg) H.L. Nichols was relieved by Lt.(jg) Maurice Z. Cofer, who had come aboard as Supply Officer in November 1944. Also on that day, a crane came alongside and removed the crawler crane and finger lift from 481. At 1250 they commenced unloading the guns and completed this job at 1700. By January 21, all ammunition had been removed from the ship. It's interesting to note that when a water barge came alongside to put water aboard on the 31st, the draft forward was only one foot; aft was only nine feet. The weight of the guns and other equipment which had been removed made a big difference in the ship's draft. The weather log and navigation department were secured on February 1, and all weather instruments were packed for shipment ashore. At 1300 on that date, the following men were commended at Meritorious Mast as the crew mustered at quarters:
Bolsten, R.F., Cox.
Jordan, J.W., MoMM3c
Brollier, E., RM3c
Lemoine, B.A., QM3c
Dougherty, C.A., RM2c
Lipton, K.A., WT3c
Stesney, L.J., RT3c
Miller, W.D., GMlc
Duvall, G., SK2c
Slater, L., S1c
Forsyth, R.C., SK2e
Svec, E.J., CMoMM
Harris, V.L., CCS
Welzein, R.E., BM2c
Heuttmann, R.D., Y2c

On February 2, LST 481 made her last move under her own power, getting underway at 0930 for the Colberg Boat Works, Stockton, California, arriving at that destination at 1610. All personnel and personal gear were removed from the ship and transferred to YF 507, moored at Colberg Boat Works, on February 5. On the 16th, at 0915, all work of decommissioning having been completed, LST 481 and LST 479, which had moored on the starboard side on the 6th, commenced moving to mooring facilities four hundred feet west of Edison Street Dock. Tugs and small craft of the yard were employed to effect the movement, and at 1600, 481 was moored to securing shackles on the beach, with 479 moored along her starboard side.
Finis For LST 481
This was the last officially recorded move by LST 481, and on February 28, 1946, at 1500, the ship was decommissioned, ending a brief Naval career which lasted thirty three months thirteen days. The remaining five officers and fifty four enlisted men were transferred. Two enlisted men, Vance L. Harris, CCS; and Bethel J. Evans, SC2c, were the only members of the original crew who served aboard the 481 from May 15, 1943 until February 28, 1946. Her final end came on April 28, 1948, when she was sold to Bethlehem Steel Company for scrap.
Epilogue
I consider it was my good fortune to have been assigned as a member of the crew of the USS LST 481, just another ship among many thousands of ships in the U.S. Navy during World War II, but one which generated a certain loyalty, especially in those of us who spent many long months slowly traveling throughout the vast Pacific Ocean from 1943 through 1945.

In the Dictionary of American Naval Fighting Ships, the following information is given for the USS LST 481:
LST 481 was laid down on 4 September, 1942 at Richmond, Calif., by Kaiser,Inc.; launched on 2 December 1942; and commissioned on 15 May 1943. During World War II, LST 481 was assigned to the Asiatic-Pacific Theater and participated in the following operations:

(For some reason, no mention is made of the Kiska landing, August 1943)
Gilbert Islands operation - November and December 1943.
Occupation of Kwajelein and Majuro Atolls - January and February 1944.
Hollandia operation - April 1944.
Capture and occupation of Guam - July 1944.
Assault and occupation of Iwo Jima - February 1945.
Assault and occupation of Okinawa Gunto - April 1945


Following the war, LST 481 performed occupation duty in the Far East until mid-November 1945. She returned to the United States and was decommissioned on 28 February 1946 and struck from the Navy list on 12 April 1946. On 16 April 1948, the ship was sold to the Bethlehem Steel Company, Bethlehem, PA, and subsequently scrapped.

LST 481 earned six battle stars for World War II service.

(As mentioned in parentheses above, no credit was given for the invasion of Kiska, Aleutian Islands, and consequently, no battle star awarded).
Also in The Dictionary of American Naval Fighting Ships, it shows that LST 481 was the 214th ship of the LST class to be commissioned; however, 56 of this number were LSTs which were turned over to the British under the Lend Lease program, and 8 were LSTs which were converted to repair ships and PT tenders. LST 481 therefore was the 150th ship to be placed in commission as a U.S. Navy Landing Ship, Tank. 1,051 LSTs were built during World War II. I have made some extremely rough measurements and have conservatively estimated that 481 traveled about seventy five thousand miles. As I said, these are just rough estimates and do not take into consideration all of the zig-zagging and backtracking we did while traveling in convoys. There was an old saying, "Join the Navy and see the world", and while we did not see the world, we certainly saw a lot of the Pacific area, from the Aleutian Islands in the north to New Guinea in the south, with many other places in between. Following is a list of places visited by LST 481, and the date of the visit:
| | |
| --- | --- |
| May 15, 1943: | Richmond, Cal., USS LST 481 commissioned. |
| May 17, 1943: | Mare Island Navy Yard, Cal. |
| May 20, 1943: | San Francisco, Cal. |
| May 26, 1943: | San Diego, Cal. |
| June 6, 1943: | San Francisco, Cal. |
| June 7, 1943: | Hunters Point Navy Yard, Cal. |
| June 17, 1943: | Monterey, Cal. |
| June 28, 1943: | Mare Island Navy Yard, Cal. |
| Jul 8, 1943: | San Francisco, Cal. |
| Jul 11, 1943: | Left the States. |
| Jul 21, 1943: | Kodiak, Alaska. |
| Jul 26, 1943: | Adak, Aleutian Islands, Alaska. |
| Aug 15, 1943: | Kiska, Aleutian Islands, Alaska -- Invasion #1 |
| Aug 26, 1943: | Adak, Aleutian Islands, Taka, |
| Sep 18, 1943: | Arrived in the States - San Francisco, Cal. |
| Sep 23, 1943: | Alameda, Cal. |
| Sep 28, 1943: | Port Hueneme, Cal, |
| Oct 4, 1943: | San Diego, Cal. |
| Oct 4, 1943: | Left the States |
| Oct 14, 1943: | Pearl Harbor, T.H. |
| Nov 7, 1943: | Crossed Equator. |
| Nov 11, 1943: | Funafuti, Ellice Islands. |
| Nov 20, 1943: | Makin Atoll, Gilbert Islands -- Invasion #2 |
| Dec 2, 1943: | Abemama Atoll, Gilbert Islands. |
| Dec 15, 1943: | Tarawa Atoll, Gilbert Islands. |
| Dec 31, 1943: | Pearl Harbor, T.H. |
| Jan 31, 1944: | Kwajelein Atoll, Marshall Islands -- Invasion #3 |
| Feb 23, 1944: | Pearl Harbor, T.H. |
| Mar 6, 1944: | Kawaihae Bay, Hawaii, T.H. |
| Mar 6, 1944: | Maalea Bay, Maul, T.H. |
| Mar 9, 1944: | Pearl Harbor, T.H. |
| Mar 18, 1944: | Crossed Equator. |
| Mar 26, 1944: | Guadalcanal, Solomon Islands. |
| Mar 29, 1944: | Milne Bay, New Guinea. |
| Apr 4, 1944: | Buna, N.G. |
| Apr 6, 1944: | Lae, N.G. |
| Apr 17, 1044: | Cape Cretin, N.G. |
| Apr 22, 1944: | Aitape, N.G. -- Invasion #4 |
| Apr 26, 1944: | Cape Cretin, N.G. |
| Apr 30, 1944: | Hollandia, N.G. |
| Apr 31, 1944: | Finschhafen, N.G. |
| May 4, 1944: | Cape Gloucester, New Britain Island. |
| May 12, 1944: | Russell Islands. |
| May 13, 1944: | Port Purvis, Florida Island, Solomon Islands. |
| May 14, 1944: | Guadalcanal, Solomon Islands. |
| May 15, 1944: | Port Purvis. |
| May 16, 1944: | Guadalcanal. |
| May 20, 1944: | Port Purvis. |
| May 21, 1944: | Tulagi, Florida Island, Solomon Islands. |
| May 22, 1944: | Port Purvis. |
| May 23, 1944: | Guadalcanal. |
| May 25, 1944: | Port Purvis. |
| May 27, 1944: | Tulagi. |
| May 28, 1944: | Purvis Bay. |
| May 29, 1944: | White Rock Bay, Port Purvis. |
| May 30, 1944: | Guadalcanal. |
| Jun 6, 1944: | Kwajelein Atoll. |
| Jun 15-31,44: | Cruising off Saipan, Marianas Islands. |
| Jul 5, 1944: | Eniwetok Atoll. |
| Jul 21, 1944: | Guam, Narianas Islands -- Invasion #5 |
| Aug 3, 1944: | Eniwetok Atoll. |
| Aug 17, 1944: | Pearl Harbor, T.H. |
| Aug 29, 1944: | Arrived in the States: Navy Repair Base, San Diego, Cal. |
| Nov 30, 1944: | Navy Repair Base, San Diego, Cal. |
| Dec 3, 1944: | Oakland, Cal. |
| Dec 4, 1944: | Treasure Island, Cal. |
| Dec 17, 1944: | Oakland, Cal. |
| Dec 21, 1944: | Mare Island Navy Yard, Cal. |
| Dec 23, 1944: | Left the States. |
| Jan 2, 1945: | Pearl Harbor, T.H. |
| Jan 26, 1945: | Eniwetok Atoll. |
| Feb 1, 1945: | Saipan, Marianas Islands. |
| Feb 2, 1945: | Tinian, Marianas Islands. |
| Feb 6, 1945: | Guam, Marianas Islands. |
| Feb 8, 1945: | Saipan. |
| Feb 13, 1945: | Tinian. |
| Feb 13, 1945: | Saipan. |
| Feb 19, 1945: | Iwo Jima. -- Invasion #6 |
| Feb 28, 1945: | Guam. |
| Mar 8, 1945: | Leyte, Philippine Islands. |
| Apr 1, 1945: | Okinawa. -- Invasion #7 |
| Apr 17, 1945: | Saipan. |
| Jul 4, 1945: | Okinawa. |
| Jul 16, 1945: | Guam. |
| Jul 17, 1945: | Saipan. |
| Aug 14, 1945: | VJ Day. |
| Sep 24, 1945: | Nagasaki, Japan. |
| Sep 28, 1945: | Okinawa |
| Oct 7, 1945: | Leyte, P.I. |
| Oct 15, 1945: | Mindanao, P.I. |
| Oct 25, 1945: | Matsuyama, Shikoku, Japan. |
| Oct 28, 1945: | Kure, Honshu, Japan. |
| Nov 7, 1945: | Saipan. |
| Nov 17, 1945: | Guam. |
| Nov 21, 1945: | 481 left Guam to return to the States. |
| Dec 15, 1945: | Arrived in the States -- San Francisco, California. |
| Feb 2, 1946: | Stockton, California. |
| Feb 28, 1946: | USS LST 481 decommissioned. |
| Apr 28, 1948: | Former LST 481 sold to Bethlehem Steel Co. for scrap. |
As I near the end of my story, I realize that I forgot to mention a very important part of the 481's history--the mail. Naturally, all of our outgoing mail during the war was censored by one of the officers, to make sure we didn't give out any military secrets. We were never allowed to tell where we were at the time, where we had been, or where we were going when we left wherever we were. After a month or so had passed, it was O.K. to mention that we had been to the Gilbert Islands or wherever. Our unsealed letters were deposited in a locked box outside the ship's office for pickup by the censor, who would operate on them with his scissors if they contained anything they shouldn't have. Also, we didn't need stamps on our mail if we did not mind the letter going by slow boat. All that was needed was the word "Free" written in the corner of the envelope where the stamp would normally be placed. Most of us used air mail stamps since they traveled much faster. Looking at the list of ports given above, you might get some idea of how difficult it must have been for our mail to catch up with the ship. Sometimes we didn't receive any mail for several months, and then we would get twenty or thirty bags all at once. Quite often, it was in terrible shape by the time it got to the ship, after being wet or squashed in the bottom of some ship's hold, or all moldy from the humid weather of the tropics. Whatever it's condition, we were always glad for that high spot of any day -- mail call.
This is where I will close the story of my recollections of the USS LST 481. Writing this story has brought back many memories, especially of the people who were my shipmates during that time. The Deck Log provided me with many facts long forgotten, and together with the Muster Roll, was a great help in putting the history together.
---
John H. Dougherty
Former Motor Machinists Mate 2c, U.S. Navy
USS LST 481,

Revised March 1993 (John Dougherty)
January 1995 (John Dougherty)
February 1998 (Ray. Harper)
---
Notes: (From Ray Harper)

The original manuscript (Computer file) was not available, therefore it was necessary for me to Scan and OCR (Optical Character Recognition) this document into the computer in a file that was suitable to be placed on the Internet for all to see, OCR will invariably cause typo's and errors I have tried to correct them but have missed some

John Dougherty (Deceased 1997) dedicated the last several years of his life to Authoring this LST 481 History Manual and to researching and locating Old Crew Members. In addition to that he was the lead organizer in the 1996 Reunion (Colorado) 1997 Reunion (Portland Oregon ) and laid the ground work for the 1998 Reunion (Washington DC.) It is In His Memory that we carry on his work in the LST 481 Association and to further strengthen the Bond that we will carry on into tomorrow and forever.

A special thanks goes John's Son, Mark Dougherty for making the transition of his files and other related effects over to me since the Demise of his Father.

Any LST 481 Shipmate that is linked to this point that has not been contacted or if anyone who reads this is aware of a LST 481 Shipmate listed below please contact Ray Harper [Rharper@hiwaay.net] or 2018 13th St SE. Decatur, Al 35601
---
(43 active members & 14 Deceased)
---