Ships of the U.S. Merchant Marine, 1940-1945
SS Paul Hamilton
Liberty Ship:
Displacement: 14,250 tons (full load)
Length: 441'7"
Beam: 56'11"
Draft: 27'7"
Speed: 11 knots
Cruising radius 17,000 miles
Armament: 1 5"; 1 3"; 8 20mm
Complement: 8 officers, 39 men; 29 Naval Armed Guards
Cargo: Explosives, 500 troops
Steam reciprocating engines; 2,500 hp
Built at _____, and commissioned in 1942
Owned by War Shipping Administration; operated by Black Diamond SS Co.
History:
On 3 April 1944, the Paul Hamilton sailed from Hampton Roads, Virginia, for Italy via Bizerte, Tunisia, in Convoy UGS-38. As the Liberty ships steamed in convoy station #66 or #76, German torpedo planes attacked the convoy. A torpedo struck the Hamilton, and she suffered a tremendous explosion as the cargo detonated. Flames from the blast reached almost 1,000 feet into the air. The remnants of the ship sank in thirty seconds. On board were 8 officers, 39 men, 29 armed guards, and 504 troops. None of these men survived the violent explosion.
Additional Links: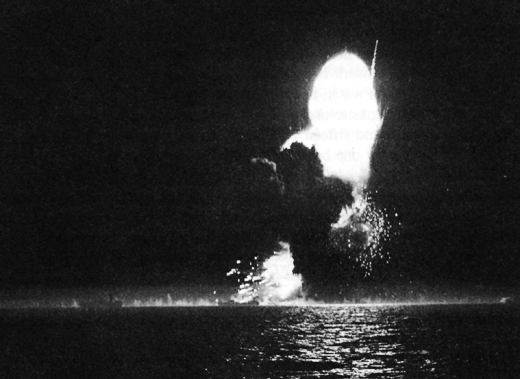 Paul Hamilton's tragic end after an aerial torpedo struck her cargo of explosive. Note the splashes from the debris in the water.
---
---

Return to Ships of the U.S. Merchant Marine, 1940-45

Return to HyperWar: The Hypertext History of World War II
---
Last updated: April 13, 1998