Ships of the U.S. Navy, 1940-1945
WAG-280 USS Southwind
Wind class Miscellaneous Auxiliary: Icebreaker:
Displacement: 6,515 tons
Length: 269'
Beam: 63'6"
Draft: 25'9"
Speed: 16.8 knots
Armament: 2x2 5"/38, 4x3 40mm, 6 20mm, 2 dc tracks, 6 Y-guns, 1 hedgehog
Complement: 21 officers, 295 enlisted
Diesel-electric machinery; 10,000 HP; 3 screws (2 aft/1 forward)
Built at Western Pipe & Steel, San Pedro, Cal., and commissioned 15 July 1944
---
Additional Links:
---
From 1944-1945, Southwind was assigned to CINCLANT, stationed at Boston, Mass. and operated in Greenland waters throughout WWII.

On 15 Oct 44, supporting Eastwind (WAG-279), captured German weather ship Externsteine off Cape Borgen, Shannon Island, Greenland, with 17 prisoners. The Externsteine was taken to Boston by a prize crew: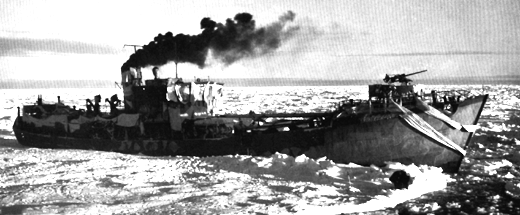 KM Externsteine
Transferred to USSR, 23 March 1945.

Return to Ships of the U.S. Navy, 1940-45: Miscellaneous Auxiliaries: Icebreakers

Return to Ships of the U.S. Navy, 1940-1945
---
Last updated: March 16, 2000