USS LST-130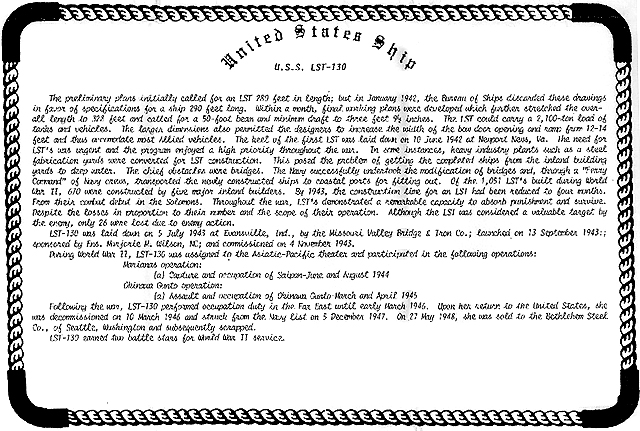 ---
The preliminary plans initially called for an LST 280 feet in length; but in January 1942, the Bureau of Ships discarded these drawing in favor of specifications for a ship 290 feet long. Within a month, first working plans were developed which further stretched the overall length to 328 feet and called for a 50-foot beam and minimum draft to three feet 91/2 inches. The LST could carry a 2,100-ton load of tanks and vehicles. The larger dimensions also permitted the designers to increase the width of the bow door opening and ramp for 12-14 feet and thus accommodate most Allied vehicles. The keel of the first LST was laid down on 10 June 1942 and Newport News, Va. The need for LST's was urgent and the program enjoyed a high priority throughout the war. In some instances, heavy industry plants such as a steel fabrication yards were converted for LST construction. This posed the problem of getting the completed ships from the inland building yards to deep water. The chief obstacles were bridges. The Navy successfully undertook the modification of bridges and, through a "Ferry Command" of Navy crews, transported the newly constructed ship to coastal ports for fitting out. of the 1,051 LST's built during World War II, 670 were constructed by five major inland builders. By 1943, the construction time for an LST had been reduced to four months. From their combat debut in the Solomons. Throughout the war, LST's demonstrated a remarkable capacity to absorb punishment and survive. Despite the losses in proportion to their number and the scope of their operation. Although the LST was considered a valuable target by the enemy, only 26 were lost due to enemy action.

LST-130 was laid down on 5 July 1943 at Evansville, Ind., by the Missouri Valley Bridge & Iron Co.,; launched on 13 September 1943; sponsored by Mrs. Marjorie M. Wilson, NC; and commissioned on 4 November 1943.

During World War II, LST-130 was assigned to the Asiatic-Pacific theater and participated in the following operations:
Marianas operation:

(a) Capture and occupation of Saipan--June and August 1944

Okinawa Gunto operation:

(a) Assault and occupation of Okinawa Gunto--March and April 1945
Following the war, LST-130 performed occupation duty in the Far East until early March 1946. Upon her return to the United States, she was decommissioned on 10 March 1946 and struck from the Navy list on 5 December 1947. On 22 May 1948, she was sold to the Bethlehem Steel Co., of Seattle, Washington and subsequently scrapped.
LST-130 earned two battle stars for World War II service.