May 1st, 2011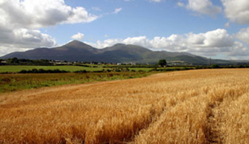 This is a traditional Irish song I learned from the Makem & Spain Brothers. It's on their latest CD "
Up The Stairs
." I appreciate that they're keeping the old songs alive!
Lyrics:
[C] I am a true born Irishman
I'll never [G] deny what [C] I am
I was born in a sweet [Am] Tipperary town
[C] Three thousand [G] miles [C] away
-Chorus-
?[C] So hurray me [G] boys [C] hurray?
No more do I wish for to [F] roam?[C]
For the sun it will shine in the [Am] harvest time?[C]
For to welcome [G] poor Paddy [C] home
Now the girls thay are gay and frisky?
They'll take you by the hand?
Saying Jimmy McGuinn would you please come in?
To welcome poor Paddy home
-Chorus-
Well in came the foreign nation?
And scattered all over the land?
The horse and the cow and the goat, sheep and sow
?Fell into the stranger's hand
-Chorus-
Now Scotland can boast of the thistle?
And England can boast of the rose?
But Paddy can boast of the old Emerald Isle
?Where the dear little shamrock grows.
-Chorus-