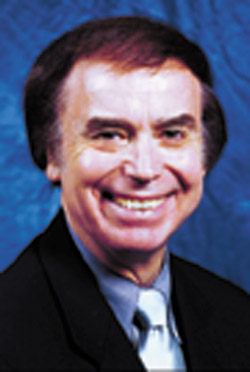 Dean Richard Cole
From the dean —
School adds faculty positions
Photo by Dan Sears
Hot damn! Our faculty is getting larger.
UNC-CH has recognized our pressing need for more faculty members, and we now have six open positions. Let me give you the background:
Two faculty members resigned this summer. I should point out that resignations from our School are not only unusual but virtually unheard of. We're mighty fortunate that way. But one resignation was the wife of a doctoral student who was completing his program in our School. They naturally wanted to go to a university where two positions were open. At that time, we had no openings whatsoever. The other person who resigned took a much higher-paying position with a dot-com.
That accounted for two openings, and I was able to get some extra money and put together a third position.
Then this fall Interim Provost Dick Edwards heeded my call for additional positions — for years we've had the worst student-faculty ratio on the campus — and gave us three more slots. That was a boon, indeed. No other UNC-CH department or school received so many new position lines and dollars.
Besides these new positions, another faculty member joined us Jan. 1. Some of you know Jock Lauterer, who used to be on our faculty and was a journalist in North Carolina for years. He is a spousal hire from Penn State, where he and his wife have been faculty members for several years. His wife is being hired into the Friday Chair in the UNC-CH School of Education. Jock will teach community journalism and other courses in our School and run the Community Media Project, an ongoing series of activities with community newspapers. This will be an important new program, and we're delighted to get Jock back.
After considerable discussion in faculty meetings to define the new positions, we're now searching for five people: two in public relations — our biggest sequence and the greatest need for additional professors — and one each in advertising, visual communication and communication technology. In fact, all the people hired will have knowledge in new media.
We decided to wait until these five are selected before defining the sixth position, in order to look at the overall composition of our faculty then. That makes good sense.
When everyone is on board, our current 33 full-time faculty members will have grown to 38, a 15 percent increase. All the new folks will be assistant professors, which is what we need. Because so many of our faculty members have had long, distinguished careers here, we now have 17 full professors, 10 tenured associate professors, one veteran lecturer and only three assistant professors. (Two positions are vacant because of the resignations and are included in the current searches.)
It's an exciting time for us. Fortunately, we're in a dynamic, growing field that attracts more and more students. Enrollments in our field are growing nationally. Our mushrooming enrollment has been not only a blessing but also a problem in providing enough course sections and facilities for all the students. In one measure to help control enrollment, the faculty recently voted to increase the minimum grade-point average from 2.4 to 2.7 to enter our School. (As we do now, we'll continue to have a procedure to evaluate special cases.)
Even the six new faculty members won't give us all we need. I'll continue to press for additional faculty positions, and we'll find other creative ways to meet our needs. Some doctoral students with good professional experience will continue to help ease our load in teaching; they get excellent course evaluations from students. And we'll keep on raising private funds to provide people and facilities to give students the best education we possibly can, and to allow our School to continue providing cutting-edge scholarship and service for our field. That remains our goal.
Onward and upward,