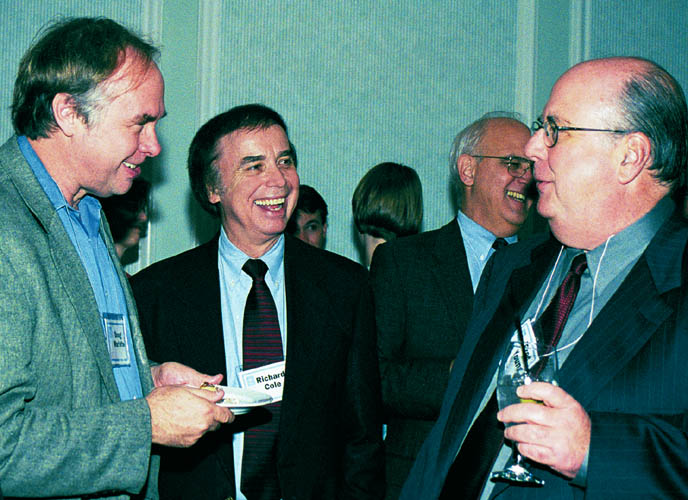 Political cartoonist Doug Marlette, left, talks with Dean Richard Cole and Fred Young, national vice president for news of Hearst Argyle Television Inc. Marlette discussed political cartooning and his comic strip, "Kudzu," at the third Park Lecture in October.
Cartoonist Marlette delivers
Park lecture
Photo by Emily Netzel
"I am ticked off all the time," said Pulitzer prize-winning cartoonist Doug Marlette. "I'm invigorated by meanness — it's a gift. In daylight-saving time, I'm mean for another hour."
Such harsh words might sound surprising coming from the gentle face of a man born and raised in the South. But Marlette's cartoons pack tough punches that belie his kind smile, as the audience of students and guests at the third-annual Park Lecture quickly discovered.
During the lecture, which was sponsored by the School of Journalism and Mass Communication and held in Carroll Hall on Oct. 26, Marlette said he trusts the angry, cynical part of himself "more than the affable sunbelt Rotarian side."
Declaring that "cartoons should be seen and not heard," Marlette structured his talk around slides of his cartoons, demonstrating his talent and explaining the process and effects of each drawing.
"A great political cartoon is a monster jam, a scud missile, a drive-by shooting," he said. "It's also a poem, a prayer, a religious experience. It can strike at the heart like a lightning bolt from above and change the way you see and think and feel."
With his pen, he has unleashed his meanness — and his sense of humor — on everyone from Hillary Clinton to Charlton Heston. The audience burst into laughter at a cartoon depicting George W. Bush carrying a boom box and shouting, "Whaassuuup!?" attempting to appeal to black voters. Then they cringed at a depiction of the racial inequity of the death penalty. Marlette has tackled many issues, from road rage to frozen embryos. He identified abortion as one issue he has trouble drawing about because his own feelings are conflicted.
He also has honored people with his cartoons, drawing obituaries for such stars as Ginger Rogers and George Burns. His illustration of a crying eagle looking up to space after the 1986 space shuttle Challenger disaster so inspired readers that The Charlotte Observer printed more than 70,000 copies of the drawing for distribution.
Marlette first discovered the power of political cartoons growing up in the American South during the 1960s.
"For a Southern Baptist Marine Corps military brat, such images come to you like fire, like a flaming pillar leading you out of the darkness and into the Promised Land," he said. "They spoke to me in unknown tongues of peace and racial equality and social justice and the brotherhood of man. They taught me a reverence for irreverence."
Born in Greensboro and raised in Durham, Marlette also lived in Laurel, Miss., and Sanford, Fla. He now resides in Hillsborough with his wife and son.
He got his start as the editorial cartoonist for the Florida Flambeau while attending Florida State University, but left in 1972 to become the political cartoonist for The Charlotte Observer. He joined the Atlanta Journal-Constitution in 1987. Two years later, he started at New York Newsday, where he continues to work today.
As an editorial cartoonist, Marlette has encountered regular criticism from readers and colleagues. His cartoon about the Pope was followed by an apology from Newsday, the only time that has happened in his career. His 1984 drawing of Jesse Helms mooning the public from his office window after defeating Jim Hunt in a closely contested N.C. Senate race generated a significant negative reaction. Other journalists at The Charlotte Observer resented his depiction of Jerry Falwell as the serpent in Eden because Falwell had been a primary source for stories about Jim and Tammy Faye Bakker.
"I'd had no idea, but I noticed a distinct chill after that cartoon," Marlette said.
In addition to his political cartoons, Marlette also is well known for his comic strip, "Kudzu," created in 1981. The strip, syndicated in 300 newspapers throughout the United States and abroad, features Kudzu Dubose and the people of the town of Bypass. Much of the inspiration for the strip comes from his own youth.
"I grew up in towns so backwards even the Episcopalians handle snakes," he quipped.
Kudzu himself is a "portrait of the artist as a young man," Marlette said. "My adolescence was this long, hideous nightmare — one long sustained whoopee cushion of embarrassment. But it's funny."
The cartoon's voice of wisdom, the Reverend Will B. Dunn, is modeled after Will D. Campbell, a Mississippi author. Marlette describes Kudzu's mom as the "Southern equivalent of the Jewish mother" and Uncle Dub as "the classic good ol' boy."
Marlette started the comic strip because he wanted to produce more than just the "slam dunk" effect of the editorial cartoon.
"I wanted to deal with more enduring issues, like strivings for love, power and barbecue," he said.
The musical adaptation of the strip, a collaborative effort with Jack Herrick and Bland Simpson of the Red Clay Ramblers, was performed recently at Duke University and at Ford's Theatre in Washington, D.C.
Marlette has won every major award for editorial cartooning including the 1988 Pulitzer Prize. In 1998, he received his third National Headliners Award for Consistently Outstanding Editorial Cartoons. He has twice received the Robert F. Kennedy Memorial Award for editorial cartooning and was the first and only cartoonist to win a Nieman Fellowship at Harvard University. Marlette also won first prize in the 1992 Fischetti Cartoon Competition, becoming the only repeat first-prize winner in the award's history.
Marlette has appeared on NBC's "The Today Show," CBS's "Morning News," ABC's "Nightline," National Public Radio's "Morning Edition" and the "Newshour with Jim Lehrer." He also has written columns for Esquire and contributed to The New Republic and The Nation magazines. His work is collected in 17 volumes, including Even White Boys Get the Blues and I Feel Your Pain. His first novel, Mama Lucy, will be published by HarperCollins next summer.
Cyndi Soter is a first-year master's student in the professional track.