The Stalking-Horse Module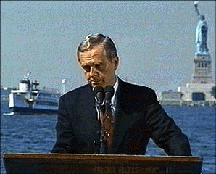 IDEOLOGIC analysis of Gov. Pete Wilson's success in California and his failed presidential bid clearly identifies a single factor containing several social and economic issues (gay rights, abortion, race, education, affirmative action, and immigration) which uses immigration as the stalking-horse issue. In California, Wilson affected voters' assessments on these other issues without raising them by discussing the surrogate issue -- immigration policy -- because California voters link these issues together in their assessments of candidates. So, immigration acted as a powerful surrogate issue, in California.
---
Go to the IDEOLOGIC assessment of California voter data.
---
Go to discussion of Enhanced IDEOLOGIC's additional advantages.
For more information, contact the IDEOLOGICal group by email.
---