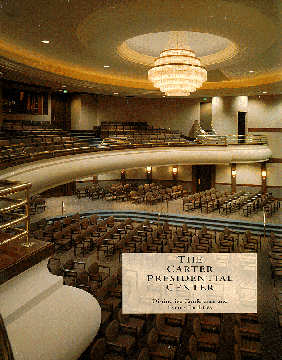 The
Carter
Presidential
Center
Distinctive Conference
and Events Facilities
photographs by Gabriel Benzur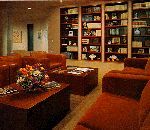 THE UPPER COMMONS
is a quiet, comfortable retreat where guests can break away from meetings and enjoy the art and decorative objects found throughout The Carter Presidential Center. Most of the items are gifts to President and Mrs. Carter.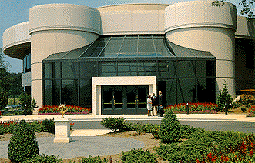 THE IVAN ALLEN III PAVILION
contains the Cecil B. Day Chapel (initial picture) and other conference facilities. The chapel seats up to 450 people for meetings, religious services, concerts, and other events.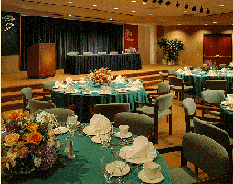 THE CYPRUS ROOM
can accommodate up to 275 people for meetings and up to 210 guests for formal seated dinners.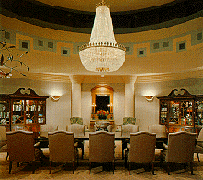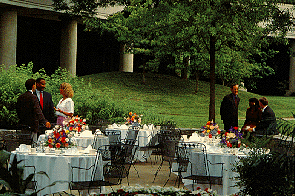 CATERING PROFESSIONALS provide a range of dining experiences, from healthful and elegant meals to tempting refreshments for indoor and outdoor receptions.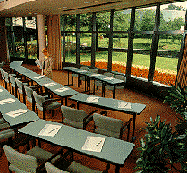 "ROSALYNN AND I FOUNDED
The Carter Center as a place where people could gather to discuss issues and ideas, pursue a common dream, or resolve longstanding differences in a beautiful and peaceful setting."
--Jimmy Carter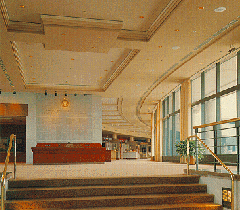 "People have found The Carter Center to be a meeting place and a talking place where they have been able to break the ice."
--Olusegun Obasanjo, former president of Nigeria

THE CARTER PRESIDENTIAL CENTER
is home to a group of nonprofit, nonpartisan programs dedicated
to promoting peace and human rights, resolving conflict, forstering
democracy and development, and fighting poverty, hunger, and disease
throughout the world. Four of the five interconnected pavilions house
offices for the former president and first lady and the Center's programs,
which are affiliated with Emory University. The Jimmy Carter Library,
located in the fifth pavilion, is operated by the National Archives.
The Carter Presidential Center is a meeting place for people from Atlanta and all over the world. Visitors and dignitaries experience the Center's international spirit through hundreds of events hosted here each year.

On a hill overlooking Atlanta, the Center sits on 35 wooded acres just two miles from downtown. Five circular pavilions provide quiet views of gently rolling hills and a Japanes garden tucked between two small lakes.

Visitors may stroll through the rose and cut-flower gardens.

Inside, guests are treated to an eclectic array of art by American and international artists, mementos from the Carter White House, and specially designed furnishings. Flexible, innovative spaces make ideal settings for meetings or conferences, festive galas, elegant dinners, and intimate concerts in a historic setting.
AMENITIES OFFERED BY THE
CARTER PRESIDENTIAL CENTER INCLUDE:
Experienced and knowledgeable conference staff.
State-of-the-art audiovisual equipment and services,
including satellite broadcast capability.
Outstanding food and banquet services.
Skilled docents and volunteers serving as hosts and guides.
Tours of the Museum of The Jimmy Carter Library.

---
For information on availability and pricing, contact the Events Office at (404) 420-5112 or write:

The Carter Center Events Office, One Copenhill,
Atlanta, Georgia 30307
FAX (404) 614-3737
---
To contact The Carter Center Events Staff by email, simply fill out the form below: