Rosalynn Carter
(1927 - )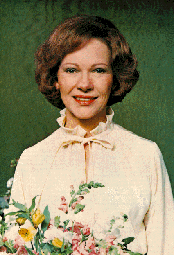 Rosalynn Smith Carter was born August 18, 1927, in Plains, Georgia, the daughter of Allie Murray and Edgar Smith. Since 1962, the year Mr. Carter was elected state senator of Georgia, Rosalynn has been active in political life. As first lady of Georgia, Rosalynn was appointed to the Governor's Commission to Improve Services for the Mentally and Emotionally Handicapped. The Commission presented recommendations to Governor Carter, many of which were ultimately passed into law. She also served as a volunteer at the Georgia Regional Hospital in Atlanta and for five years was honorary chairperson for the Georgia Special Olympics for Retarded Children.
In January 1975, when his gubernatorial term was over, Mr. Carter, along with Rosalynn and Amy, went back to Plains. He had already announced his plans to run for President of the United States. Rosalynn returned to the campaign trail, this time in a national quest for support for her husband. She campaigned alone on his behalf in 41 states.
During the months she was campaigning across the country, Rosalynn was elected to the board of directors of the National Association of Mental Health; she was honored by the National Organization for Women with an Award of Merit for her vigorous support for the Equal Rights Amendment; and she received the Volunteer of the Year Award from the Southwestern Association of Volunteer Services.
During her years in the White House, Rosalynn was honored by many organizations and received numerous awards. She served as honorary chair of the President's Commission on Mental Health, the work of which resulted in the 'passage of the Mental Health Systems Act. She was named the Volunteer of the Decade by the National Mental Health Association. Rosalynn also received two honorary degrees as First Lady: a Doctor of Humanities degree from Tift College and a Doctor of Humane Letters degree 'from Morehouse College.
Since returning to Plains, Mrs. Carter has received the Presidential Citation from the American Psychological Association, the Distinguished Service Award for Leadership in Christian Social Ethics from the Christian Life Commission of the Southern Baptist Convention and in August of 1983, she was elected to the board of directors of the Gannett Company, Inc. In April of 1984, Mrs. Carter became a member of the board of advisors of Habitat for Humanity, Inc.
Her autobiography, FIRST LADY FROM PLAINS, was published in May of 1984. That same month, she was made an Honorary Fellow of the American Psychiatric Association and is also board member emeritus of the National Mental Health Association. She is also co-author of EVERYTHING TO GAIN: Making the Most of the Rest of Your Live, 1987. Mrs. Carter's most recent book, HELPING YOURSELF HELP OTHERS, explores how we can learn to "approach care giving as a blessing as well as a challenging task." It draws on her personal experiences and those of she has encountered both as First Lady and as the Director of the Rosalynn Carter Institute for Human Development.
---
FAMILY
HUSBAND:
Jimmy Carter, born in Plains Georgia, October 1, 1924. Married July 7, 1946.

CHILDREN:

John William (Jack) Carter, born July 3, 1947, in Portsmouth, Virginia. His son, Jason James Carter, was born August 7, 1975, and daughter, Sarah Rosemary Carter, was born December 19, 1978. He is married to Elizabeth Brasfield of Chagrin Falls, Ohio. Her children are John and Sarah Chuldenko.
James Earl (Chip) Carter III, born April 12, 1950, in Honolulu, Hawaii. His son, James Earl Carter IV, was born February 25, 1977. He is married to Ginger Hedges of Americus, Georgia. Their daughter, Margaret Alicia Carter, was born September 23, 1987.
Donnel Jeffrey (Jeff) Carter, born August 18, 1952, in New London, Connecticut. Married Annette Jene Davis of Arlington, Georgia. Children: Joshua Jeffrey Carter, born May 8, 1984, Jeremy Davis Carter, born June 25, 1987, James Carlton Carter, born April 24, 1991.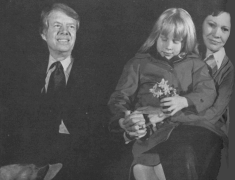 Amy Lynn Carter, born October 19, 1967, in Plains, Georgia.
Text by Steven H. Hochman
html by Terry Sullivan