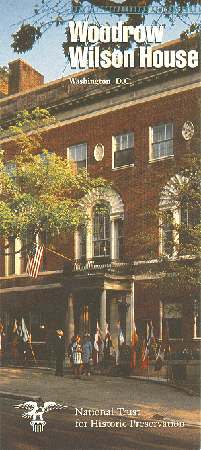 This web service provides information on the National Trust for Historic Preservation and its projects at the Woodrow Wilson House Museum in Washington, D.C.
---
If you have any questions about this service, please contact PRESIDENT at PRESIDENT@unc.edu.
For information about the Wilson House, itself, email to faucella@woodrowwilsonhouse.org.
---
---
Woodrow Wilson House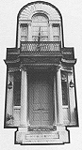 The life and times of President Woodrow Wilson are captured in this National Historic Landmark. Scholar, educator, governor, statesman and the only former president to make his home in the nation's capitol, Wilson retired to the Embassy Row section of Washington in 1921. In leading the United States through World War I, as welll as working tirelessly to establish the League of Nations, Wilson expanded America's role in international af fairs and placed the country in a position of world leadership. The red brick Georgian Revival town house is rich in the legacy of Wilson's remarkable career.
The house at 2340 S Street, N.W., was designed in 1915 by architect Waddy B. Wood and was purchased by the President in 1920 as a surprise for his second wife, Edith Bolling Wilson. Following a Scottish tradition, Wilson presented his wife with a small p iece of sod from the garden and the key to the front door. Here the Wilsons entertained prominent visitors, including David Lloyd George and Georges Clemenceau, read books from their extensive library, enjoyed movies and often went for rides through Rock Creek Park and into the Virginia coutryside.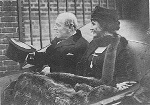 Woodrow Wilson began his long and varied career as a university professor, writing nine books and more than 35 articles on politics and history. After serving as president of Princeton University, he was elected governor of New Jersey. In 1912, he was elected president of the United States, winning re-election to a second term in 1916.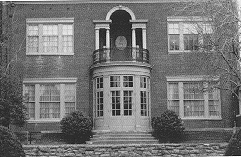 After the president's death in 1924, Edith Wilson continued to live in the S Street house, carefully preserving its mementos and furnishings. Upon her death in 1961, she bequeathed the house and its contents to the National Trust for Historic Preservation. Each room, from the well-stocked kitchen to the solarium overlooking the garden, offers a glimpse into the former president's life and household during the years following the First World War.
We invite you to explore this unique time capsule of Washington history in the 1920s.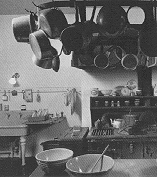 ---
Location:
2340 S Street, N.W., Washington, D.C. From Dupont Circle Metro, travel northwest on Massachusetts Avenue for seven blocks on S Street. Turn right to 2324 S Street.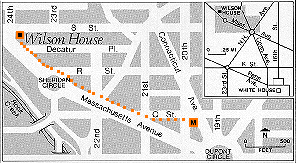 Open to the Public:
January through December, Tuesday-Sunday, 10 a.m. to 4 p.m. Closed Thanksgiving, Christmas and New Year's Day. Groups admitted year round by reservation.
Persons requiring special assistance are encouraged to cal lthe property before their visit for more specific information.
Admission charged.
Woodrow Wilson House Museum Shop/group tours/special uses on request.
Woodrow Wilson House (1915), a museum property of the National Trust for Historic Preservation, is accredited by the American Association of Museums. For further information write or call:
Woodrow Wilson House Museum
2340 S Street, N.W.
Washington, D.C. 20008
(202) 387-4062
---

Return to PresidentS.