. . . Presents . . .
to President and Mrs. Jimmy Carter
---
On January 24, 1995, the staff of PRESIDENT discussed creation of the world's first fully electronic (or virtual) presidential library with President and Mrs. Jimmy Carter. President Carter had requested a demonstration of the PRESIDENT project and wanted to hear about the proposal for a virtual library. The plans for the first virtual library (the first of three) call for rolling out the Carter Library before the 1996 Olympics opens in Atlanta.
As the meeting began, President Carter joked that although he had requested the meeting, at 70 he was really "too old" to be learning about the Internet. Professor Terry Sullivan, director of PRESIDENT, assured both the Carters that everyone there was very familiar with the concerns President Carter voiced and that we looked forward to convincing them both that the Internet was a valuable information resource.
The demonstration utilized a SPARC-20 workstation provided by a Sunsite corporate partner, Sun Microsystems, Inc. Robert Bowman, Vice President of Sun for the Eastern Division, is seated three down from Mrs. Carter. In addition to this machine, named "Sport" (after one of President Carter's poems), Sun provided three slave screens connected by an additional driver. The other three screens allowed Carter Center staff and representatives from each of the cooperating partners to view the demonstration. In addition, Sun provided a new Voyager laptop to act as a backup machine and to monitor network performance. Georgia Tech and Southern Bell brought into the library a new but temporary DSN line which afforded the Carters impressive performance. Gordon Wishon, the Director of GATech's Office of Information Technology, is in the background, closest to Mrs. Carter. Carnegie-Mellon and its crew at Lycos also stood by with a special connection for the Carters in case they were interested in searching the Web for useful information. Staff at Sunsite.unc.edu also stood by monitoring network performance.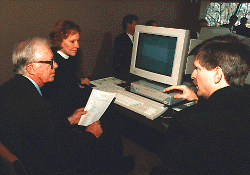 The presentation covered answers to four questions:
What is PRESIDENT?
Why is UNC Chapel Hill involved?
Why start with the Carter Library?
How does PRESIDENT work?
Answering the first three questions presented a brief overview of the PRESIDENT project. These three sections lasted about 10 minutes followed by questions from the Carters. The last section introduced an actual demonstration of the PRESIDENT project, including an exhibit on the Camp David Accords.
---
Presentation Synopsis
This section briefly covers the most important points of the meeting. Selecting here, you can view the full presentation to the Carters.
What is PRESIDENT?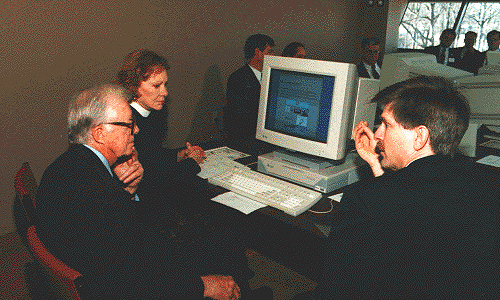 PRESIDENT is a partnership of private and public institutions whose goal is to develop the information resources of the presidential libraries. The partners indicated below facilitated this presentation, as an example of what PRESIDENT represents.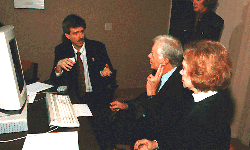 Why Carolina & Why the Carter Library?
Professor Sullivan made the following points about UNC Chapel Hill and the Carter Library Project:
Carolina has a scholarly tradition focussing on the Presidency. It has a global reach through Sunsite. And it has enormous experience in Internet information service,e. g., last year Sunsite served 45 times more requests for information than did the entire National Archives.
The Carter Library was selected as the site for the first (the model) virtual presidential library because it has the most recent materials ready for access. It has a commited and enthusiastic staff. And because of the President's and Mrs. Carter's current activities, it represents a challenge to connect the past to the future.
In the question and answer session, President Carter was most concerned about ways in which the general public could get access to PRESIDENT and how to get his own computer set up to access the Internet. Gordon Wishon volunteered the services of Georgia Tech (President Carter is an alumnus) and they scheduled a meeting for two days later.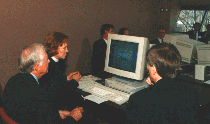 The Carters then viewed a demonstration using materials from the Carter Library and focussing on the Camp David Accords. After that, President Carter spent some time looking at the Internet Poetry Archives on Sunsite. Professor Sullivan suggested that IPA could present some drafts of his poems and a reading. President Carter agreed to do that.
---
Staff involved in the presentation.

Following the presentation, President and Mrs. Carter graciously offered to have their pictures taken with all of the staff who had worked so hard to help them with this presentation. The following are some of those pictures (l to r):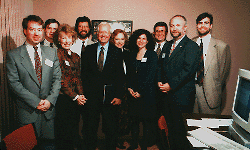 Mr. Chris Colomb, Systems Programmer, Sunsite.
Mr. James Denenny, Technical Support, Sun Microsystems.
Ms. Rene Carney, Director Corporate and Foundation Relations, UNC Chapel Hill.
Mr. Ron Hutchins, Director Network Services, OIT Georgia Tech.
President Jimmy Carter.
Ms. Cheryl Friedman, Chief Designer and Information Developer, PRESIDENT.
Mr. Dan Streuber, Regional Sales Representative, Sun Microsystems.
Mr. Dennis Cross, Executive Director Arts and Sciences Foundation, UNC Chapel Hill.
Mr. James Parrish, Director Corporate Relations, UNC Chapel Hill.
Sport.oit.gatech.edu, Sun Microsystems.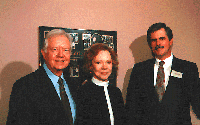 The Carters with Mr. John Mullin, Director of Planning and Programs at OIT, Georgia Tech.
Professor Paul Jones, Director of Sunsite.unc.edu, the Carters, and Mr. Richard Bowman, Vice President Atlantic and Southeastern Region, Sun Microsystems.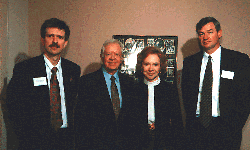 Professor Terry Sullivan, Director of PRESIDENT and Mr. Gordon Wishon, Director of OIT at Georgia Tech with the Carters.
---
Not pictured, but who participated:
Mr. Gene Parker, Director Corporate & External Affairs, Southern Bell.
Mr. Scott Register, Research Scientist [and Sport-meister], OIT Georgia Tech.
Mr. Richard Jacobs, Acting Director Presidential Libraries System, National Archives and Records Administration.
Mr. Richard Taylor, Systems Engineer, Ascend Communications Inc.
Mr. Judson Knott, Manager Development Group, OIT UNC Chapel Hill.
Mr. Jonathan Magid, Systems Programmer, Sunsite.unc.edu.
Mr. David McConnville, Information Resource Developer, Sunsite.unc.edu.
Mr. Glenn Lewis, Information Resource Developer, Sunsite.unc.edu.
Mr. Doug Matthews, Information Resource Developer, Sunsite.unc.edu.
Ms. Katherine Webster, Director Educational Marketing, Sun Microsystems.
---
Select here for photographic credits.
---
Select Here for One of These Related Web Resources

Select Sunsite Classic, the Internet Resource

---
Visit the LIA archives, UNC Chapel Hill home of the Presidential Libraries IDEA Network and other useful information resources. Or go directly to the Jimmy Carter Presidential Library to locate other materials related to the Carter Administration and information about the Carter Library's special project for the Atlanta 1996 Olympics. Go to PRESIDENT, the Presidential Libraries IDEA Network for an overview of the presidential libraries and their holdings. Or visit the Clinton White House.

Finally, you can visit SunSITE-USA, UNC Chapel Hill, one of the premier information resources on the world wide Internet.
---
Photographic Credits
All of the photographs in this presentation -- Wittmayer Photographers, Inc., Atlanta, Georgia.
---
Return to Carter presentation.
Return to What's New on PRESIDENT.
Select here for PRESIDENT.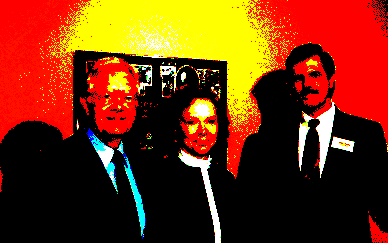 So Cool! How did this guy get in a picture all by himself?
Select here for a proper picture of John Mullin.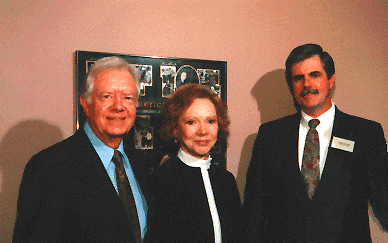 Select here to return to the Carter presentation.