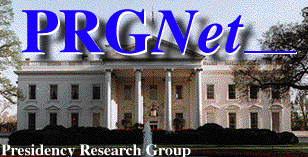 PRGNet is a service of the Presidency Research Group, APSA. It is intended to speed the transfer of information about the presidency and to improve the circulation of research materials on the presidency. Services include an electronic conference center planned to create real time conferences, research materials including copies of papers, and standard research materials on the presidency.

Researchers on the presidency are welcomed and encouraged to register with the PRG/APSA. Registration fees are $7.00 and entitle members to a subscription to PRG Report the group's newsletter.

Neustadt Conference - Sponsored by PRG and Columbia University, Nov. 1996.
---
PRG Directory
: Constitution of the PRG. : Policy Statements on issues affecting research on the presidency.

Presidency Research Library
- depository of working papers by PRG members. This section is still under planning.
---
You may contact PRG by sending email to PRGNet@unc.edu.
---
Related Resources
---
Return to LIA.
---