The Philippines include more than 7000 islands stretching over 1750 km (1100 mi) of the western Pacific. The archipelago was a Spanish colony until the Spanish-American War of 1898, which brought the islands under U.S. administration. Japan occupied the islands during World War II (1942-45), and the country became independent shortly thereafter (1946).
This page lists lighthouses of the west central Phillipines, including the provinces of Occidental Mindoro, Oriental Mindoro, Marinduque, and Romblon. This area is part of an administrative region of the country known by the acronym Mimaropa. The area includes the large island of Mindoro and the smaller islands of Marinduque, Tablas, Romblon, and Sibuyan, as well as many still smaller islands.
The lighthouse preservation movement is gaining some momentum in the Philippines. Until recently, all of the historic light stations were in very poor condition. However, the Philippines Coast Guard, which operates aids to navigation in the country, has recently repaired and renovated many of the towers. An "adopt a lighthouse" program has taken hold, and there's hope more extensive restorations will be carried out within the next few years.
Philippine lighthouses are often called parolas, an apparent adaptation of the Spanish word farola. Many Philippine lighthouses are not well known, so better information and photos are needed.
ARLHS numbers are from the ARLHS World List of Lights. Admiralty numbers are from volume F of the Admiralty List of Lights & Fog Signals. U.S. NGA List numbers are from Publication 112.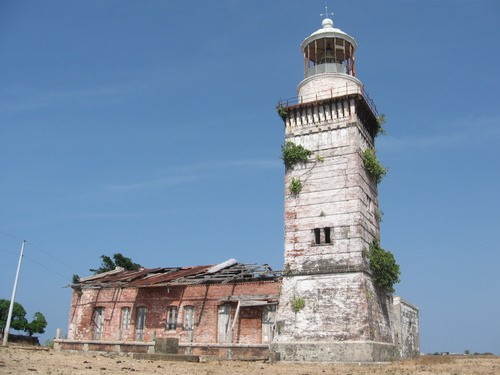 Cabra Island Light, Occidental Mindoro, January 2008
Flickr photo copyright M.J. de Lara; permission requested