Hogs Wild
5910 University Parkway
Winston-Salem, NC 27105
910-377-3550
A brand new joint that has yet to develop character. The facilities are spartan and do not have a sit-down counter. The finishing sauce is undistinguished. But, to their credit, the folks there bucked the trend and opened a new joint that does go to the trouble of pit-cooking their barbecue the right way.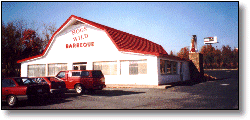 At Hogs Wild, they cook shoulders over coals made from hardwood slabs. One of their two pits pit holds ten shoulders and the other accomodates twenty. Cooking time is about twelve hours.

Log Burner