B's Barbecue
Corner of N.C. 43 and B's Barbecue Road
Greenville, North Carolina
"How could you possibly leave out B's Barbeque just outside Greenville?" J.P.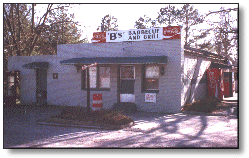 Simple. They don't cook with wood. Use to, but they got lazy. It's now a run-of-the-mill charcoal joint. Like many of the other "fallen" giants, it lives on reputation and remains a very popular joint! If you want real barbecue, however, head on down the road south of Greenville about ten miles to the Skylight Inn in Ayden.
"B's Barbecue [is] the Shangri-la of Swinests, a joint so exclusive, elusive and way cool that it doesn't even have a phone or publish its address." D.R.

Fallen Angel