Murray's Barbecue
4700 Old Poole Road
Raleigh, NC
919-231-6258
This classical joint has been serving eastern-style North Carolina pulled-pork barbecue for nearly fifty years. Ralph May, who has owned the place for over a quarter century now, uses only coals made from green hickory in his tidy pits to cook whole hogs in less than 6 hours. The delicately flavored meat is hand chopped and sauced with a relatively mild dip containing only vinegar, salt and pepper. The result is a deliciously subtle barbecue preferred by his many long-time customers. And, as a bonus, the hand-rolled hush puppies are every bit as good as the barbecue.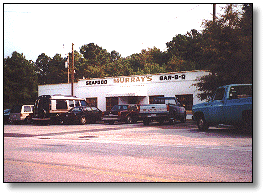 Another classical North Carolina barbecue joint.
The pits, wood yard, restaurant and sundy other buildings are a virtual barbecue compound tucked away on an old section of Poole Road just east of I-440 in Raleigh. (Old Poole Road, as it is called, is now a loop connected to a newer section of Poole Road.) Located well off the the beaten path, the place is open for business only Monday through Friday. But, finding this old gem is well worth the effort if you like a kinder, gentler pulled-pork barbecue prepared in the traditional way.



A Best-of-the-Best Log Burner