Johnny Boy's Ribs
Route 301 & St. Mary's Avenue
La Plata, Maryland
(301) 870-2526 or 1-800-371-RIBS


Well, folks, there we were tooling along on US 301 out there in Maryland on our way to dinner at Sambo's in Leipsic, Delaware. Minding our own business, really, when a mirage appeared before us. We nearly caused an 18-wheeler behind us to jack-knife. There it was. A genuine barbecue stand. Not a restaurant, but a walk-up-to-the-window-and-order stand. With picnic tables out on the lawn where you can sit while eating your barbecue.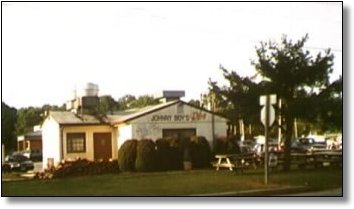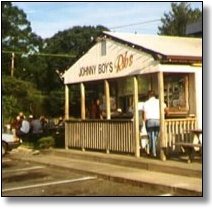 A genuine logburning barbecue stand with outdoor dining in Maryland!
Out back, there was a nice pile of wood and, in an enclosed area, an open pit. Just like the one in Fried Green Tomatoes. Grill about three feet above the burning wood. Block (or maybe it was brick) wall supporting the grill. They cook beef, pork, and chicken. When asked, they said they served North Carolina style barbecue. Naturally we tried the "minced" pork. The young lady even asked it we wanted slaw on my sandwich. The barbecue came "nekked" without any sauce on the barbecue. Wonderful stuff. They offered a finishing sauce. It was a "western" North Carolina sauce from, say, Memphis maybe. The barbecue did not need a finishing sauce and was much better without one. The barbecue and the joint are the real thing.
Now, this place also served up some fine looking ribs but we didn't dare try any. Not with dozens of steamed crabs, shrimp, and clams waiting for us at Sambo's that night.
Barbecue in Maryland!