Wally's Bar-B-Que
244 South Main Street (Next to Lake Como & US-13)
Smyrna, Delaware19977
(302) 653-7515


Well, after closing down Sambo's the night before, we were tooling up the road in Delaware towards Pennsylvania when a second mirage appeared. There it was. Wally's Southern Style Bar-B-Que. "Think we ought to stop?" "Naw, ain't no barbecue this far north." But we did anyhow. That "Southern" part was kinda interesting. Glad we did. The place is run by Wally Green, USAF (Retired) and native son of Bainbridge, Georgia. And, Wally noted that, in a juxposition of the more typical arrangement, he learned to make barbecue from a white guy, Jack Wingate, also of Bainbridge.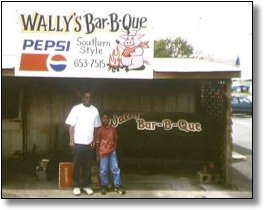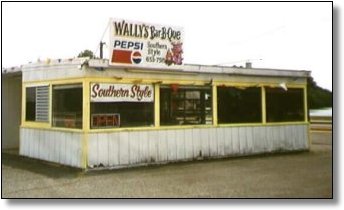 Wally Green and his grandson at the cooker out back of his place in Delaware.

Wally cooks pork butts and ribs, as well as beef brisket, on a huge wood-fired offset smoker hidden from the local constabulary in a shed out back. The smell of barbecue in the making was wonderful! Went in and ordered a pulled pork sandwich. It was a very good Georgia pork barbecue (with a typical sweet, tomato-based Georgia sauce). He has been asked to offer a North Carolina sauce, but refuses because he has no experience with it. As we were leaving, Wally handed us a box of ribs and sez we've gotta give them a try. We did, and let me tell you something. While Wally's barbecue is a delight, his ribs are something to kill for! Go there. Not only is Wally Green is one of the nicest men you will ever meet, he also makes some mean barbecue. So good, in fact, we are willing to overlook that Georgia finishing sauce and make this an "honorary" North Carolina barbecue joint!

Oh, by the way, if you happen to be a little further south, Wally highly recommends Jack Wingate's joint on Highway 97 in Bainbridge, Georgia

.

Barbecue in Delaware!