Stamey's Old Fashioned Barbecue
2206 High Point Road
Greensboro, NC
(910) 299-9888

We are talking here about the Stamey's across the street from the Greensboro Coliseum, right next to he chemical factory. Founded by Warner Stamey in 1930, the restaurant is housed in a fancy new building decorated with Bob Timberlake paintings. But, don't let that stop you. Mr. Stamey learned his trade in Lexington . When you pull into the parking lot, you will see the old pits are still there on the back of the lot. And, big piles of hickory slabs separate you from all that remains of original restaurant -- the car-hop awnings. Go on in! You will be mighty glad you did.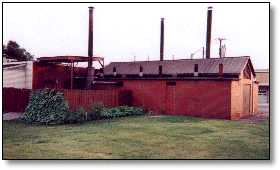 Out back at the Stamey pits.



A Best-of-the-Best Log Burner