Memphis Minnie's Bar-B-Que Joint & Smokehouse
1500 Broadway (at Polk Street)
San Francisco, California 94109
(415) 647-RIBS


Imagine, if you will, dining on abalone at some grotto on San Francisco's famed Fisherman's Warf when the smell of barbecue comes wafting down upon you from a dozen or so blocks up the hill at Memphis Minnie's! Bob Kantor, a classically trained chef, cooks pork shoulders, beef brisket, sausages, and both pork and beef ribs over wood in the heart of town at this joint named for his mother. And, it's good, too!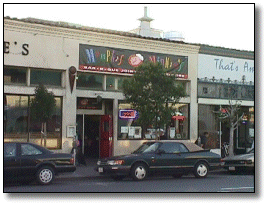 Memphis Millie's is located in the heart of San Francisco.
If you like sauce on your barbecue, both tomato- and mustard-based sauces are available on the table. And he's working on a classical Eastern North Carolina sauce for the pork. Ask for a sample. It's close to the real thing.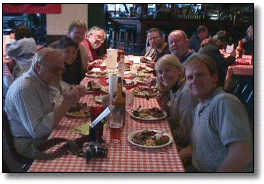 A bunch of happy campers from the barbecue@ipass.net mailing list chow down! (May 20, 1998)
Bob knows what he is doing, folks. The barbecue here is cooked in a thermostatically-controlled wood-burning pit at the right temperature for the right times. The beef brisket will melt in your mouth and the pulled pork is just right, too. The white oak wood, used while still green, is unfortunately not burned to coals. Accordingly, the barbecue has the characteristic bitter bite that results from cooking over a smouldering flame. But, that's a small price to pay for good barbecue in such a foreign land.
Barbecue in California!