Wilber's Barbecue
Kinston Highway
Goldsboro, NC 28489
(919) 778-5218

A plain brick building on the outside ...



... gives way to real wood paneling on the inside.



The pile of oak wood and the pits out back.



Wood being burned to coals near the pits.



Whole hogs in the pit at Wilber's barbecued in the eastern North Carolina style.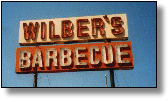 A Best-of-the-Best Log Burner