Ben's Whole Hog Barbecue
7422 Old Centreville Road
Manassas, VA
703-331-5980


Review by Paul Harless



As another barbecue lover has noted in this site, it's durn near impossible to find decent barbecue in the state of Virginia. And here in the suburbs of Washington, DC, finding authentic North Carolina-style barbecue has always meant a four-hour drive south.

Until now. Ben's Whole Hog BBQ, a wood-burning beacon of hope for area barbecue lovers, is now serving Carolina pulled pork that easily rivals the `cue from many celebrated Tarheel establishments. And it's in Manassas, Virginia, a mere half-hour from the nation's capital.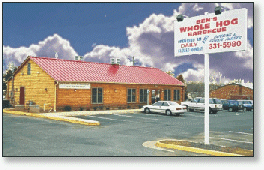 Ben's Whole Hog Barbecue in Manassas, Virginia.
Although the menu also offers beef brisket and barbecued turkey, Ben's is primaily a pork eater's paradise. The Whole Hog version of North Carolina pulled pork is moist, tender, and smoked to near perfection. It almost melts in your mouth. Even better are the dry-rubbed ribs; their smoky, succulent meat pulls from the bone without effort. And although Ben's has a North Carolina vinegar-based sauce (ask at the counter), be sure to try their table sauce - a tangy and slightly sweet variant on the mustard-based South Carolina style - on the ribs. Mouth-watering!
Side orders are almost as good as the barbecue. Of particular interest is the fried okra, but the collard greens and homemade coleslaw merit your attention as well. Ben's also features barbecue hash, a pork lover's delicacy from South Carolina that is rarely offered elsewhere. And for those who crave even more hog, take note that chitlins and pig's feet are also on the menu...but I didn't try `em. Meat platters (ribs, pulled pork, or a combination) are huge, and are served with your choice of two sides and a tasty chunk of cornbread. On top of all that, prices are ridiculously low: ten bucks will satisfy the heartiest of appetites.
Located off Rt. 28 on Old Centreville Road, Ben's is a modest but roomy cabin nestled between a new residential zone and an industrial park. The restaurant's decor is simple and spare, with decorations consisting mainly of piggy memorabilia and taxidermy art. But upon entering, what immediately grabs the attention of any barbecue enthusiast are the covered pits, which are indoors behind the counter. Owner Ben Morris, who designed and constructed the pits himself, will gladly show his handiwork to anyone who asks.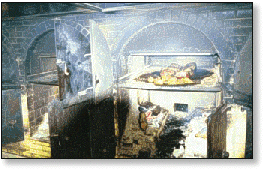 The pits at Ben's.
Morris, a former newspaperman who admits that his entry in the barbecue business was the result of a hobby run amuck, was previously the pitmaster at Georgetown, Georgia's The Pig House. Not surprisingly, Morris is a connoisseur of barbecue joints, citing Lexington #1 and Wilbur's in Goldsboro among his favorites. He seemed shocked and saddened when I informed him that Short Sugar's in Reidsville, NC had recently converted to gas. With his obvious devotion to barbecue, it's a mistake that Morris is not likely to make.
Ben's Whole Hog Barbecue is open Tuesday through Thursday and Sunday from 10:30 am to 10 pm, and Friday and Saturday from 10:30 am to 11 pm. Closed Monday.
Directions
From Washington, DC: From the Capital Beltway, take I-66 west (exit 9A). Take VA-28 (exit 53) towards Centreville. Turn right onto Compton Rd. but immediately stay straight to go onto Ordway Rd, which becomes Old Centreville Rd. Ben's is about a mile ahead on the right.
Barbecue in Virginia!