The Gill's Shindig
August 31-September 2, 1998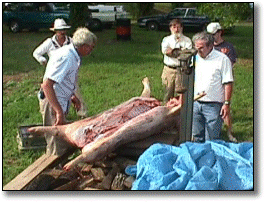 Dan Gill check out Rufus who weighed in at 217 pounds dressed!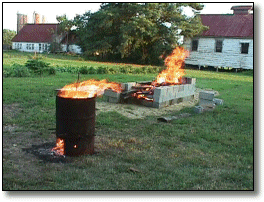 A lovely fire in the pit and burn barrel making a few hickory coals. (Dave loved this part!)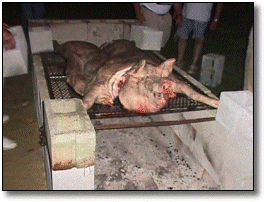 Rufus went on the pit about 10:30 in the evening. I told you he was an ugly hog!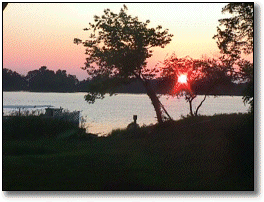 A beautiful sunrise over Lagrange Creek at 6:00 the next morning.
Miss Rapahanock is docked to the left.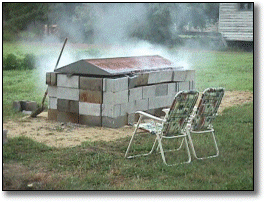 Cooking away in the early morning hours when Dave left to play a golf.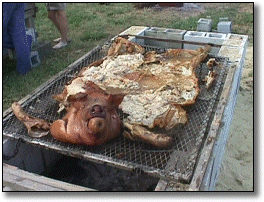 What was left of Rufus when Dave returned from golf about 5:30 in the afternoon!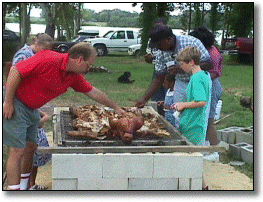 This is why they call it a Pig Pickin', folks!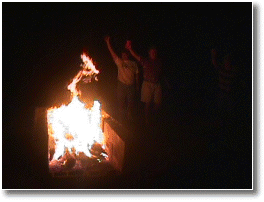 Rufus's remains being sent away in the cremation ceremony with a fine Cheerwine toast later that night.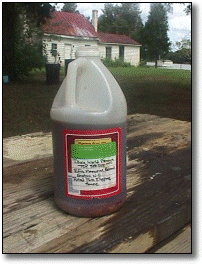 The winning sauce!
Dave's World Famous TOP SECRET (tm) Rufus Memorial Brand Pulled Pork Dipping Sauce