LannyQ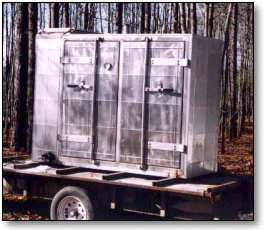 Lanny Henson's fuel-efficient cooker.



"My design is independent of electricity and gas. It cooks real BBQ with charcoal and/or wood, and is very fuel-efficient. It uses less than 1 pound of lump charcoal per hour for a small load. This design features a self-feeding firebox that will burn for over a week on a single load of charcoal. It holds steady temperatures for hours, and is insulated and sealed. It burns clean with little visible smoke and has low airflow, which does not dry out the meat. It will cook moist and tender brisket without foil, mopping, or basting. It is self-cleaning and the ash is very easy to remove even while cooking. It has a small footprint -- 82" X 34" (19.5 sq. ft) -- yet has 45 sq. ft of cooking surface. The 52 cubic foot cooking chamber has eight 28.5" square removable racks in four levels. There is 9" of room between racks, and each rack has a 26" lazy Susan in the center. It is all stainless steel, portable and stands alone. Weather has little affect on it (even freezing rain) and it cooks while traveling. I spent at least half of my design efforts making it is easy to build, well for me anyway."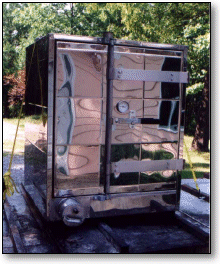 "This (new) smoker is better than the other one. It will burn briquettes or lump. It is more compact, has half the cooking surface as the large smoker. Burns larger wood. It will do smoke roast like an offset smoker or char flavor like an open pit, or both at the same time."