Oklahoma Joe Extended Trailer Smoker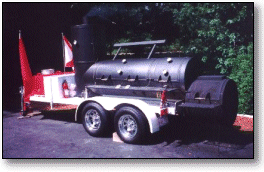 Don Martin's custom built Oklahoma Joe.



"I had the cooker built two years ago (1998) by Oklahoma Joe. The horizontal cooking chamber is 30'' x 84". The vertical is 30" x 60". There are two shelves in the horizontal; the top one slides out. I also have a custom built shelve that slides over the bottom to do whole hogs on. I have done hogs in it as large as 130lbs dressed. There are three shelves in the vertical. There is a convection tube that comes off the firebox and runs the length of the horizontal. The heat from the firebox is forced into the 8" diameter tube. There are a series of holes on top of the tube that become increasingly larger the further away from the firebox. This way there is a relatively even temperature from one end to the other as opposed to a traditional offset. Also the tube becomes very hot from containing the heat from the fire box. The tube is made of steel and when the meat drips on it, it vaporizes the fat. I believe it also adds a unique taste for an offset. I also use the firebox as a grill.

I use it to cook almost anything, but primarily, ribs, brisket, chicken, shoulders and whole hogs. I use lump to get a good bed of coals and than use hickory and pecan large chunks for the flavor.

The trailer is 22' long and has a 30lb propane tank that is used for a log lighter in the firebox and also for the two eye fish burner on the front. There also is a large wood storage box in front of the cooker with a sliding top that doubles as a prep table. There is an area in front of the box that holds two cambro units. I use these both for coolers and when needed as hot boxes. The trailer has electric brakes and the total weight is 3,000 lbs."