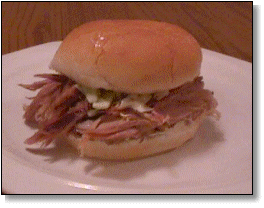 Based on a lifetime of observations.

Ingredients:

Pulled pork barbecue

Finishing Sauce (Optional)


Slaw (Optional)


Cheap white sandwich buns

Preparation:
Open the bun and pile as much pulled pork barbecue as you possibly can on the bottom half. Add finishing sauce to taste. Place some slaw on top if you like. Mash the top half of the bun into place. Eat up!

The buns, by tradition, must be the softest, whites, cheapest ones you can procure. They must NOT be adorned with sesame seeds, garlic chips, or other such foreign matter. The size is irrelevant as it only affects the number you eat.




"Stick me with a fork -- I'm done!"
Smokey Pitts, BBQ philosopher