Stump Brick Smoker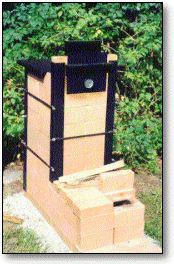 Ed Pawlowski's Stump brick smoker.



"Randy Dewberry of Plantation Smokers designed and made the metal frames, inside cooking rack, and the top sheet metal. I bought the firebrick locally and assembled the pit in less than a day. No mortar is used as the frames hold the structure together. The bricks you see removed in the front are the "dampers" for the firebox. Inexpensive and very functional. Brick holds the heat well and is a very good material for making bbq. It can be fired with wood, charcoal, or a combination. I often preheat with charcoal and then add split wood.

It can be run as an offset since the actual firebox is in the front, but you can push the coals back so they are directly under the meat. The exhaust is in the front, directly above the thermometer.

The meat is loaded from the top. A sheet metal cover is hinged and lifted for access to the cooking rack. It will hold a small shoulder, or two butts or picnics. Chickens are some of the best I've ever made, especially since it can handle higher temperatures to crisp the skin."