The Planters

Farming in North Carolina has always had its limitations. The relatively mild climate we enjoy even today placed North Carolina on the warm, southern edge of the tobacco belt and on the cool, northern edge of the region producing the big cash crops of cotton, rice, indigo, and sugar cane. Before the modern-day system of farm-to-market roads, geography had an equally limiting role. The shallow rivers made intrastate transportation of bulky crops difficult and the Outer Banks made entering North Carolina ports risky. In the early days, any farm produce that could be sold for cash money usually had to be hauled many miles to distant markets in Virginia and South Carolina. Once there, the farmer was at the mercy of the merchants. Because few were willing to travel all those miles by horse and wagon only to return home with unsold crops, the North Carolina farmer was usually compelled to sell his produce in a low-priced buyer's market.

As a result, the goal of the early farmer in North Carolina was more likely to be the sustenance of life on a family farm rather than the accumulation of wealth on a plantation. Indeed, Freideric Marshall had observed early on that:
"... the man who has a larger farm than he can work with the aid of wife and children cannot expect to profit by it."
The five sons of Johannes Leinbach who came to North Carolina clearly faced that reality. Each son took a wife, raised a family, and made farming his means of livelihood. While some fared better than others, none could be said to have prospered.
Johann Gottlieb
In accordance with Johannes Leinbach's will, his sons Johann Gottlieb, Ludwig, Abraham, Benjamin, and Joseph each received a 400-acre share of the 2000-acre plot north of Bethania that he had purchased from the Bethlehem congregation. Johann Gottlieb, the eldest of the five brothers, apparently never became a member of Unitas Fratrum and had little respect for their authority. Against the Brethren's wishes, he exchanged his share with Jacob Dietz, a non-Moravian, soon after he inherited it:
"There is ... a contract between John Leinbach and Jacob Dietz, dated September 4, 1775, which arranges for the exchange of the lands owned by the two parties John Leinbach sold Dietz his 400 acre tract on Muddy Creek, two miles above Bethania, valued at £400 lawful money of North Carolina. In exchange Dietz sold Leinbach the tract on which he was living, on Ellis Creek, valued at Lb 115: together with certain "cattles and sheeps," which "two honest men" were to appraise after Dietz had cared for them over winter, also a black mare, six years old, also one iron stove, and the remainder was to be paid on time."
Four years later, after collecting the money still owed by the Dietz family for the original 400-acre tract he had sold to John Dietz, Johann Gottlieb resold the Dietz land to Phillip Schneider for the same £115 he had paid for it. The following day, on July 14, 1781, the Bethania diary notes:
"John Leinbach, who came to town with his family this evening and who is on his way to Pennsylvania, offered to take letters."
Nothing more was ever recorded in the Moravian records about him or his family.
Ludwig
Ludwig, the next oldest, fared only a little better despite the close ties he maintained with the Moravians throughout his life. In the spring following his father's death, Ludwig rushed back to Pennsylvania to marry Anna Barbara Lauer of the Heidelberg Moravians. Upon his return to Wachovia with Anna Barbara, the young couple lived in the crowded Leinbach house with his mother, brothers, and sisters. Ludwig's mother and young sisters eventually left to live with his sister Elizabeth's family in Bethania, but the brothers stayed on until they too were married!
Apparently no more a farmer at heart than his older brother, Ludwig sold half his acreage to his brother-in-law John Schaub in 1775 and the balance (including the homeplace he and his brothers had helped their father build) to his brother Benjamin in 1776. Four years later he purchased 220 acres of land on Stuart's Branch between Bethania and Bethabara. But in another four years he moved "into the neighborhood of Bethabara" where he may have helped out in the tavern operated there by John Schaub. His boys were drawn to the successful new Moravian town of Salem where they learned trades: Johannes became a shoemaker; Joseph, a shoemaker, saw-miller, and cabinetmaker; Christian, a papermiller; and Peter, the youngest, a coppersmith. By the time of his death in 1800, Ludwig's land holdings apparently had dwindled to a mere 27 acres. It remained for Jacob Noll, the neighbor who married his widow in 1803, to repay the debt to the congregational diaconie that he had accumulated. Indeed, farming hardly proved profitable to Ludwig.
Abraham
Abraham also scurried back to Pennsylvania where he married Anna Julianna Fiedler of the Cocalico community. Like his brother Ludwig, Abraham also sold his 400-acre share of land (to Michael Rancke, their brother-in-law). But unlike Ludwig, he purchased new farming land outside Wachovia. While Abraham maintained ties with the Brethren, the distance certainly kept those ties from being the close ones that his father had brought his family to North Carolina in hopes of achieving. Abraham, along with a son of the same name, died of influenza in 1790. His young widow, left with ten children ranging in age from one to twenty-one years, married Christoph Schmidt. Daniel and John, the oldest surviving sons, soon sold their shares of land inherited from their father and, along with their younger brothers, apparently disappeared into the countryside.
Benjamin
The fourth brother, Benjamin, had married a Bethania girl, Christina Volk, in 1769. After purchasing half of Ludwig's share of land in 1776, he sold his own 400-acre share to Michael Rancke. Sixteen years later, after building a house on land near Vienna, he resold the land purchased from Ludwig to Daniel Wolff. And with that move, Benjamin effectively severed his relationship with Unitas Fratrum.
Joseph
The young Joseph may have come closest to actually fulfilling his father dream. Of the five brothers, only Joseph appears to have lived his entire life on his original tract of land and maintained ties with the Brethren.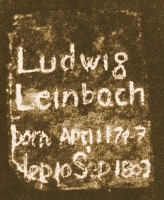 Whether the sons ever really shared their father's dream is doubtful. After a single generation the individual "plantations" were all but gone. As they made their ways through the difficult times of our country's early years, many of Johannes's children and grandchildren drifted away from Wachovia and the Brethren. But in the end it was these early Leinbach planters and their children who endured the hardships of life in the remote and largely agrarian community of Wachovia to become the forefathers of the many successive generations of Leinbach descendants in North Carolina.