We've prepared a mini photo album of the first North Carolina Literary Festival. We owe special thanks to photographers, Dan Sears and Will Owens, for capturing the spirit of the weekend. Please peruse and enjoy.

For pictures of John Grishman see this Hub site
For pictures from the Readers reception click on Readers
For pictures of some of the writers who appeared click on Writers
For pictures of the exhibit area click on Exhibitors
For pictures from the NC Authors Lunch click on Volunteers

Again we thank everyone who participated in every way to help make this event happen - writers, readers, volunteers, exhibitors, sponsors, media, staff and audiences. If you have any reaction or comments, we'd love to hear from you at the email address rdavies@irss.unc.edu.

John Grisham came to the UNC-CH campus on Saturday, April 4, through the kindness of the Morgan Writers Program. Despite drizzly weather, the crowds came and listened to a gentleman who just happens to sell more books than most of us can imagine!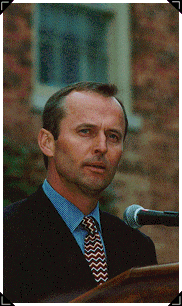 John Grisham speaks from the steps of South Building at the North Carolina Literary Festival, April 4, 1998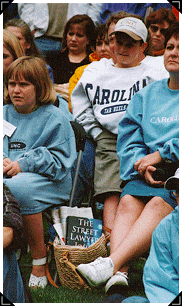 Festival attendees braved the chilly weather to hear John Grisham read from his latest book, The Street Lawyer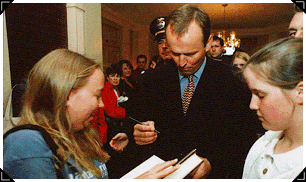 John Grisham signs a book for a fan after his reading.