---
[Date Prev][Date Next][Thread Prev][Thread Next][Date Index][Thread Index]
A Septic & Sewer Solution
---
---

PRESS RELEASE

For Immediate Release

NEW WASTEWATER TREATMENT TECHNOLOGY ELIMINATES THE NEED FOR SEPTIC
SYSTEMS, SEWERS AND IN SOME CASES EVEN PERMITS

Finally, state and local units of government, engineers, architects,
plumbers and onsite wastewater system designers and installers will have
a new tool in their repertoire to solve the most difficult situations
such as poor infiltration, small lots, bedrock and high ground water.

A Minnesota Company has a new system that costs less to operate and
lasts 10 times longer than traditional systems.

The ClearWater Technology's operation separates the toilet and kitchen
organic wastes (90 percent of a household's pollution problem) from the
wastewater stream at the source.  It then treats those wastes and the
remaining wastewater (greywater) individually in two separate vessels
utilizing Mother Nature's principles of decomposition and extended
aeration. The ClearWater Technology also reduces water consumption by 40
to 80 percent by incorporating toilets that consume less than one cup of
water per flush. 
 
In the ClearWater Separation Tank 90% of the toilet and organic wastes
are biologically converted into odorless carbon dioxide and water vapor. 
The remaining 10% soil amendment is easily removed and can be safely
spread on the landscape.  The greywater is treated aerobically in the
ClearWater Extended Aeration Tank to filter and remove the majority of 
it's pollutants.  Following that process the water is then extensively
treated in the ClearWater Filtration, Disinfection and Reverse Osmosis
System.  The components have been thoroughly tested using Environmental
Protection Agency approved analysis and National Sanitation Foundation
Standard 53 for drinking water.  

The three combined ClearWater Systems provide for the total treatment of
the toilet and organic kitchen wastes and wastewater, and produces water
qualities for direct household reuse.  

There is no discharge from the residence or facility, thereby
eliminating the traditional wastewater discharge permitting process for
the septic or sewer system, making the ClearWater Technology the world's
first and only closed loop, zero discharge wastewater treatment and
water recycling system.  The complete ClearWater System costs less than
currently available sewage treatment options for difficult situations,
especially when comparing water usage, complete treatment of all organic
wastes, longevity and operational costs.

For additional information contact Clint Elston at 320-743-2909 or write
to ClearWater Systems, P.O. Box 88, Clear Lake, MN, 55319.  Internet
website: www.alascanofmn.com or email: mail@alascanofmn.com.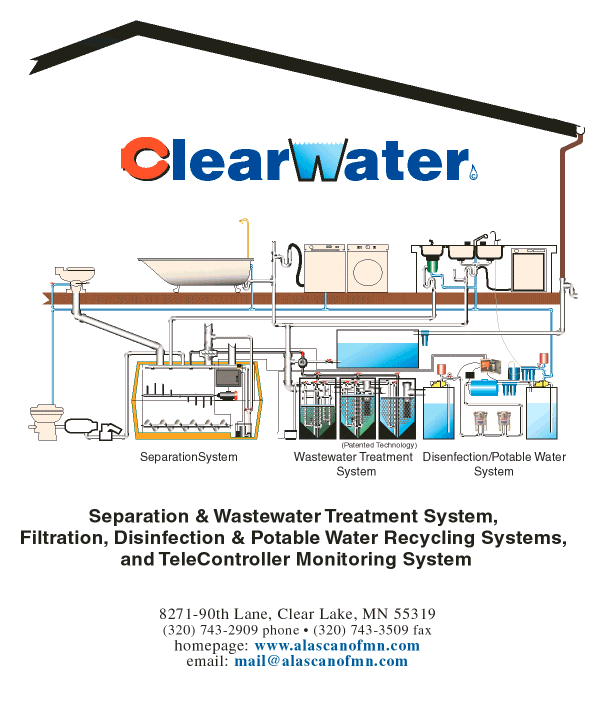 ---