Vineyard of Mari & Nicu Vaduva Panciu, Romania Province of Moldova October 24, 2004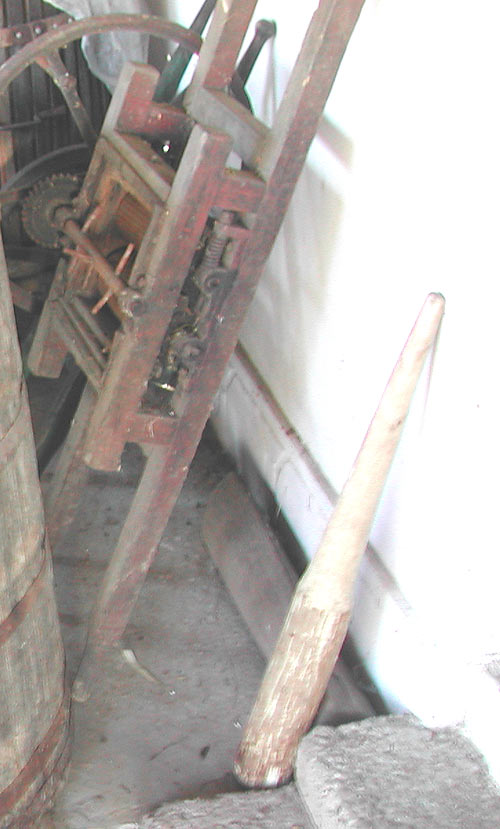 Mari & Nicu's vineyard was passed on to them from her parents who had began the vineyard 30 years ago. The setup of the fields is a little different than in the US. Houses are clustered together & then the vineyards of all those residents are also clustered together. The vineyard next to their property was actually not their's but a neighbors. Theirs was a half a kilometer away or so, but the practices seemed to be universal. & let me begin by saying that I was no match for the men that had gathered for the party, alternating between glasses of wine, shots of whisky, cups of turkish coffee & then a chaser of "spritz" which is the wine with seltzer & then another cycle of the same.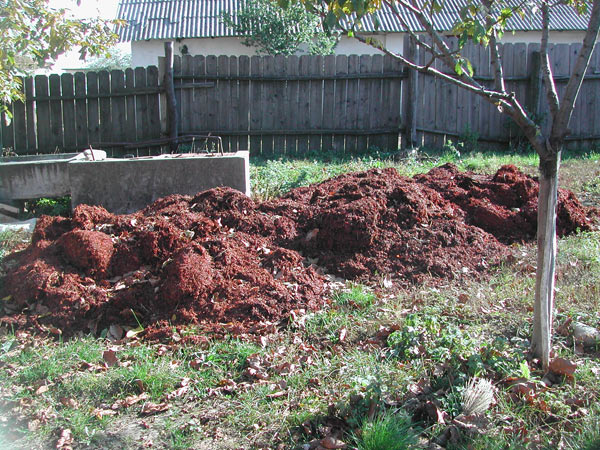 The vineyards are all planted up identically. Wood is scarce in the region & all posts are cement aggregate with a single wire running at about a meter & half high. We were in the region that is most famous for their white wine & I saw very little sign of red wine grapes tho in Bucuresti there were countless plazas which had outdoor wine bars this time of year called "mustarie" which are only open in the end of the wine-making season. At these places you could buy ceramic mugs of "must" (fresh wine less than a month old) for less than a dollar a mug, cheaper than bottled water. These places all served a merlot style wine from a different region.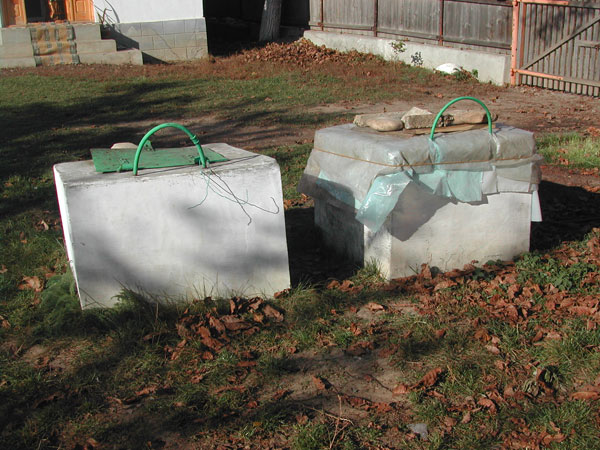 The grapes at Nicu & Mari's vineyard were Feteasca Regala (Royal Feteasca), Aligotel, & Muscat Otonel. All grapes are picked by hand & our hosts told us that they hire a bunch of people to help whom they pay in money, food & cigarettes. The grapes are picked all at one, as quick as possible & first run thru a set of rollers that looked identical to a wringer on an old style washing machine. That pulp is then put into a wine press for a second pressing. This juice was used in the making of tzuica which is home-made distilled brandy. (Nothing is ever wasted.) The majority of the fresh juice goes into 5000 liter underground storage vats made out of cement, a cement cap put on them & then sealed with plastic sheet.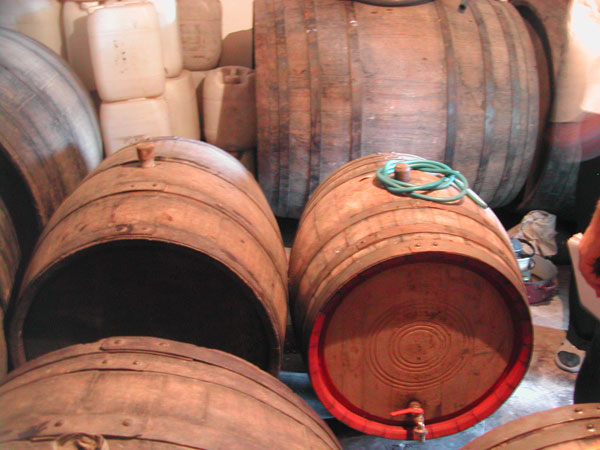 ALL NON-INDUSTRIAL WINE IS ONLY JUICE. NO YEAST, NO SUGAR, NO SULFITES, FININGS OR ADDITIVES. Everyone we met complained that they only drank this kind of wine because anything else gave them headaches. I can attest that I verified this claim, & after drinking maybe 2 liters of wine thru the night I woke up in the morning with no headache or hangover. After 3 or 4 weeks this wine was pumped into oak barrels & large plastic storage containers (whatever they could find). From there the wine was racked into 50 liter carboys which is how the finished product is stored. There is no bottling whatsoever. It wasn't clear who our hosts sold their wine to but everywhere along the highways are people selling these carboys. & on the trains a very common site is people who have travelled to the area to get their year's supply of wine, lugging around 2 or 3 of these carboys. Then when people get home with the wine, they pour the wine into 2 liter recycled water bottles, ready for drinking.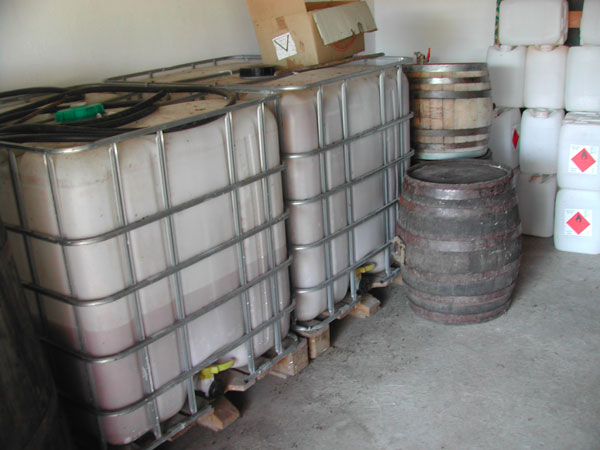 A bit more about the growing of grapes. The varieties grown by our host are from around 1900. Romania had recently made hybrid varieties illegal in an effort to preserve the regional varieties. This region of Moldova has been a wine growing area continuously for more than 2000 years.
The average winter lows here are minus 15-20 C tho they had just had minus 35 C the previous winter from which the vines had suffered some damage but it wasn't noticeable when walking thru the vineyards. He explained that strong winds from Russia were much more a factor in vine hardyness than winter lows & that wind damage is frequently common. To protect against winter lows one of the techniques was to plow between the rows (not sure of translation here but I believe you would call it a harrow) so that about a foot of soil is heaped over the base of the vines. Then in spring the plowing process was reversed so that the soil was distributed back into the aisles. Soil here is a light clay loam & Nicu made the comment that a bit of clay is essential for good grape production.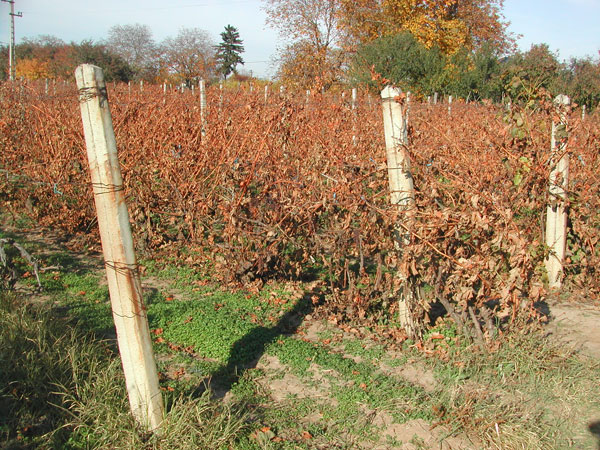 As for pruning, the technique seemed fairly standardized. Each plant had 6 vines & 18 buds were allowed to remain on each vine. He said that he got 2-3 kilos from each vine which would end up being approximately 15 kilos per plant. This seems like a massive amount of grapes from one plant & we double-checked our figures with him. He insisted that this was the reality.
They use a purchased industrial NPK fertilizer that had 12 additional trace elements including manganese, boron, & molybendium applied at a rate of 400 kilos per hectare. He said that he didn't use fungicide tho many of his neighbors did, & his interest was converting to organic production which he was trying to learn about but wondered if it made any sense to pursue unless he could convince his neighbors to also do it. Otherwise he would'nt be able to sell them as organic anyway. Thankfully the unspoken rule was that no fungicide could be used within 30 days of picking. Deer are scarce here & the main animal predation is rabbits. Nicu said that next year he would purchase a rifle to deal with the problem.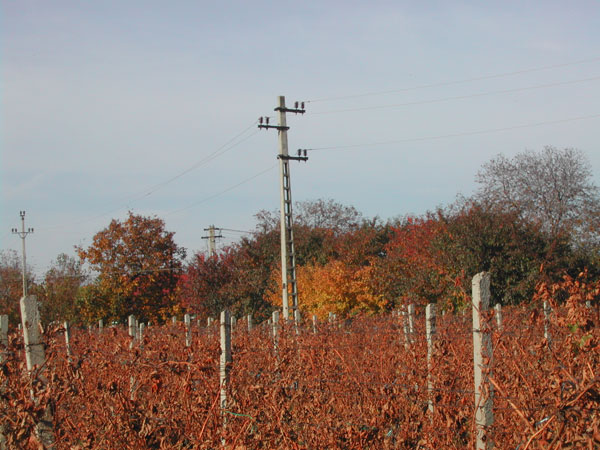 Other edibles growing on site included Carpathian Walnuts, which were exquisite, The trees were pretty small for 50 year old trees, less than 30 feet high. A number of different apple trees which I didn't get around to asking about since Im completely ignorant about apples but I did find out that they purchased grafted apples for around $5 USD which seemed a little pricey for a region where people commonly make $100/month. We also got into a short talk about "Catina" (Sea buckthorn) which were growing wild in a few of the orchards. He explained that he was deeply interested in growing these, but they were very invasive so he wanted to find a place to have them that wouldn't spread into the grapes. I discovered in his house a very interested book about sea buckthorn published by an agricultural research center in Bacau, Romania. It has a wealth of information that I have not seen anywhere else, & I will try to secure permission to have my partner do an english translation that can be distributed as a PDF document.