Mystery Science Theater 3000
Deus Ex Machina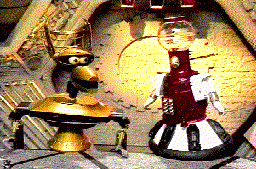 Welcome to Deus Ex Machina! You can get to nearly anywhere in the Mystery Science Theater 3000 world from here. If you know of someplace I haven't included (that's also not very easily accessable from one of the other Web sites), please let me know!
---
NEW!
14-March-1995
As promised, 8 new lists on the Tape Exchange.

Also, please note that the WWW Links Page now exists, so this document should load a lot faster. Click here or on the Web Sites link in the table of contents to get there.
---
Index
Downloadable Files
FTP Sites
. . . . .
Animation
. . . . .
Images
. . . . .
Newsletters
. . . . .
Other
. . . . .
Schedules
. . . . .
Software
. . . . .
Sounds
Links
Mail Link
Newsgroups
Tape Exchange
World Wide Web Sites
---

Sign Our Guest Book
---
Please remember to limit your downloads to less than one meg per day and to use off-peak hours. These computers have to work, too, you know.
---
---
MPEGs courtesy of Mark Notarus from UIUC
Joel Door Sequence (.MPG) 391k
KTMA Door Sequence (.MPG) 543k
Mike Door Sequence (.MPG) 590k
MST3K Quote Program for Windows (.ZIP) 24k
Rendered 3D Tom Servo in space (.GIF) 113k
Torgo ScreenSaver for Windows (.ZIP) 177k
---
Cardiff's Movie Database Browser
---
Here you can make contact with MSTies across the planet, and see what they've got on tape. From here, you can:

Keep Circulating The Tapes...
---
Here you can contact all the official arms of MST3K. You need fill-out form capability to use this, so be warned. Also, please note that these people get an awful lot of email, so please use these forms sparingly. And when you do write, please be considerate and polite. It always works better.

Send Mail To:
---
David Levine / LIT / lunar@sunsite.unc.edu