Vivian Stanshall
1943 - 1995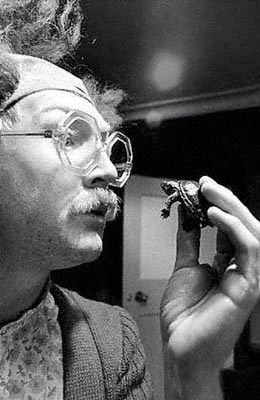 My first memories of Vivian Stanshall were of illicit Sunday morning drinking. It was 1965 and I was 16 and still at school. A band called The Bonzo Dog Doo Dah band played Sunday morning gigs at a pub called The Deuragon Arms in Homerton, East London. The pub was always packed and I can remember the hilarious scenes of an outraged publican apologising to his clients, and warning the band to stop fornicating with that rubber chicken on stage if they wanted to work again next week. That interminable version of Glen Miller's In the Mood... The Intro and the Outro... Jazz, delicious hot, disgusting cold... some of the sweetest memories from the summers of my youth.
This photo is from my first Rolling Stone commission and has been featured in several publications and exhibitions, including one that travelled from pub to pub around the northeast of England.

For much more on Vivian Stanshall visit gingergeezer.net
&
Please take a moment to sign the "Please reissue Vivian Stanshall's MEN OPENING UMBRELLAS AHEAD, Warner Brothers!" petition.

Philm Freax | Friends | Phil Franks | Guestbook | Links | What's New
contact: Phil Franks (freaxATphilmfreaxDOTcom)
Freax Website produced by Malcolm Humes