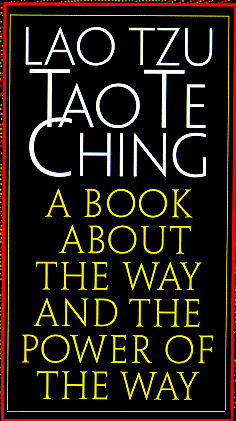 Wanting less
When the world's on the Way,
they use horses to haul manure.
When the world gets off the Way,
they breed warhorses on the common.
The greatest evil: wanting more.
The worst luck: discontent.
Greed's the curse of life.
To know enough's enough
is enough to know.
Kinds of power
Knowing other people is intelligence,
knowing yourself is wisdom.
Overcoming others takes strength,
overcoming yourself takes greatness.
Boldly pushing forward takes resolution.
Staying put keeps you in position.
To live till you die
is to live long enough.
The uses of not
Thirty spokes
meet in the hub.
Where the wheel isn't
is where it's useful.
Hollowed out,
clay makes a pot.
Where the pot's not
is where it's useful.
Cut doors and windows
to make a room.
Where the room isn't,
there's room for you.
So the profit in what is
is in the use of what isn't.
Consider beginnings
Do without doing.
Act without action.
Savor the flavorless.
Treat the small as large,
the few as many.
Meet injury
with the power of goodness.
Study the hard while it's easy.
Do big things while they're small.
The hardest jobs in the world start out easy,
the great affairs of the world start small.
So the wise soul,
by never dealing with great things,
gets great things done.
Now, since taking things too lightly makes them worthless,
and taking things too easy makes them hard,
the wise soul,
by treating the easy as hard,
doesn't find anything hard.