As far as the government is concerned, the real problem with moonshine isn't making it, but selling it.

Once moonshine is sold the government misses out on the tax revenue it collects on legally distilled liquor. This battle to collect taxes, and the moonshiners determination to avoid paying them, is at the heart of much of the struggle between moonshiners and the law.

Traditionally, moonshiners sell by word-of-mouth, and on a local scale. People in search of moonshine have to look for it, and look in the right places. The bell tree shown to the right is an example of a traditional means of buying and selling moonshine.
Once moonshiners start selling on a larger scale, though, the means of delivering the product change somewhat. The liquor must travel further to get from the point of production to the consumer. This process usually involves driving the moonshine in a car or truck, and is known as bootlegging.

Over the years, bootleggers devised a number of ways to try to avoid capture while transporting their liquor. One of the most common was to enhance, or "soup up" the engines of the cars they drove. It has been theorized that this practice helped lead to the rise of stock car racing in the South.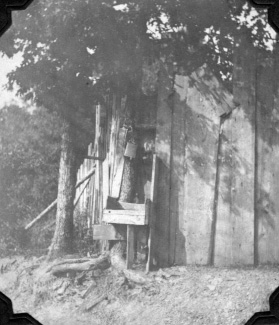 ---
Thirsty travellers could ring the bell in this tree, take a little stroll, then return to find a drink waiting for them. After quenching their thirst, travellers would put some money in the tree, then move on.

From the John C. and Olive Campell Collection
Southern Historical Collection, University of North Carolina
---