Patrick Loebs
Percussionist
(congas, cajones, clave, guataca, cencerro, gua-gua and shekere)
ploebs@visionet.org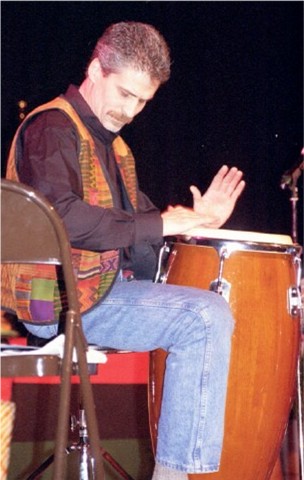 Percussionist Patrick Loebs, is a member of the Elements of Percussion since 2001. Before then, he was studying Afro-Cuban Folkloric and Haitian rhythms with Bradley Simmons, and playing with local Latin and Jazz bands.

Born and raised in New Jersey, Patrick was influenced by the Latin and World music scene of the greater New York area during the 70s and 80s. In 1978, he spent several months in the Caribbean, visiting the Windward Islands and studying Reggae, Steel Drum and Calypso music. Upon moving to Hillsborough, North Carolina in 1984 for job opportunities, he met and collaborated with steel drum maker and musician Wilton Dubois; a native of Trinidad.

Patrick became a student of the congas and Afro-Cuban percussion in the spring of 2000 after he saw Bradley Simmons and The Elements of Percussion perform in concert. Patrick started taking conga lessons with Bradley shortly after that and continues to meet with him on a regular basis. Patrick continues to study Afro-Cuban percussion as well as contemporary styles of Latin music through mentorship, listening, watching and practicing as often as possible.

Artists Patrick listens to include: Kurt Elling, Jamiroquois, Tito Puente, Jimmy Bosch, Giovanni Hidalgo, Changito, Milton Cardona, Habib Koite and Youssou NDour.

Patrick is greatly influenced by his father, a jazz lover and professional a capella singer, his sister, an actress and singer and his son, an oil painter.

Elements of Percussion in concert at the Hayti Heritage Center, Durham, North Carolina.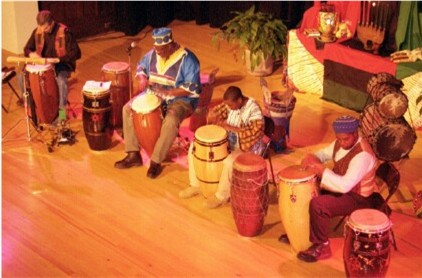 Left to Right: Patrick Loebs, Bradley Simmons, Atiba Rorie and Ibo.