NC Light Pollution examples
If you have examples, please submit them to dlakey at mindspring dot com.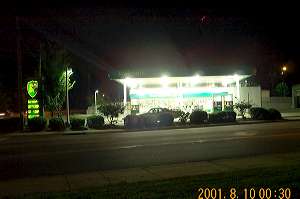 Raleigh Lighting Examples
Examples of good and bad lighting. Taken in Raleigh in August of 2001.
High Country Dark Skies Light Pollution
Here is a link to Daniel Caton's examples of good and bad lighting from Boone NC.
Lucile Miller Observatory Light Pollution Page
The Forsyth County Astronomical Society recently had to work very hard to correct some very bad lighting and preserve one of their observing sites in Doughton Park.
Noteworty Examples outside of NC
The Seattle Space Needle Skybeam
This one is famous as an example of light pollution for the sheer joy of it. Look at 85 million candle power

---
Last Updated:
08/19/2001: Added examples from Raleigh.
01/18/2000: Added High Country Dark Skies and Outside NC section with Space Needle link